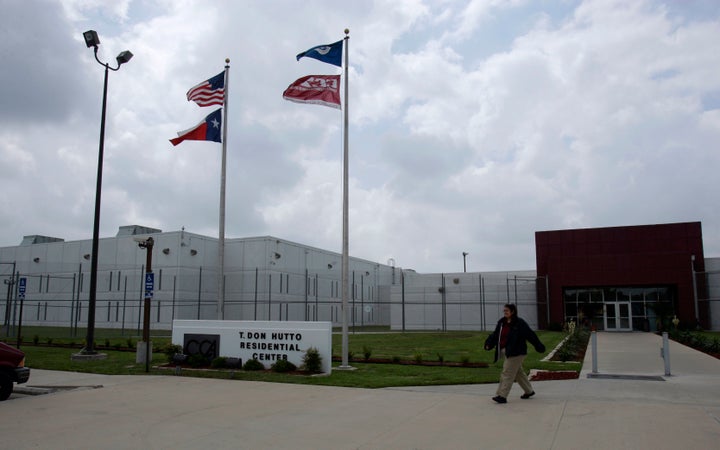 WASHINGTON -- Time is running out for the public to weigh in on a proposed Department of Justice rule that would not include immigrant detention centers in corrections-system standards designed to prevent rape and other forms of sexual assault.
Based on a report from the National Prison Rape Elimination Commission created under President George W. Bush, the new policy would apply a broad range of hiring and workplace standards to adult prisons and jails, local-level lockups and community confinement areas, as well as juvenile facilities. The policy would require background checks on new hires, for example, and forbid hiring workers with a history of sexual abuse. It would also mandate the development of systems to facilitate the reporting of sexual assault in such facilities.
But the new standards would not apply to immigrant detention centers or facilities that house unaccompanied immigrant children -- because, the Justice Department says, they are principally under the purview of other federal agencies -- despite reports of sexual assault.
The public comment period on the proposed rule, first released by Attorney General Eric Holder's office in January, runs through Monday. Human rights activists say immigrant detention centers are a key group of facilities in need of tougher standards, arguing that immigrants are particularly vulnerable to rape and other sexual assault and especially likely to leave it unreported.
Human Rights Watch and 10 other advocacy groups sent a letter to President Barack Obama in February asking him to include immigrant detention centers in the standard, and many advocates are submitting comments on the proposed rule.
"Rape is rape, whether in a federal prison, a local lockup, or an immigration detention facility," Jamie Fellner, senior counsel at Human Rights Watch, said in a statement regarding the letter to Obama. "By excluding these detainees, the attorney general's proposed standards put an already vulnerable population at even greater risk than the general prison population."
Justice Department officials did not respond to requests for comment for this report, but have argued that the exclusion is a procedural matter. The Department of Homeland Security operates immigrant detention centers, while unaccompanied, undocumented children are often housed in facilities run by the Department of Health and Human Services.
But logistical issues do not obviate the need for protections against sexual abuse, advocates say. Although there is no empirical data on the rates of sexual assault in immigrant detention centers, there have been numerous reports of such incidents.
Last summer, Immigration and Customs Enforcement officials acknowledged that they were investigating reports that a guard at T. Don Hutto Facility in Taylor, Texas, had sexually assaulted a number of women on their way to deportation. One of the women reported the sexual assault when she arrived at the airport, and the guard was arrested in August on five charges.
Many such cases are likely to remain unaddressed, partly because immigrant detention facilities often do not provide detainees information about how sexual assault is defined or how it can be reported, according to Michelle Brané, the director of the detention and asylum program for the Women's Refugee Commission.
"Immigration detainees are particularly vulnerable to sexual assault because their jailer is also making a decision about deporting them," said Brané, whose advocacy group is housed within the International Rescue Committee. "That makes it that much more difficult for someone to say something."
There are also a number of other constraints sexual abuse reporting for immigrants, Brané said. Many do not speak English or fear that reporting abuse will lead to deportation. In the cases where immigrants are deported, they have few options for reporting abuse that occurred while they were in detention.
And on a core level, Brané argued, exempting immigration detention centers sets a "disturbing" precedent. "Basically it is saying it is unacceptable for rape to be occurring in prisons where you're holding people for criminal convictions, but it's not unacceptable for civil facilities holding immigrants who are awaiting deportation," she said.
Related
Popular in the Community