The California Department of Corrections and Rehabilitation (CDCR) has recently announced a new partnership with Facebook to disable the profiles of any prisoners who have updated their statuses since incarceration.
A prisoner's updated Facebook status indicates either the presence of a cellphone in prison, which is against prison rules, or that someone on the "outside" is maintaining the profile on behalf of the inmate, which is against Facebook's user policies.
The CDCR's press release details the danger of inmate access to a cellphone and social networks:
Last year, CDCR received a call from a mother of a victim of a child molester. The family had just returned from vacation to find several pieces of mail from the offender who was in state prison. The mail contained accurate drawings of the woman's 17-year old daughter, even though it had been at least seven years since the offender had been convicted and sent to prison. Details of the victim, such as how she wore her hair and the brand of clothes she wore were accurate. An investigation revealed the inmate had used a cell phone to find and view the MySpace and Facebook web pages of the victim. With access to the pages, the offender was able to obtain current photos, which he used to draw his pictures.
CDCR spokesperson Dana Toyama confirmed to the Huffington Post that this problem is "widespread and rampant," saying "shotcallers" are using cellphones to coordinate with gang members on the street to harass or intimidate witnesses and prior victims.
In the first six months of 2011, more than 7,284 prison cellphones were confiscated, according to the California Department of Corrections and Rehabilitation. This number outpaces last year's rate, when over 10,760 cellphones were confiscated from California prisons, according to KTLA.
The LA Times reports that California prison guards are suspected of being the primary smugglers of contraband cellphones, which can net up to $1,000 each.
Toyama pointed out the "huge loophole" in regards to enforcing prison rules against cellphones. Since it's not technically illegal to possess a cellphone in prison, nor is it technically illegal for a guard to smuggle a cellphone, the worst punishment that could be meted out is that a prisoner loses "good time credits" or that a guard could be fired.
Currently state Senator Alex Padilla is sponsoring a bill that would make prison cellphone smuggling a crime. If signed, the law would mandate up to a $5,000 fine for state employees caught with cellphones. A non-employee could catch an additional 6 months in jail for this violation.
For now, Toyama emphasizes that the effort to tamp down on criminal conduct via cellphones in prison is "all-encompassing." It includes information from gang intelligence units, tips from the Office of Victim and Survivor Rights, and reports from parole officers in addition to prison and Facebook security diligence. For instance, if a prisoner is released on parole, they would be restricted from contacting or collaborating with known gang members, says Toyama. That means that even being "Facebook friends" could be a violation that could land a felon in parole revocation proceedings.
If you know of a Facebook account that is being updated by an inmate or on behalf of an inmate, contact CDCR's Office of Victim and Survivor Rights & Services at 1-877-256-6877 or victimservices@cdcr.ca.gov.
Photo courtesy of the California Department of Corrections and Rehabilitation.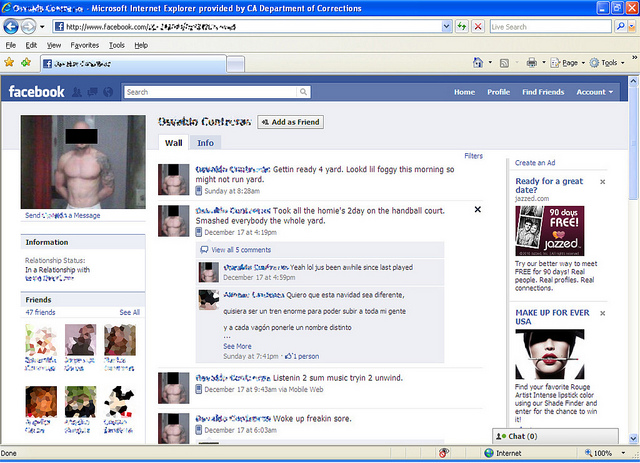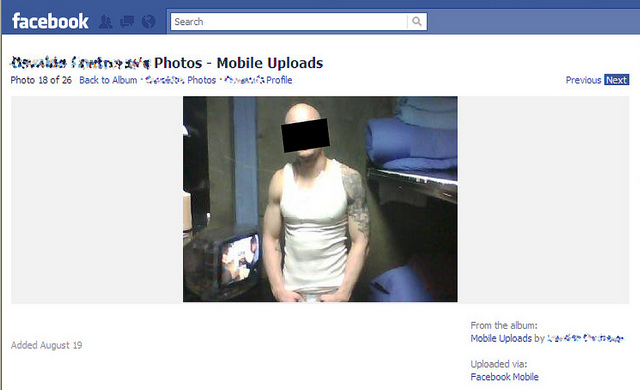 Related
Popular in the Community