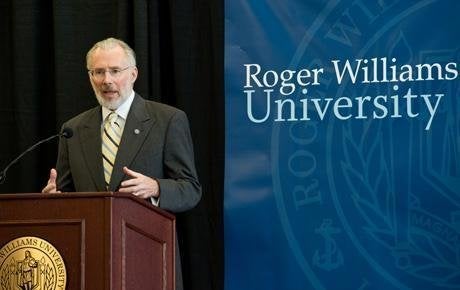 NEW YORK -- Donald Farish, president of Roger Williams University in Bristol, R.I., always wanted higher education to become a major issue in a national election. He didn't mean unaffordable tuition rates. "Be careful with what you wish for," he said.
But Americans' fear that they're being priced out of higher education also offers an opportunity for enterprising colleges. Farish, for one, is seizing the moment.
Roger Williams University recently announced all incoming students at the private university will be given a tuition guarantee, meaning their tuition will not rise during their undergraduate career. "What we're trying to say is we'll take some responsibility here," Farish said. "We'll take on some of the task by not increasing tuition and raise the money some other way."
Tony Pals, director of communications at the National Association of Independent Colleges and Universities, said he can't remember another time in which so many private schools have held down tuition as he's seen in the past two years. By the association's count, 41 private colleges have cut or frozen tuition, 12 have implemented guarantees that their undergrads will graduate in four years or that their tuition will never go up, and another 16 have instituted tuition increases at or below inflation levels.
Pals predicted the number of private colleges taking similar action on tuition will continue to grow. "Consumers are increasingly price-sensitive," he said, and there's concern that "prospective students may be ruling out applying to a private college simply because of sticker price."
That concern is valid, according to a recent poll from the College Board and Art & Science Group: More than half of college-bound high school seniors rule out institutions based solely on the sticker price. The percentages were even higher for low- and middle-income students, though they stand to gain the most from financial aid packages.
"It's a challenge that most private colleges face, and all have been working hard to address," Pals said.
Under the high cost-high aid model -- in which more expensive private colleges reserve a large portion of their budget to award generous financial aid, and public universities generally offer little aid -- a low-income student can expect to pay more to attend the University of California than to study at Harvard. In fighting for top students, scholarships and other financial aid are a powerful tool for private schools. Having the top students can lead to better graduation and job placement rates, which in turn can lead to more donations and support from alumni and others.
Farish argues that the high cost-high aid model can't be sustained in the years ahead. "You'll have schools next year crossing the $60,000 barrier for the first time," he said, referring to annual tuition. "At what point do we price ourselves out of the market?"
He also wants to get out of the business of charging different students different prices, comparing it to how the airline industry operates. "Everyone feels like they've paid too much for their seat and thinks someone else got a better deal," he said. "We decided rather than changing everything completely, at least let's not make the problem any worse."
Alma College in Alma, Mich., is taking a different route to address affordability. The private school is helping to fund paid internships for every student and guaranteeing its students will graduate in four years (or the school will pay for any additional semesters).
Clearly, this comes with a cost: Alma has had to hire additional staff, particularly advisers, to ensure students meet benchmarks and stay on track to graduate in eight semesters. The price tag for the internship initiative for current students and recent renovations to a student advising center tops $2 million.
Jeff Abernathy, Alma's president, said it's worth it because the new program may attract more applicants, financial contributions from alumni and other positive attention.
"I think what's happening is at the publics the cost are skyrocketing, [while] our costs are not. As a result, the value of a private education is increasingly clear," Abernathy said. "I think now many of us we feel like we may gain some of that share, so long as we can demonstrate our value."
But Catharine Hill, president of Vassar College in Poughkeepsie, N.Y., warns tuition cuts alone do not necessarily make college less expensive. In fact, lower tuition could end up hurting the students who most need help.
Hill, who teaches economics, explained that a private college gets revenue from student tuition, earnings off its endowment, gifts to the annual fund, and sometimes grants, usually for research. If a college lowers tuition rates and leaves its costs unchanged, it has to close that financial gap.
"But our costs are basically driven by the cost of high-skilled people that work at the college, including faculty, administrators and staff," Hill said. So what part of the budget does take the hit? She said the funds might well come from money otherwise distributed as financial aid.
In the end, lowering tuition could make college cheaper for rich students and more expensive for the poor.
For the moment, private colleges seem to have the better hand. While public universities recently reported their first enrollment decline since the mid-1990s, private nonprofit colleges saw enrollment rise by 2 percent. Hill attributes part of this to rising tuition at public universities driving families to look elsewhere.
Private colleges should take the helm on addressing costs, Farish said. "The education bubble has popped, and we're saying, 'Now what?'"
Popular in the Community