Let's say you're sitting in Easter Mass. You're a private equity executive and your BlackBerry lights up. It's Hamdi Ulukaya, the founder of Chobani. You've been waiting for his call: He's your connection to a potentially lucrative deal with the embattled yogurt maker. You glance around the church, maybe you wince.
If you're Kevin Burns, you pick up the phone -- and then you brag about it in an over-the-top slideshow. That's how the global head of operations for a $66 billion private equity firm pats himself on the back in front of his investors: in a 44-page PowerPoint deck written by other people.
Burns, a top executive at private equity behemoth TPG, knew on that fateful Sunday that the Greek yogurt company was on its knees and had about two weeks until it ran out of cash. Perfect timing for a private-equity fueled resurrection.
TPG got in on the Chobani opportunity in April by lending the company $750 million. At the time, Chobani was reeling from increased competition, rising milk prices and the costs of a disastrous recall of moldy yogurt.
For Burns, the deal proved to be lucrative: As The New York Times reported earlier this week, he is now billing TPG investors for his full-time role as Chobani's president and chief operating officer, while also continuing to collect his salary as TPG's head of global operations.
A spokesman for TPG told The New York Times that Burns' new role at Chobani was announced during a presentation he gave in October 2014 to investors at the Phoenician, a luxury spa and golf resort in Scottsdale, Arizona.
The Huffington Post has obtained the slides Burns presented in Arizona. (The Times noted in its report that it had also obtained the slides, but did not publish them.)
In the deck, TPG gleefully recounts the way it managed to get the deal done as the "clock was ticking" down to the date when the company ran out of money. The slides make a point of praising Burns for taking the call during church -- but make no mention of Burns' new role or salary.
TPG declined to provide additional comment to HuffPost. Chobani did not return HuffPost's request for comment.
The deck goes through Chobani's start (the company was started with a $800,000 federal small business loan), its incredible early success (almost single-handedly making "Greek yogurt" trendy), and its quick descent into financial dire straits (after earning $41 million in the first half of 2013, it lost $115 million in the second half of the year).
It starts, TPG says, with the "power of our global network": A guy knows a guy who knows a guy. That's not an understatement, nor is it derisive. It's how private equity deals get done.
In this case, David Bonderman, TPG's founder, knows Cuneyd Zapsu, a powerful Turkish businessman who is close to President Erdoğan. In turn, Zapsu knows Ulukaya, Chobani's founder.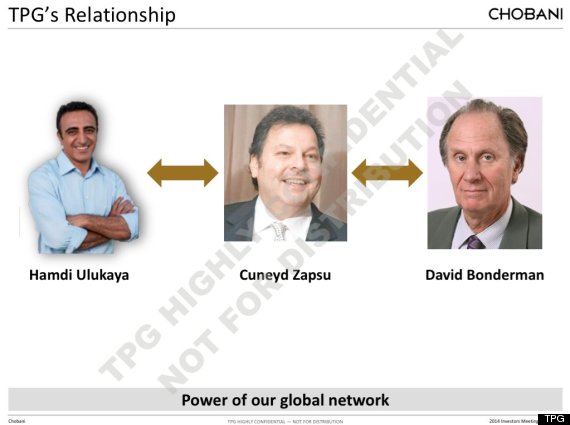 With about two weeks left, the presentation proudly points out, Burns helped push the deal along by taking Ulukaya's call during Easter Mass.
Connoisseurs of PowerPoint artisanship will be impressed by the detail applied here -– the Blackberry with the overlaid caller ID text –- but will also feel it could have been just a little bit better. Surely, an actual incoming call screen from Hamdi Ulukaya could have been produced. That would have taken this to the next level and really turned some heads in the Phoenician conference rooms.
The climax of the thrilling tale -- really, you can feel that Burns thinks he's pitching the screenplay of the next Bourne movie to a studio exec –- is ... a napkin.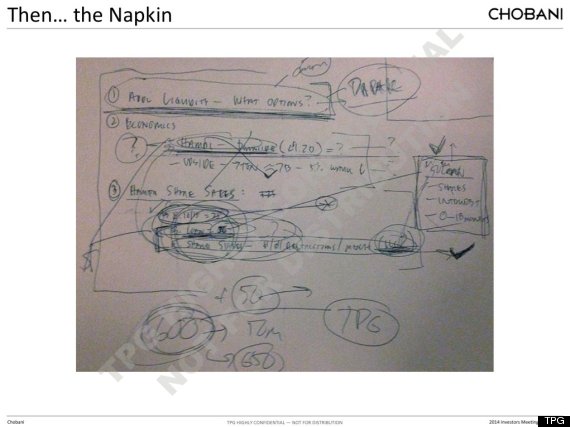 "Upside --> Ton ≈ 7B," one part appears to say, referring to a potential $7 billion payout as a "ton" of money. Seven billion dollars on a $750 million loan is on the high end, though it's not totally implausible. Later slides say that based on deals for similar companies, Chobani is worth between $3 billion and $5 billion plus "breakout potential," business school-approved jargon for "innumerably more."
The way TPG says it is rebuilding Chobani is very much in line with how private equity talks about itself to the public: cutting costs and waste, hiring better people and growing the company. One slide disdainfully shows images and figures detailing the waste at Chobani's new Idaho plant.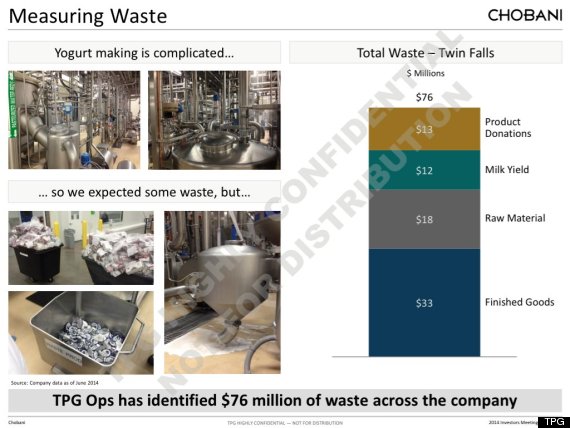 TPG reports -- very happily -- that it has entirely eliminated complaints about the yogurt from big buyers like Walmart: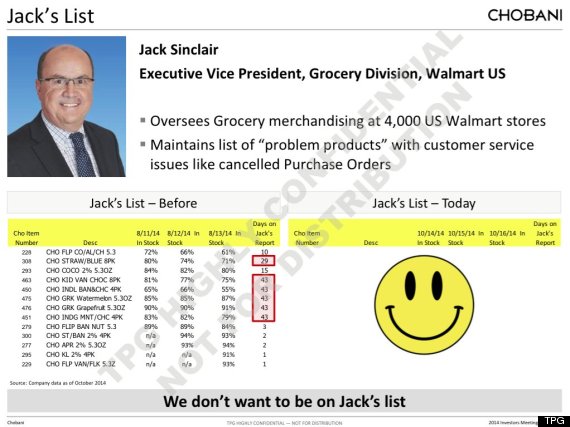 In other slides, TPG details who it has hired to run Chobani sales at the country's biggest grocery stores, and lauds the viral success of its pumpkin spice-flavored yogurt.
Nowhere does the text of the presentation mention Burns' new role at the company and the doubly beneficial payment plan.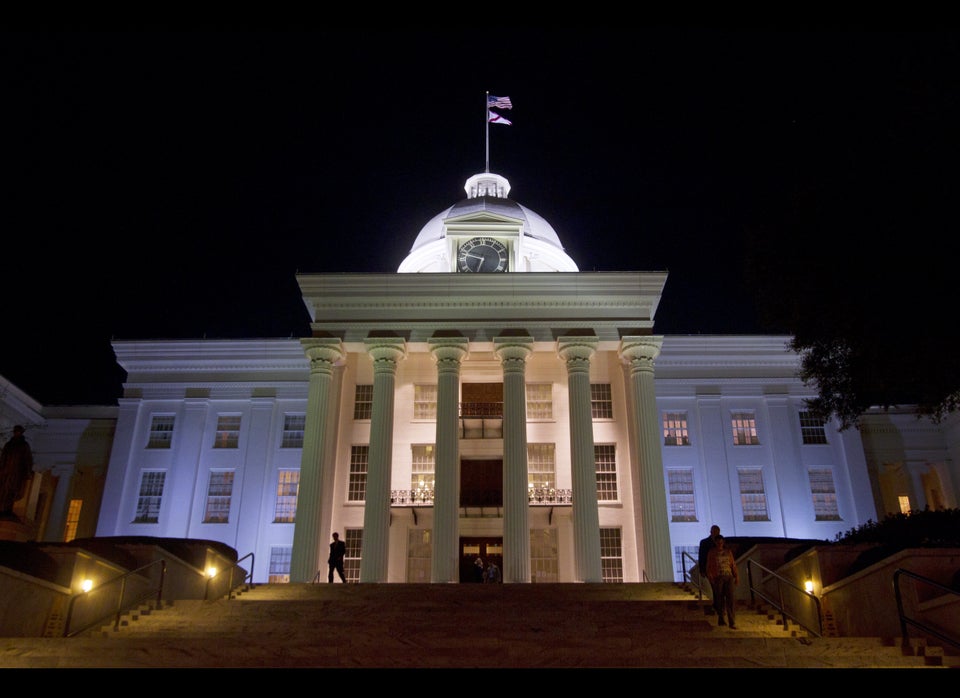 U.S. State Capitol Buildings