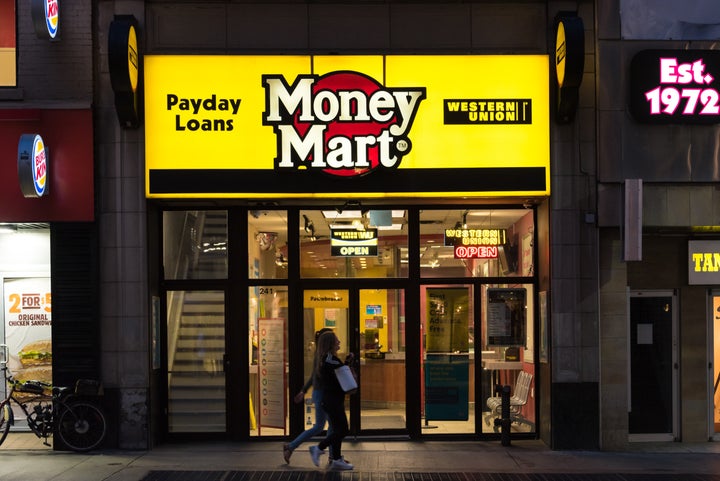 In the prestige hierarchy of American finance, the lords of private equity are enthroned at the very top. Some are genial patricians, while others savor reputations as ruthless buccaneers. They purchase entire corporations and reward themselves with enormous salaries that enjoy outrageous tax preferences. They reserve their attention for great matters ― restructuring vast pools of debt and advising administrations.
A private equity impresario combines the speculative instincts of a hedge fund partner with the management acumen of a corporate executive and the political heft of a senator. Many prefer to exert this influence from the shadows, but others move openly in and out of the political world. Warburg Pincus President Timothy Geithner is best known as President Barack Obama's treasury secretary; Bain Capital's Mitt Romney as the Republican Party's 2012 nominee for president.
Moving down the great financial chain of being from private equity, we find hedge funders ― respectable billionaires ― followed by elite bank executives ― men of influence who have been known to receive unbecoming public assistance from time to time. Further down are community bank managers, credit union presidents and other practitioners of mundane, socially necessary paperwork. And at the very bottom: payday lenders.
Payday lenders are more than a scourge of low-income communities. To illustrious financiers, they are also tacky and cheap. It is not so much that high finance disapproves of exploitation. But important capitalists move among other important capitalists. It doesn't take much ingenuity to squeeze money from a working family desperate to meet an emergency expense.
So it is a telling sign of just how dysfunctional the American economy has become that some of the nation's biggest private equity firms are now heavily invested in the payday loan business and its slightly more respectable cousin, subprime installment lending. A new report from Americans for Financial Reform and the Private Equity Stakeholder Project details dozens of such arrangements involving some of the biggest names on Wall Street and the scuzziest operations on Main Street.
"Private equity firms have brought new capital and in some cases a new level of sophistication to the subprime lenders they acquired ... enabling the payday and installment lenders to buy competitors, sell off securities based on the loans they make, or engage in aggressive legislative and lobbying strategies," the report reads.
Most of this elite money moved into the subprime consumer space during the Great Recession, as layoffs mounted and wages came under intense pressure. But even several years into the economic recovery, poverty remains a lucrative investment.
JLL Partners on Park Avenue was among the first private equity titans to get in on the payday loan business, taking ACE Cash Express private in 2006, eight years before the Consumer Financial Protection Bureau fined the firm for training new employees to trap customers in a cycle of unaffordable debt. Loan Star Funds, a $70 billion private equity firm in Dallas, acquired DFC Global Corp. in June 2014, gaining control over retail brands including Money Mart and The Check Cashing Store.
San Francisco's FFL Partners controls SpeedyCa$h, a payday lender that charges annual interest rates of up to 729 percent, according to the report, and has run into trouble with California state regulators. You won't find the SpeedyCa$h logo on FFL's website, however ― the private equity firm prefers to list CURO Financial Technologies ― an umbrella company for SpeedyCa$h, RapidCa$h and Opt+ prepaid debit cards. Similarly, Diamond Castle Holdings on Madison Avenue controls Community Choice Financial, which operates as CheckSmart, Cash & Go, Easy Money and other monikers.
JLL Partners, Lone Star Funds, Diamond Castle and FFL Partners declined to comment for this story.
Payday loans typically take the form of a two-week advance of a few hundred dollars, carrying interest rates of over 300 percent. But real costs for consumers can be much higher than the fees attached to an individual loan, since many people end up taking out additional loans to help pay back the interest from their first.
Subprime installment loans are typically larger, with terms of several months or a few years, with effective annual interest rates that can climb into the high double-digits. Though these firms often market themselves as more humane alternatives to the payday business, there is no such thing as for-profit poverty relief. A 2015 report by the National Consumer Law Center warned that the subprime installment business was enabling the "growth of larger and longer predatory loans that can create a debt trap that is impossible to escape."
Some of the most prestigious private equity houses, including Warburg Pincus and the Blackstone Group, still steer clear of payday. But they haven't avoided the high-interest consumer lending space entirely. Warburg Pincus controls Mariner Finance, which specializes in personal loans of $1,000 to $25,000, with interest rates of up to 36 percent that can be inflated by additional fees. Fortress Investment Group owns similar installment lender OneMain Financial, while the Blackstone Group ― home to outspoken billionaire Stephen Schwarzman ― controls Lendmark Financial Services, which filed with regulators in South Carolina to charge up to 60 percent for its loans, which can be as large as $15,000. A Blackstone spokesman told HuffPost Lendmark caps interest rates on South Carolina loans at 36 percent.
"Lendmark plays a crucial role in helping creditworthy families meet their financial needs and carefully screens each loan application through a rigorous due diligence process," a Blackstone Group spokesman told HuffPost. "The company's lending products also represent a much better and more affordable option than the higher-cost, short-term alternatives its customers would otherwise have to use."
Warburg Pincus and Fortress Investment Group declined to comment.
Payday lending has become increasingly politically toxic within the Democratic Party in recent years. Though an alum of the Clinton White House, Billy Webster, helped build the industry up from almost nothing in the late 1990s, it's now as distasteful as Big Tobacco and gun manufacturing among Democratic activists.
This fall, the Democratic National Committee imposed a ban on accepting funds from corporations that "conflict with our DNC platform" ― explicitly citing payday lenders as one such industry. It's more than a hobbyhorse for the left. Jamie Harrison ― a DNC associate chair who previously worked as a corporate lobbyist ― supported the measure and helped craft the payday loan language.
House Minority Leader Nancy Pelosi (D-Calif.) says it's important for politicians in her party to scrutinize donations ― accepting cash from a big private equity firm that owns a payday lender isn't any better than taking money from a payday loan executive.
"We have hundreds of Democrats running for office for the first time now," Pelosi told HuffPost, "and they need to be looking at where this money comes from and what it does to their communities."
This story has been updated to include additional comment from Blackstone on LendMark's South Carolina operations.
Popular in the Community