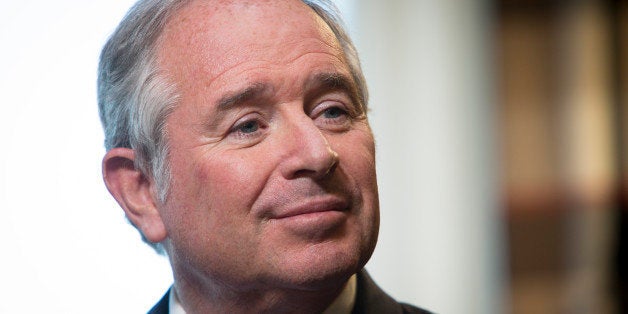 Private-equity kingpins made billions last year subsidized by you, the taxpayer.
The nine highest-paid private-equity executives in the U.S. hauled in more than $2.6 billion in 2013, The Wall Street Journal's Ryan Dezember reported on Tuesday, citing regulatory filings by their firms. That's not a misprint: Just nine human beings split a $2.6 billion jackpot last year.
Salaries made up only a tiny sliver of this pay, according to the Journal. Most of the income consisted of dividends and profits on investments their firms made. That included hundreds of millions of dollars of what is called "carried interest" -- a slice of a firm's investment returns that is regularly paid to hedge-fund and private-equity managers and taxed at the capital-gains rate of just 15 percent, instead of being taxed like regular income.
The Journal did not break down how much money, in total, these men made in carried interest, aside from offering just a couple of examples: Henry Kravis and George Roberts of the firm KKR each made $43.3 million in carried interest, or about a quarter of their total haul.
But the overall numbers involved here are huge: Closing the carried-interest loophole could raise $21 billion for the federal government over 10 years, according to one estimate by the tax-reform advocacy group Citizens for Tax Justice.
This loophole is one big reason why a tiny sliver of the very wealthy has pulled away from even other members of the 1 percent.
But, oh well, too bad, working poor people, no tax breaks for you: Obama's proposal is reportedly a non-starter in Congress, as it has been every other year that Obama has raised it. Why? Because reasons, that's why! Wealthy fund managers pay an awful lot of money to politicians to encourage them to keep the loophole closed, and nobody wants to stop that gravy train.
And these wealthy fund managers get very, very angry about any effort to take away a tiny bit of their billions. Blackstone Group co-founder Stephen Schwarzman -- who made $465.4 million in 2013, according to the Journal -- declared in 2010 that Obama's idea of raising taxes on him and his buddies was just "like when Hitler invaded Poland in 1939."
"It's a war," he declared at the time.
If this is a war, it's one being waged on the poor. And Schwarzman and his buddies are winning.

Popular in the Community