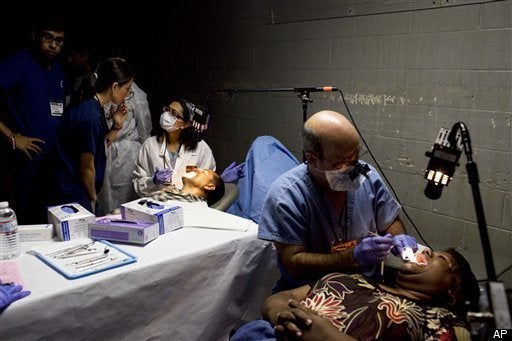 The story of health care reform is about legislators, lobbyists, taxpayers, and shareholders.
But it is also about Kathleen Kelly.
Born in upstate New York, Kelly is a wife and a mother, married to a Canadian and living just outside Vancouver, B.C. where she co-owns a consulting company that works with non-profit groups. It's been a nice place to raise a family, but the 39-year-old is ready to come home.
There's only one snag. She can't.
"The private health-care system has effectively marooned me here in Canada," she said.
Kelly is living in "health-care exile," a term that has emerged in expat circles in recent months to describe the unknown number of Americans who left the country at some point to pursue a relationship, care for of an aging overseas parent, or accept a job posting in a foreign land -- but who now can't return because they or their dependents are effectively uninsurable.
They live in Europe, Asia, Canada, and everywhere in between, and their stories offer a fascinating window into -- and unique perspective on -- the health-care reform debate.
Kelly threw light on health-care exile when she shared her story in a YouTube video, called "Can't Go Home."
In the segment, she explains that Canadian doctors recently diagnosed her six-year-old son, Sam, with dermatomyositis, a rare and life-threatening skin and muscle auto-immune disease. She says the family has received excellent care in Canada -- her son's disease is now in remission. "We've never seen a bill," she says.
But that wouldn't be the case if Kelly and her family returned to American soil.
"First, I phoned regular insurance companies," she told The Huffington Post. "No luck, they all considered Sam's dermatomyositis a pre-existing condition." Kelly then looked into the Children's Health Insurance Program, a federal-state insurance-funding scheme, but found her household income is above the program's $45,000 cutoff.
Online discussion forums on progressive Web sites like Daily Koz are swelling with similar accounts--of those effectively stranded abroad with multiple sclerosis, diabetes, and other conditions.
Take John Schoonover, an American who has lived in a western suburb of Paris since 1993, and who recently retired as head of computer security for a French bank. He and his French-national wife have three children, all born in that country.
As a result of a birth accident, his second son, Danny, lives with a permanent and debilitating neurological condition. "He lives in a special facility run by the Red Cross and supported by the French national health care system," Schoonover reports.
Schoonover does not currently wish to return to the United States, though, he says even if he did want to, "we are not free to do so."
A year after his birth, the couple took their son to New York to get a second opinion on his condition.
"They said 'Yes, the French physician is right on the mark,'" Schoonover recalls. "The physician said, 'Come back to the United States, you can get better care.'"
But at a price. Because Danny's condition would make the family ineligible for coverage, "The doctor said we would be quickly bankrupted were we to return to the States for his care," says Schoonover.
Meanwhile, on the other side of the world, Michael DeGolyer is in a more precarious position
DeGolyer is a professor of government and international studies at a prestigious Hong Kong university. While living in the Chinese territory, he developed a series of chronic infections -- complications resulting from the surgical removal in the United States of his tonsils and spleen.
Like Kelly's son, the 56-year-old DeGolyer is receiving excellent care. But his luck is about to run out, because the self-governing Chinese territory requires mandatory retirement of all its residents at age 60. Four years from now, DeGolyer will be out of a job and unemployable in China. He could come home to America, but his chronic infections render him uninsurable, and he won't be eligible for Medicare until age 65.
DeGolyer says he may be able to convince his university to extend his position for a year or two. In the meantime, he faces a kind of health-care roulette.
"Effectively at the age of 60, I start with five bullets in a six-chamber gun," DeGolyer says. "Every year I can get [my job] extended, it is like pulling one of those bullets out. If I can get all five bullets out, I can come back safely."
"Or," he says, "we could get health-care reform."
Calling all HuffPost superfans!
Sign up for membership to become a founding member and help shape HuffPost's next chapter