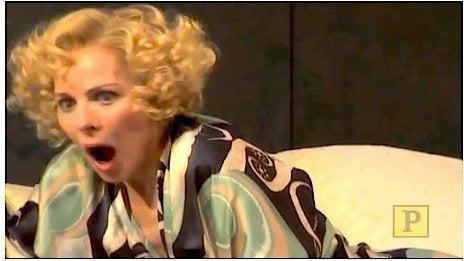 Are you in the mood for a bit of bubbly? Champagne is always flowing in the world of Noel Coward and it's on tap at this modest revival of Private Lives. The show has been on Broadway eight times now, starting in 1931, with Coward and Gertrude Lawrence followed by the likes of Tallulah Bankhead, Brian Bedford, Maggie Smith, Richard Burton and Elizabeth Taylor (and John Cullum), Joan Collins and most recently in 2002 with Alan Rickman and Lindsay Duncan in a production that notably went for a deeper emotional truth underlying the flippant one-liners.
None of those starry figures ever turned Private Lives into a hit here after Coward (who hated long runs); the longest run after his was only seven months. (Even Burton and Taylor only lasted two months;) That track record will probably continue with Kim Cattrall and Paul Gross though with six tries and counting one is tempted to blame the play.
It certainly seems like a winning proposition: Elyot (Gross, square-jawed and amusing) is on his honeymoon though his bride will keep bringing up Elyot's first wife, the tempestuous Amanda. Bad form. They chat merrily away on the balcony of their hotel. Soon enough, they go back inside and Amanda pops up on the balcony next door. She's on her honeymoon and darn if her husband can't stop bringing up Amanda's battling spouse Elyot. So tiresome. We immediately suss that these are not matches made in heaven and to Coward's credit, he wastes no time in having Amanda and Elyot fall madly in love all over again (or rather admit they never stopped loving each other) and soon determining to dump the other two. And if they're spotted, why they'll run like stags.
Acts two and three take place in Amanda's apartment in Paris where she and Elyot are blissfully happy when not battling like harpies. Of course, their respective spouses tiresomely show up and fireworks ensue. Though the show never catches fire, the blame does not lie with the cast. Cattrall first appeared on Broadway in 1986 in a Chekhov play adapted by Michael Frayn starring Ian McKellen and Kate Burton, but she's really been a strong presence in London. She and Gross trade their quips nicely and it should be much funnier than it is. Simon Paisley Day and especially Anna Madeley are also fine as the simpering, unhappy also-rans, with Madeley having some fun with Sybil's rather pointed little rejoinders which continually seem surprising for such a meek seeming girl.
But the bubbly is flat. First, the intermission takes place after the brief first act for logistical reasons (they need to take down the rail for that balcony). The show feels like it's barely begun at that stage and the momentum grinds to a halt. Director Richard Eyre has everyone on the same page -- they're all in a light frothy comedy -- but the pacing is off. Everything moves too slowly and the banter is off. We should be watching two people who love to argue almost as much as they love each other. You should never doubt that Amanda and Elyot are fated for each other and their every argument should amuse because we just know it's their way. Instead, I kept wondering if they really do belong together.
Further, the set and costumes by Rob Howell are unfortunate. It's hard to make Gross look anything less than dashing, but his pajamas aren't as sexy as they should be. And Amanda's apartment is a fever dream. Clearly striving for something other than merely sleek and fashionable, Howell went for eccentric. The walls are filled with bizarre paintings of ducks floating on a pond with fish below. A giant awkward fish tank composed of three massive bowls lurks in one corner. Two tiny little bed/couches appropriate perhaps for a small dog sit in each corner. The actors seem stranded in the midst of this large, cavernous and unattractive rom. Numerous odd details in the lights and fixtures and windows just distract the eye and keep you wondering exactly what sort of woman would live in a place like this. Elyot really might reconsider after seeing Amanda's taste.
The set is as close to disastrous as the show gets, but at least it was striving for something distinctive. The rest of the play is merely companionable and mild. Eyre of course has an illustrious record as a director. So perhaps we should blame Coward. HIs star vehicle may be just that. It worked for him and Lawrence and everyone ever since has floundered, just like the poor creatures in that goldfish bowl.
The Theater Season 2011-2012 (on a four star scale)
NEW YORK MUSICAL THEATRE FESTIVAL 2011
Thanks for reading. Michael Giltz is the cohost of Showbiz Sandbox, a weekly pop culture podcast that reveals the industry take on entertainment news of the day and features top journalists and opinion makers as guests. It's available for free on iTunes. Visit Michael Giltz at his website and his daily blog. Download his podcast of celebrity interviews and his radio show, also called Popsurfing and also available for free on iTunes. Link to him on Netflix and gain access to thousands of ratings and reviews.
Note: Michael Giltz was provided with free tickets to this show with the understanding that he would be writing a review.
Support HuffPost
The Stakes Have Never Been Higher
Popular in the Community