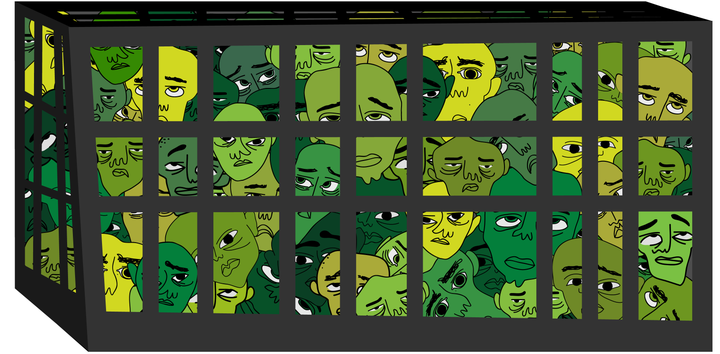 In a recent memo by the Department of Justice, Deputy Attorney General Sally Yates announced that the U.S. Government will begin the process of "reducing―and ultimately ending" federal contracts with privately run prisons. The move is long overdue, as private prisons fail miserably at both reducing public expenditure and providing adequate correctional services for those they house.
The private prison system, which runs mostly on a non-unionized labor force, is incapable of properly managing even the most manageable of inmates. Unsurprisingly, their contribution to the public is just as trifling.
Even with a curated selection of the most affordable residents, and a scarcity of services, report after report has illustrated that private prisons don't save taxpayers one bit. Regardless, a private prison's hypothetical cost-effectiveness should not alone warrant support; such would beget support for a so-called justice system that does very little to reduce recidivism and oh so much to cash in on crime.
Research studies comparing private and public prison systems have examined the for-profit prison industry and found that inmates at private prisons are expected to serve 3 months longer in detention than inmates at public prisons. Inmates at private prisons are are also more prone to recidivism upon release.
Of course, this is great news for those vested in the cash-value of correctional corporations. When you can turn detention into dollars, recidivism is the gift that keeps on giving. The private prison system capitalizes off of the fact that our criminal justice system is so broken that it has to outsource its mass incarceration, but at what cost? 
Perhaps we might excuse prison profiteering if the prisons in question were detaining our most violent, difficult criminals, but that's simply not the case. Thanks to a war on drugs and draconian immigration policies, For-profit prisons deal mostly with either nonviolent drug offenders or refuge-seeking families convicted of unauthorized immigration across the US border. The latter is a penalty that currently accounts for more than half of all federal prosecutions.
There is a bitter political irony in how proponents for more stringent immigration laws tend to lament about immigrants supposedly draining Americans of resources, and yet, bolstered penalizing of unauthorized immigration ends up costing taxpayers more through the funding of outsourced immigrant detention. 
Immigration and Customs Enforcement only houses 11 percent of the individuals in 250 immigration detention centers. A total of 62 percent of immigration detention is done by contracted corporations.
Thousands of families – especially in the Black, Asian, and Native American, and Latino communities – fall prey to a system that turns their crime into a commodity.
Merely a bandage over the deep wound of our fractured criminal justice system, the Justice Department's latest effort does not currently extend itself to privatized state prisons, nor to Homeland Security's Immigration and Customs Enforcement (ICE) use of privately run detention centers, in which we incarcerate more than 34,000 undocumented women, men, and children. And so, thousands of undocumented families will continue to be held in privately run immigration detention centers, where value of human life is relative to one's citizenship. Because of their private status, these detention centers easily jump through loopholes to avoid accountability for their abuse. For example, federal disclosure laws do not extend to privately owned prisons or immigrant detention centers. This means that barbarism behind privately owned bars cannot be scrutinized by the public eye. Far too many undocumented detainees have reported being subject to underpaid slave-like labor accompanied by physical, sexual, and emotional abuses.
The DOJ's decision to end contracts with some private prisons is a marker of progress, but is also a further indication that our criminal justice system has a deeply flawed gauge of who does and does not deserve humane treatment. We have got much more to do if we truly wish to address the plight of those who suffer the most predation and plundering by a profit-hungry prison system. 
Calling all HuffPost superfans!
Sign up for membership to become a founding member and help shape HuffPost's next chapter
BEFORE YOU GO