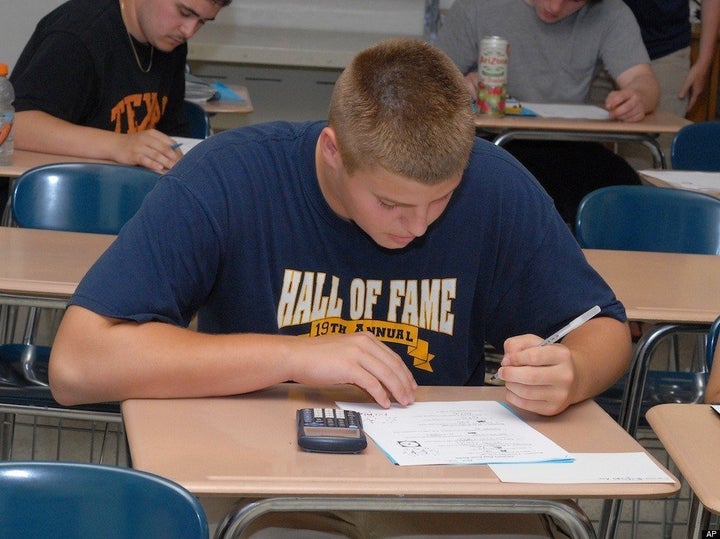 Ed. Note: The previous version of this story stated that top-rated liberal arts colleges only rarely give course credit for advanced placement test scores. However, it was later ascertained that many top universities (including Williams, Harvard, Princeton, and Columbia) do accept a range of AP scores for course credit. The story has been updated to be factually correct.
Advanced Placement in American high schools has become an enormously popular trend, boasting an annual participation of almost 2 million students taking classes in the more than 30 available subjects.
The perceived advantages for students taking Advanced Placement (AP) courses are that they have the opportunity to show their mastery of college-level work to college admission officers and are also able to skip a broad array of introductory level undergraduate courses in many colleges -- providing that they achieve a grade of three or higher on a year-end exam (scored on a scale of one to five). Over the years -- to a great extent because of these "advantages" -- high schools in New York City have ramped up their AP programs.
Over the past decade, however, a growing number of important and influential dissenters have openly rebelled against the trend. They include the Independent Curriculum Group, which is an alliance of "leading college preparatory schools that emphasize site-based, teacher-generated curriculum for advanced courses." The ICG's primary initiative is to eliminate all Advanced Placement from high school curricula. The group contends that AP forces teachers to conduct superficial and mechanical survey courses. They argue the frenetic pace required to cover all the material on an Advanced Placement year-end exam leaves no time for the flexibility and in-depth topic studies conducive to more effective learning. Fieldston, Riverdale Country, Trevor Day and Berkeley Caroll are among the New York City elite private school members that have dropped AP courses.
But don't AP courses help students get into the college of their dreams? And would some of New York's top private schools put themselves and their students at a disadvantage solely to preserve the integrity of their own courses? Not likely. So what's really going on?
The schools rejecting AP classes have finally acted on what they had recognized for a long time: AP not only restricts curricula that is vastly superior when decided by teachers in the classroom, but is also a hindrance to submitting a top-notch college application by draining too much valuable time from studying for the SAT and preparing for other courses.
As was discussed in my last post, "Preparing for the SAT," adequate preparation for the SAT requires intense study over many months. Most selective high schools in New York City recommend their students to take the exam in the spring of junior year and, if they are dissatisfied with the first score, gain in the fall of senior year. The majority in New York City takes the exam at least twice. In addition, most students will have to sit for two SAT II subject tests. Like the SAT, they are normally taken in the spring of junior year and the following senior fall semester. While all of this is going on, schoolwork remains extremely demanding as 16- and 17-year-olds navigate the most significant transcript semesters of their high school experience. So, when one to three AP exams -- which are punishingly demanding in both scope and difficulty -- are thrown into the mix, students are ready for a meltdown and rightfully so! Advanced Placement classes can change the spring semester of junior year from challenging to impossible.
While the College Board advertises that one of the benefits of enrolling in AP is to place out of introductory courses in college, top-rated liberal arts colleges -- e.g., Williams and Amherst, and Ivy League schools -- have extremely high standards and often require departmental exams to verify a student's proficiency in a particular subject despite top AP scores. And after "doing business" together for decades, college admission officers are intimately familiar with New York City's selective high schools. They know what earning an "A" in any class means at Riverdale Country as opposed to Trevor Day, or at Stuyvesant in relation to Bronx Science. Adding an AP to a course designation makes very little or no difference. New York City high schools that have dropped AP courses are trailblazers that deserve high praise.
There is no doubt that many more will follow.
Popular in the Community