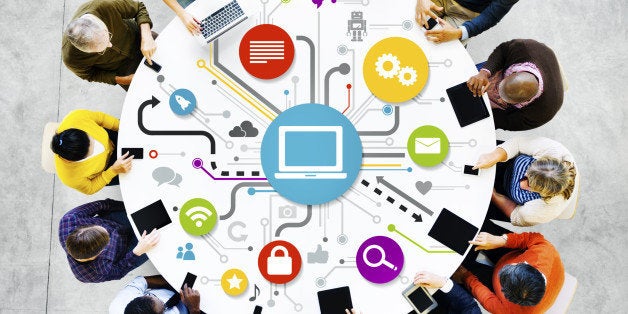 We all know the Internet has revolutionized the way we do business. But is the online universe only now coming of age and offering small businesses and startups what they really need?
Since we went "cyber" it's been one big, teeming free-for-all, with huge sites like Facebook and LinkedIn, where we all interact on cookie-cutter profiles. The world has become accessible with the click of a button, a casual "like" or a random "friending" or "follow."
The ubiquitous nature of this "hyper connectivity" has led to a corresponding yearning for quality over quantity. I predict that people will gravitate more and more towards online spaces that resonate better, and deliver more unique experiences that have been curated and customized just for them. They will expect the time they spend online to be valuable and deliver real-world outcomes, and to take less time to find what they need.
It's a trend that's easily spotted in retail with the success of sites like Etsy, and locally, MadeIt, Hard To Find and Down That Little Lane. Even couture houses are now offering bespoke services to all and sundry. In publishing, the growth of digital publications has seen a corresponding growth in high quality, niche print publications which have become sought-after purchases.
The shift from quantity to quality seems to be a universal one, and something that any of us engaging with consumers would be wise to embrace. In an age of decreased human interaction, consumers want to feel they're receiving a customised service, tailored to their needs. Budding entrepreneurs are no different. In the search for targeted information and advice, quantity can be almost useless, whereas a quality experience may be the difference between success and failure.
It's common doctrine that one in ten startups succeed, so getting the right advice at the right time can be crucial. Networking, and accessing information and advice efficiently is at the core of succeeding in today's business environment. You need to find your "people" fast. These are the people who are going to become valuable connections, providing mentorship, support and helpful resources as you build your empire.
Do a Google search for "business networking groups" and you'll get close to 40 million search results. Helpful? Possibly. But that's a lot of valuable time spent finding the actual worthwhile leads.
Sites like LinkedIn are by no means a bad place to start. Through their Influencers program and LinkedIn Today, there's a lot of relatively accessible information. But with over 350 million users, not only can the search for targeted, relevant information become overwhelming; you can become completely lost in the herd.
Likewise Facebook is a starting point, but if you think about its 1.44 billion users, not to mention its downward trend among younger audiences (you read it here, Facebook is not cool), you might find yourself lost in an endless Gen X newsfeed rather than increasing your profile and knowledge base.
Both these big social media players are recognising the trend for a customised service and are scaling down their experience with features like private groups. Increasingly, people are looking for specialized virtual cliques. Paying a fee to join a niche, online network is on the rise. Of course this trend for smaller, interest-based social media sites caters to all pursuits and occupations but it's set to change the way entrepreneurs and start-ups interact online.
Private social networks are nothing new. ASmallWorld launched in 2004 and despite being invitation-only, has recently been culling subscribers to maintain exclusivity. The idea of creating private networks for select groups is increasingly being adopted across a range of professional communities. At the core of this trend is the ability to connect like-minded professionals through smaller, high-functioning, highly agile environments with quality utilities built around personalised interactions, collaboration and mentorship. The emphasis is on productivity and getting the right information from the right source. Quickly.
For the entrepreneurial world this could well be a game changer. By linking start-ups with established entrepreneurs, and by offering curated advice, all within a tailor-made online community, this new breed of social network could see a huge shift away from the mass market approach of social media and online networking that we're used to. And for the budding entrepreneur in need of swift information, advice and support, a small annual fee for a private social network could be the difference between years of slog and ultimate failure, and a lean, precise path to success.
Tania Price is the CEO of Entropolis.
REAL LIFE. REAL NEWS. REAL VOICES.
Help us tell more of the stories that matter from voices that too often remain unheard.