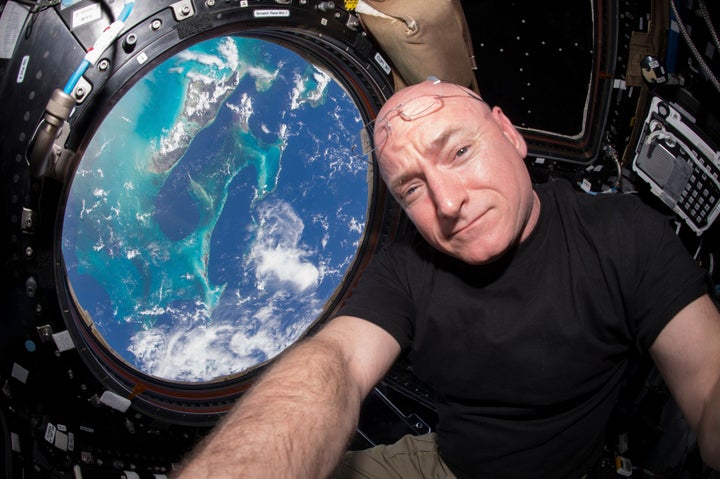 NEW YORK -- The man who spent a year living in space couldn't be happier to welcome Silicon Valley to the final frontier.
"It helps NASA do more deep space exploration-type missions," astronaut Scott Kelly told The Huffington Post on Saturday, more than a month after returning from a year at the International Space Station. "Now, rockets and spacecraft built by commercial companies pick up the mission objects of flying into a lower orbit." 
Signaling a shift in the space business, private companies and startups are now entering a field long dominated by NASA and industrial giants like Lockheed Martin and Boeing.
Amazon CEO Jeff Bezos recently revealed new details about his secretive rocket company, Blue Origin. Over a year after suffering a deadly test crash, Virgin Group founder Richard Branson's space company, Virgin Galactic, has unveiled its new "mothership." Perhaps most stunningly, billionaire Elon Musk's SpaceX nailed a historic at-sea landing last Friday after delivering inflatable bedrooms to the International Space Station, where the 52-year-old Kelly lived from March 2015 until last month.
"It was amazing," Kelly said in a red-carpet interview at the New York premiere of "A Beautiful Planet," a documentary featuring footage from the year he spent on the nearly 18-year-old satellite, which holds a crew of six. A trailer for the film can be seen below. 
For now, the money to be made in the private space business comes from transporting cargo to space. This serves as a revenue stream as companies shaping the industry work on perfecting the reusable rocket, a critical step to making space travel cheaper. 
The next step will be to safely transport human beings from their native planet.
Last year, NASA named the first four astronauts who will fly on the first-ever U.S. commercial spaceflight. The crew -- comprising NASA's Robert Behnken, Eric Boe, Douglas Hurley and Sunita Williams -- is set to travel in spacecraft built by Boeing and SpaceX. They could take off as soon as the middle of next year. 
"It's a really exciting time," said Samantha Cristoforetti, a fellow record-breaking astronaut from Italy who was at the "A Beautiful Planet" premiere. "The next few years will be interesting." 
REAL LIFE. REAL NEWS. REAL VOICES.
Help us tell more of the stories that matter from voices that too often remain unheard.
BEFORE YOU GO
PHOTO GALLERY
15 Mesmerizing Photos From Scott Kelly's Year In Space