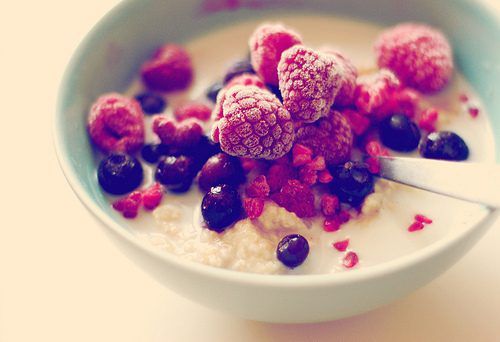 If you started your day off with a whole wheat bagel and a bowl of instant strawberries-and-cream-flavored oatmeal today, you might think you made some fairly healthy breakfast choices.
You might want to think again.
According to a report released Tuesday by the Alliance for Natural Health USA, testing procured from an independent laboratory found detectable levels of the herbicide glyphosate in oatmeal and bagels as well as coffee creamer and seven more products, for a total of 10 out of 24 breakfast food items showing levels of glyphosate - a chemical the World Health Organization's cancer experts have linked to cancer.
Notably, some of the highest levels of the chemical were detected in organic food products, including eggs marketed as "organic, cage-free, antibiotic-free" eggs; and in organic bagels and bread. Indeed, the organic cage-free eggs contained more glyphosate than regulators allow, the group said. The group also tested flour, corn flakes, instant oatmeal, yogurt, frozen hash browns, and coffee creamers.
The laboratory that conducted the tests was Microbe Inotech Laboratories in St. Louis. Microbe, founded by former Monsanto Co. scientist Bruce Hemming, has been sought out by an array of food companies, consumer groups and others to conduct glyphosate residue testing over the last few years.
The ANH said the findings indicate that glyphosate is entering the food supply in a variety of ways, including being sprayed on crops like wheat to help accelerate the crop into harvest, and through livestock feed that accumulates in poultry and other animals. Corn and soybeans, chief ingredients in livestock feed, are genetically engineered to withstand being sprayed directly with glyphosate herbicides. Wheat, used to make bread, is not.
ANH said its testing indicates that "Americans are consuming glyphosate in common foods on a daily basis." The group acknowledged that most of the samples that showed glyphosate residue registered at levels below what U.S. regulators consider an "allowable daily intake." But ANH pointed out that what is considered safe in the United States is far higher than what is allowed in the European Union, and said that some critics believe commercial formulations of glyphosate-based herbicides are more toxic than glyphosate alone.
"The fact that it is showing up in foods like eggs and coffee creamer, which don't directly contact the herbicide, shows that it's being passed on by animals who ingest it in their feed," said Gretchen DuBeau, executive and legal director of ANH-USA. "This is contrary to everything that regulators and industry scientists have been telling the public."
QUESTIONS SPREADING
Questions about the safety of glyphosate, the herbicide found in Monsanto's branded Roundup and other weed-killing products, and about glyphosate's prevalence in the food supply are spreading around the globe. Public interest is high a year after glyphosate was dubbed as probably carcinogenic by the International Agency for Research on Cancer (IARC). Both the European Union and the U.S. Environmental Protection Agency are evaluating future uses of glyphosate now, and the U.S. Senate is wrangling over proposals to label foods made with genetically engineered ingredients. Fears about glyphosate levels on foods made with GMO crops is one factor in calls by some consumer groups for mandatory labeling.
So what does the Food and Drug Administration, the nation's top food safety regulatory agency, have to say about all this? The fact is that the FDA really doesn't want to talk about glyphosate. At all.
In February, I broke the story that the FDA was for the first time about to start assessing foods for residues of the glyphosate. The agency has been under pressure from the U.S. Government Accountability Office (GAO) for failing to do such assessments and for not disclosing that short-coming to the public. (FDA is due to report back to the GAO in June on what actions it has taken to meet the GAO recommendations.) In February FDA would only provide a few details of its plans to test foods for glyphosate, saying it was "considering assignments... to measure glyphosate in soybeans, corn, milk, and eggs, among other potential foods."
So I thought this week was a good time to ask the FDA for an update on where the agency stands on its testing. But as was the case in February, the FDA was reluctant to discuss the issue of glyphosate residue testing. FDA spokeswoman Lauren Sucher declined to answer questions seeking to know if the testing program had started yet, and if there were any changes to the foods to be assessed. I also asked if FDA was consulting with Monsanto officials and scientists about methodology or other matters related to the testing. Sucher replied that "FDA's work is moving forward" but she could not "share" anything further, including information "about communications with any specific companies."
Why is the FDA's work in this area so secretive? This publicly funded regulatory agency has the power to proactively address many of the questions and concerns that consumers are raising. FDA has been conducting what it calls the "Total Diet Study (TDS)" since 1961 as an ongoing program that monitors levels of about 800 contaminants and nutrients in the average U.S. diet. To conduct the study, the agency says it buys, prepares, and analyzes about 280 kinds of foods and beverages from representative areas of the country, four times a year.
The program began as a way to monitor for radioactive contamination of foods, but has expanded to include pesticide residues, industrial and other toxic chemicals, and nutrient elements. "The ongoing nature of the study enables us to track trends in the average American diet and inform the development of interventions to reduce or minimize risks, when needed," the FDA states on its website.
But while it has spent years analyzing levels of pesticide residues on food, the FDA, like the U.S. Department of Agriculture, has steadfastly avoided testing for glyphosate residues in the American food supply despite the fact that both test annually for other types of pesticide residues.
For its part, Monsanto, which last year recorded roughly $5 billion in glyphosate herbicide-related revenues, says years of science show glyphosate is safe. Monsanto officials maintain that there is no data that has ever indicated residue levels of glyphosate that are more than a fraction of the EPA's allowable daily intake or of concern.
But how would we know that? Without routine and reliable government testing, consumers are left wondering who to trust, and how to find the truth.
Popular in the Community