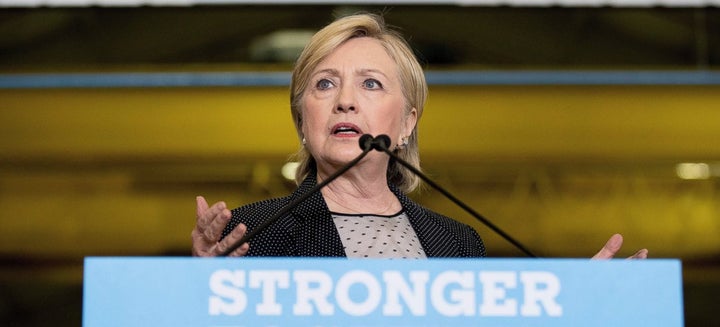 "I am the product of the American middle class."
On August 11, democratic candidate Hillary Clinton expressed this sentiment while campaigning in Warren, Michigan. In the midst of effectively challenging and arguing the proposed economic policies of Donald Trump, Clinton took a break from her political rhetoric to offer what she conceives to be simultaneously a piece of her identity and a qualification to represent the people of Warren. Touching on her grandfather's work in a textile factory and her father's ownership of a small business, she appeals to her audience that she not only understands the middle class but she is its outcome: a politician whose conception of self has been shaped by her intimate experience with wealth. She is the product of the American middle class.
But by claiming to be representation of a bygone era's economic mediocrity, Hillary Clinton eschews critical ownership of her privilege. As someone who has been the result of a working class family, experiencing the personal and social effects of being low income, I understand the difficulty of coming to terms with privilege. Though I express and sustain gratitude for having a roof over my head, a dedicated mother, a supportive network of teachers and friends, a firm reluctance once persisted within me to admit my life advantages. My experiences with economic instability comprised such an influential chunk of my life that I found it necessary to defend and preserve my narrative. A mold of me was in danger of breaking if I admitted inexperience with other systems of oppression. I desperately feared the ownership of ignorance.
Privilege is the ability to continue or destroy systems of oppression.
But I was privileged. As I came into acquaintance with the various, painful narratives of other university students, I realized that the recognition of my naiveté was necessary. To continue my charade of dodging a direct answer to the question of privilege would be an insult to other individuals' encounters of trauma and grief. My education would never begin if I continued to claim knowledge that wasn't my own. I had to let go of my pride for the sake of enlightenment.
However, though I've embraced and encouraged the discourse of privilege, it continues to be a subject of avoidance by both candidates in the upcoming election. In efforts to attract the working class of America, rhetoric has been falsely based in comprehension and empathy of their future constituents' plight. On October 26, 2015, Donald Trump attempted to appeal to low-income attendants by stating at a town hall in Atkinson, New Hampshire, "My whole life really has been a 'no' and I fought through it. It has not been easy for me, it has not been easy for me. And you know I started off in Brooklyn, my father gave me a small loan of a million dollars."
Though I've embraced and encouraged the discourse of privilege, it continues to be a subject of avoidance by both candidates in the upcoming election.
Although laughable, Trump's testimony of financial hardship is troubling. Just like Clintons comment, Trump's appeal commodifies low-income experiences so they may be consumed by voters. There is no authenticity behind his claim but rather a conscience intent to force his self-pity down the throats of viewers. Our candidates, instead of taking the ownership of their clear and doubtless privilege, claim a chronicle of suffering and resistance that is not their own. They blind and debilitate themselves in acknowledging and appreciating the disadvantages faced by low-income citizens. They conceal the role their advantages play in reproducing difficulties and obstacles for others. They perpetuate injustice. There is a common misconception about privilege in our political climate. It assumes that claiming ownership of it is a perceived weakness due to its lack of relatability, but really, taking ownership is the unapologetic recognition of one's power. Privilege is the ability to continue or destroy systems of oppression.
Instead of these anecdotes of adversity, I would rather hear stories of what these candidates did with their privilege to alleviate others' tribulations. For that would be much more impressive to hear for a low-income voter. It would prove that candidates' television niceties either come from a place of sincerity or deception. It would prove if they desire genuine understanding, if they could lead eventual change.
Hillary Clinton, the question is not are you a product of the middle class, but whether are you a reliable vessel for the interests of low-income America. Will you recognize your financial privilege so you can clearly see the true products of the working class?
Calling all HuffPost superfans!
Sign up for membership to become a founding member and help shape HuffPost's next chapter
BEFORE YOU GO