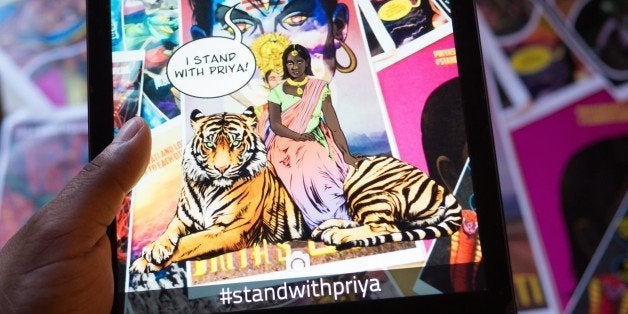 After a harrowing New Delhi gang rape in 2012, a police officer told Ram Devineni that "no good girl walks home at night." In that moment, the Indian-American filmmaker vowed to find a way to shake authorities, and other indifferent members of society, into fighting back against such rampant violence against women.
"[He was] implying that she probably deserved it, or at least provoked the attack," Devineni told The Huffington Post in an email. "I knew then that the problem of sexual violence in India was not a legal issue; rather it was a cultural problem."
After consulting with a number of rape survivors in India and researching Hindu mythology, Devineni realized he could craft a relatable comic book character who could speak to the victims' horrific experiences, and voice their overwhelming need for justice. In December, at the Mumbai Film and Comic Convention, Devineni and his team unveiled Priya's Shakti -- a superhero gang rape survivor who fights against sexual violence and pushes for women's rights.
The comic book creators also launched the #StandwithPriya campaign to encourage supporters to get involved with the movement on social media.
Priya's Shakti was quickly met with much fanfare across India and the world. U.N. Women recently named Devineni, who's involved with the group's HeForShe mission, a gender equality champion.
"To deliberately flip the usual narrative and show a survivor of sexual violence as a superhero is commendable," Oisika Chakrabarti, U.N. Women senior communications and media specialist, told HuffPost.
Priya's Shakti debuted at a time when eyes are on India to make definitive efforts to combat its rape culture.
According to U.N. Women, nine out of 10 women in New Delhi have experienced some form of sexual violence in their lifetime, Chakrabarti said, but few have anywhere to turn for help.
Relatives, community members and even the police, typically dissuade survivors from reporting their crimes, Devineni said. Even if a victim musters up the courage to go to the police, law enforcement officials are notoriously overworked, understaffed and have been known to assault women, the Sydney Morning Herald reported last year.
"The burden of shame was placed on the victim and not the perpetrators," Devineni added.
To develop his character effectively, he drew on themes from Hindu mythology, mainstream comic books and profound graphic novels like "Maus," which depicts a son interviewing his Holocaust survivor father.
Priya's Shakti faces down the same level of danger as Spiderman, and beseeches the gods for help as is often the case in Hindu mythology, but she has no superpowers.
The sexual assault survivor is advised to rely on her power of persuasion to challenge patriarchal views and urge victims to seek out help.
Devineni said he's already seen firsthand how the comic book character can spur meaningful conversations.
His team created a mural of Priya in Dharavi, Mumbai, the largest slum in Asia made famous by the film "Slumdog Millionaire." Devineni looked on as men congregated around the mural, asked questions and determined that she was a "strong female figure."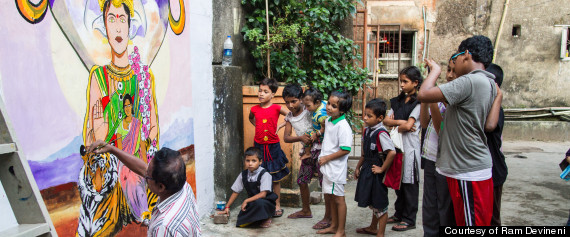 To make the comic books more readily available, the creators launched an Indiegogo campaign in order to distribute them for free to schools in India. The money will go to the team's nonprofit partner, Apne Aap Women Worldwide, which works to empower marginalized women and end human trafficking.
While Devineni hopes the comic book medium is what draws readers in, he wants the overarching message of gender equality to keep them engaged.
"Priya is not your typical 'superhero,' Devineni said. "Although she rides a tiger, she has no powers. An idea is much more powerful than Superman's strength or Wonder Woman's magic lasso."
Calling all HuffPost superfans!
Sign up for membership to become a founding member and help shape HuffPost's next chapter
BEFORE YOU GO
PHOTO GALLERY
Indian Protestors Demand Death Penalty For Rapists