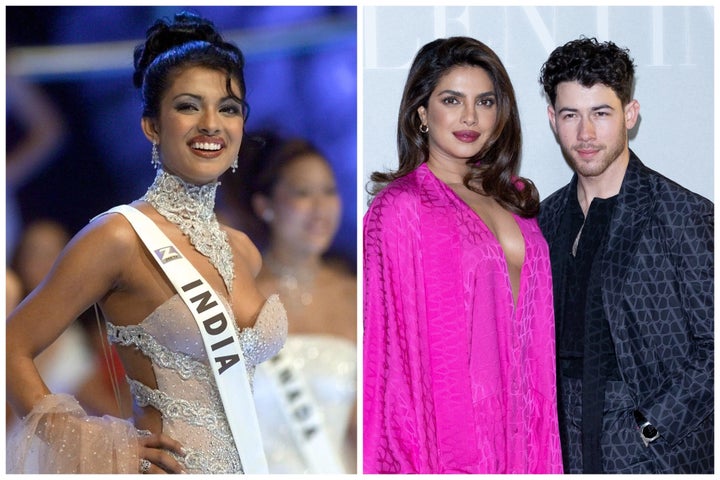 Priyanka Chopra is sharing the moment her husband, Nick Jonas, first laid eyes on her — and it's much earlier than anyone may have anticipated.
Or at least according to the Jonas family lore.
On Thursday's episode of "The Jennifer Hudson Show," the "Citadel" star spoke about winning the Miss World pageant for India as a teen.
"This was in London, and this was November. I had turned 18 in July ― complete child. I had no idea what I was doing or what this world entailed, didn't have a lot of practice," she said. "But apparently, my mother-in-law was like, 'I remember watching you when you won.'"
The actor expressed that she was initially confused because his family resided in Texas at the time.
"I was like, 'There's no way,'" she explained. "She was like, 'I remember it so clearly because it was November.' [At the time] Nick was on some Broadway show at 7 years old, and his brother was on some Broadway show at 8 or 9. And she said, 'I remember this clearly because Kevin Sr. (my father-in-law) loves watching pageants, and he ― I remember ― was watching it, and Nick came and sat down and watched you win.'" Chopra added that the idea of that is "unfathomable" because "that was 22 years ago or something. He was 7. I was 17. And he was sitting there, and he was watching... It was so weird."
When Hudson noted that the story sounded like "destiny," Chopra agreed.
"I do believe that people are meant to be with each other for whatever that duration in your life is supposed to be," Chopra said. "And I think that people collide because you're supposed to create — on this small, short life that you have — memories that you will take forward."
She added: "And I think that Nick and I had — through our lives — these weird, enchanted little moments."
She told "Today" in April that although kismet was on her side, she initially didn't give the Jonas Brothers singer "much of a chance because I was like, 'He's 25 years old, he's a rockstar. I want to get married. I want to settle down. I want to have a baby.' I was 35 at the time."
She continued: "I wanted stability, and I didn't give Nick enough credit until I went out with him on our first date. We spent the whole evening together, and I realized my husband is just like an old soul. He's stability in human form."
Popular in the Community