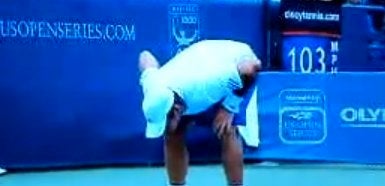 Flipping through the channels the other night, I landed on ESPN Classic. To my delight playing out an epic 5-setter were ginger-headed Boris Becker and toe-headed Stefan Edberg on the grass courts of Wimbledon. I was instantly transported to 1988, a time when hair was big, cars were loud and tennis pros played out actual points rather than the slugfests to which we've now become accustomed. Watching the legends, I also realized my disappointment with today's tennis circuit isn't due to the yawn-inducing corporate professionalism of the players, nor to the gargantuan Polo pony commercially trotting across the chest of every U.S. Open linesmen. The bone I have to pick is actually more like a wedgie -- and the distinct lack thereof in men's tennis and, come to think of it, professional men's athletics.

Back in the '70s and '80s, when pills were for popping and there was no such thing as cabaret laws, wanton abandon not only pervaded nightlife, but also the length of athletic shorts. Sports stars from around the globe -- Wilt Chamberlin, Pat Cash, Sugar Ray Leonard, Karch Kiraly -- some of the manliest man to ever break a sweat, wore shorts roughly the size of two dinner napkins stitched together. The fashion was such that shorts -- names eponymously for a reason -- gave athletes the cloth space in which to run without any impediments. But these tight blood-cutters weren't just hemmed for business, with inseams of up to two inches -- they were party-length, giving these virile showmen plenty of legroom to play to the crowd. At one time in history, everyone agreed: the shorter the short, the manlier the man.
These days, I don't think you could call what pro athletes wear shorts. Anything that hovers at or falls below the knee is not a short, it's a shant: a short pant that shan't be a short, nor a pant. Pro basketball players have actually taken the shant so far south that it's merged with the athletic sock mid-calf, covering the leg in its entirety. Rafael Nadal actually chucked the shorts entirely in favor of capris. And while I can forgive the Europeans for many of their sartorial trespasses, these pantaloons were not only bad PR for Spain, they weren't doing Rafa, or his legs -- which happen to be cut like slices of alabaster -- any favors.

Pro athletes are buff and broad, rich and famous, alpha and athletic, but rather than suit up in edgy, form-fitting athletic apparel, they look like they're wearing coulottes. Compared with their taught-shirted and tight-shorted 80s uncles, pro athletes today appear downright chaste, exuding about as much virility as a Catholic schoolgirl in a skort. I don't think a waist-down burka exists, but if someone designed it, I suspect it would look a lot like the shant.

This look began in earnest when the Michigan Fab Five added inches to their uniforms in 1994 season. It was an urban thing bought to the mainstream, and a really cool new style. Great. I get it. But twenty years on, this look has been taken to the point of such ridiculousness, I think it might be Lady Gaga-sanctioned. In retrospect, I wish Steve Fisher had told his squad, "Sorry, boys, there's no "I" in seam."

Men are usually so practical when it comes to clothes. But when an athlete suits up in clothes so large that, if masted, could catch wind and pull a small ship, they've taken this style over function thing too far. With all the new fabric technology and the addition of compressions shorts, you'd think these guys, would seek out the most aerodynamic apparel available. Less in this case is more. And all that extra fabric has become like an albatross around the legs, and it's not helping their game -- on or off the court.
Not only that, an athlete's body is a temple, if not a shrine. If one plays professional sports for a living, then the BMI score undoubtedly hovers somewhere in the single digits. So why wouldn't these guys want to show off the Adonis-like physique acquired after years of training? It's like Jimmy Page deciding only to strum away at a few power chords or Picasso limiting himself to painting dog portraits. Their finely honed bodies are a very important part of what makes them famous. There is no need to be modest. They've earned the right not to be.
Also, despite men's protestations, women want to see men's legs. Trust me. They do. They really, really do. Women the world over love watching your thighs thundering down the field and court. Women miss your quads, and I think you might miss them, too.

So the long and short of it is that perhaps it's time for pro athletes to take a cue from their rugby-playing brethren who've completely bypassed this long shorts trend altogether. Very proudly rocking 2" inseams, the dudeliest dudes in sports and their Tom Selleck-sized stubbies are saying what we're all thinking:
Gentlemen, a little leg, please.
Popular in the Community