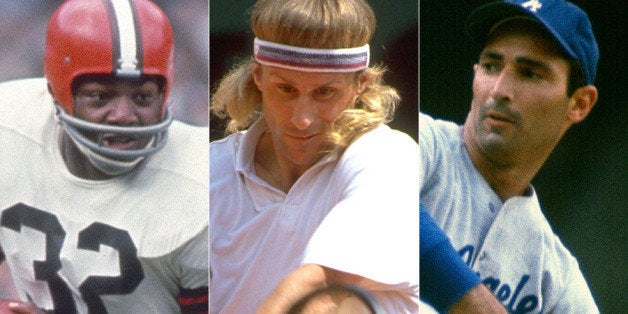 We often assume that successful professional athletes will play out their careers until they are truly no longer able to compete. Whether their endurance over the years is fueled by pure love of the game, the star lifestyle or something altogether different (like avoiding bankruptcy), most athletes play through their prime. But occasionally an athlete comes along who retires at the peak of his or her abilities. Some do so to find meaning outside of sports, others to avoid more serious health concerns, such as concussions and head trauma (especially in the NFL, where such injuries are rampant). But no matter what the reason, shifting focus has led these men and women to finding value and substance away from the playing field.
Here are some prominent pro athletes who left the game early to pursue other passions, leaving behind fame, fan adulation and even multimillion dollar contracts.
John Moffitt Defined Success Beyond Money Just this year, at the peak age of 27, John Moffitt, a 15-game starting offensive lineman who most recently played for the Denver Broncos, stunned the football world by retiring from the Super Bowl-contending team. During his young professional career, Moffitt tore up his knee, had elbow surgery and dealt with consistent shoulder pain. He also suffered from sleep apnea and decided that his health was worth more than his substantial paycheck.
"They are merchandising human beings, let's be honest," he told The New York Times. All in all, Moffitt surrendered the rest of his $625,000 salary this year and could have made about $750,000 in 2014, according to the Times.
"You kind of let go of that dream that you kill yourself for, to be a millionaire ... and see that it's just a facade," Moffitt told the paper at the time of his retirement. "I let go of all that stuff."
Bjorn Borg Assessed What Tennis Truly Meant To Him
During a seven-year stretch, Borg won 11 Grand Slam titles, including a remarkable five straight Wimbledons and six French Open championships -- a record until Rafael Nadal broke it in 2012. Borg remains the fifth all-time champion. The Swede was also the first player ever to earn more than a million dollars in prize money in a single tennis season. Moreover, he is largely credited as the first real celebrity of men's tennis.
And yet, at 26, during the peak of his career, he retired. Borg has admitted that he lost the burning drive and passion to succeed in the sport. "It was difficult after I retired," Borg told The Telegraph in 2007. "I had been concentrating on tennis all my life, and then suddenly I had to quickly learn about other things in life. That was not always easy as people judged your tennis against everything else in your life. They would say, 'Look, he's not as successful now as he was as a tennis player.' That was hard."
Despite critics and uncertainty, by retiring at 26, Borg was able to start a successful fashion label bearing his name.
Jim Brown Pursued His Artistic And Political Passions Considered by some to be the single greatest football player to ever live, Brown retired at age 29, despite totaling 1,544 yards and a league-best 17 touchdowns. He earned Pro Bowl honors during all nine of his professional seasons, as well as four NFL MVPs. A vocal proponent of the civil rights movement while still a pro athlete in 1965, Brown began to be associated with Malcolm X and other leaders of the era. And while his political passion and activism started during his career, Brown increased his involvement once he was retired.
Brown also fed another passion -- acting. To date, he has appeared in more than 30 films. It was during the shooting of the feature film, "The Dirty Dozen," in 1966, that he officially announced his retirement.
Sandy Koufax Weighed The Personal Cost Of Injury Koufax was only 30 years old and fresh off the 1966 NL Cy Young Award when he retired. Considered one of the greatest pitchers of any generation, he was the first left-handed pitcher to throw a perfect game in more than 80 years, a four-time World Series champion and a member of Major League Baseball's All-Century Team. Koufax, who is Jewish, is also well-known for refusing to pitch Game 1 of the 1965 World Series because it fell on Yom Kippur.
Despite his success, Koufax faced chronic arthritis in his pitching arm and felt that he would only further damage his joints if he continued to throw a baseball. And yet, he was so dominant that Pittsburgh Pirates slugger Willie Stargell, also a Hall of Famer, once said that making contact with his fastball was like "trying to drink coffee with a fork."
Despite such accolades, Koufax prioritized his personal health and well-being and quit while he was still ahead.
Eric Cantona Made Room For A Second Act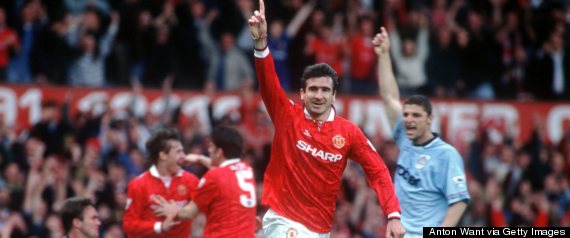 "King Eric" stunned the soccer world when he retired at 30. The Frenchman enjoyed tremendous success with the storied Manchester United club, where he won four league championships and was voted as the club's greatest player by Inside United magazine.
Sir Alex Ferguson, the longtime Man U manager whom HuffPost recently profiled, said of Cantona: "It was as if he had come to the place he always wanted to be. You could tell he would fit in straight away. He came on for the first time as a substitute ... But when he came on I always remember his first pass, just a 10-yard simple pass -- it was just genius."
But Cantona, now 47, had a different calling in film. After his retirement in 1997, the soccer star enjoyed a successful acting career, highlighted by his role opposite Cate Blanchett in "Elizabeth."
Barry Sanders Sought Happiness And Personal Fulfillment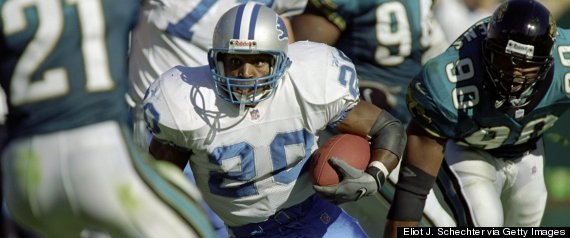 One of the great running backs of any generation, Sanders was a Heisman Trophy winner at Oklahoma State and an NFL MVP. Lightning in a bottle, he was capable of taking any hand-off to the house. However, at 30 years old and fresh off his 10th consecutive Pro Bowl, he announced his retirement.
Years later, Sanders admitted that a consistent losing streak in Detroit proved to be too much, despite the fact that the Lions had made the playoffs in five of his 10 seasons. "I knew going into [the final game of the 1998 season] that was pretty much it, so I remember after the game I just broke down," he said. "I didn't really say what was going on. I was glad to get out of there."
"Barry was such a special runner," said former NFL coach Dan Reeves. "You could play an eight-man front against him, and it didn't matter because he'd just bounce off people. He didn't always have a lot around him, but he always made it interesting. I think everybody wonders about what he could have done if he spent his career with a lot of talent around him."
Despite this talent, Sanders now says that he simply lost the drive, determination and enjoyment that had once made the game fun. Instead, the former Lion has recently found success as the EA Sports Madden NFL 25 cover man. In addition, his son, Barry Sanders Jr., is a sophomore running back at Stanford.
Pat Tillman Pursued A Career Of Greater Impact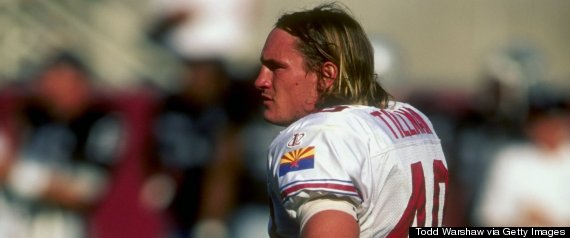 Tillman was just 25 years old when he turned down a multimillion-dollar contract extension from Arizona to enlist in the U.S. Army after the Sept. 11 attacks. Tillman was killed during active duty in Afghanistan two years later, but his legacy lives on: The Cardinals retired his number 40, and Arizona State did the same for his collegiate number, 42. Tillman was awarded a Purple Heart and Silver Star, among other honors, for his military service.
Former Cardinals head coach Dave McGinnis asked Tillman to appear in the locker room 18 months after his retirement. Tillman agreed, but only on his terms. He did not want to address the team formally because he didn't want to come across as a hero. "When he walked in, there was just a tremendous amount of respect," McGinnis told TIME. "I can still see vividly in my mind each player shaking his hand, everyone saying thank you and touching his shoulder."
Former Cardinals teammate Kwamie Lassiter spoke of Tillman's steadfast determination: "Tell him he can play for three years, and he'll play four just to show you he can. Whatever challenge came up, he hit it head on."
Email me at jordan.schultz@huffingtonpost.com or ask me questions about anything sports-related at @Schultz_Report and follow me on Instagram @Schultz_Report. Also, be sure and catch my NBC Sports Radio show, Kup and Schultz, which airs Sunday mornings from 9-12 ET, right here.
Calling all HuffPost superfans!
Sign up for membership to become a founding member and help shape HuffPost's next chapter