In 2009, Los Angeles-based designer Matthew Manos had a thought: "I was obsessed and fascinated by the idea that a design firm could actually devote 100% of is time to helping non-profits for nothing in return." Two years later, his company, A Very Nice Design Studio, has done work for 100 clients, as diverse as a high school in Vancouver and the United Nations. It operates with 40 volunteers internationally, and 70-80% of the work is done pro bono, with the remaining work financially supporting the studio's efforts.
I interviewed Matt recently about his work and what it means to do pro bono design. What follows the slideshow is an abridged version of that conversation:
An Xiao Mina: You have quite a diverse spread of clients. What are your criteria for working with an individual or organization? What do you look for?
Matthew Manos: My answer is always "optimism." I love working with individuals that are driven, passionate, and certain that the work they do will and does have a significant impact on our society.
I take great interest in really specific or unusual concepts/models behind organizations -- for example, in 2010, I worked with a non-profit named In Your Honor. Their mission was to provide the best birthday party for the elderly in assisted living. To me this is a prime example of a very unique, often forgotten about, and very specific cause.
AXM: How does a pro-bono design studio sustain itself and its staff? What learnings can you share with other designers/studios interested in pro-bono work?
MM: I learned about Muhammad Yunus, the Grameen Bank, and the concept of a "social business." A social enterprise is one that thinks and operates as a non-profit organization would, but has interesting design in its planning so as to be able to sustain itself and actually create a profit as opposed to relying on government funding and funding from donors.
This concept fascinated me -- to be able to do good while sustaining yourself and not relying on others for monetary donation. On any project that is pro-bono, our work is done as volunteers -- on any project that is paid, all collaborators get paid. The paid projects provide opportunities for the volunteers to take on for-profit projects.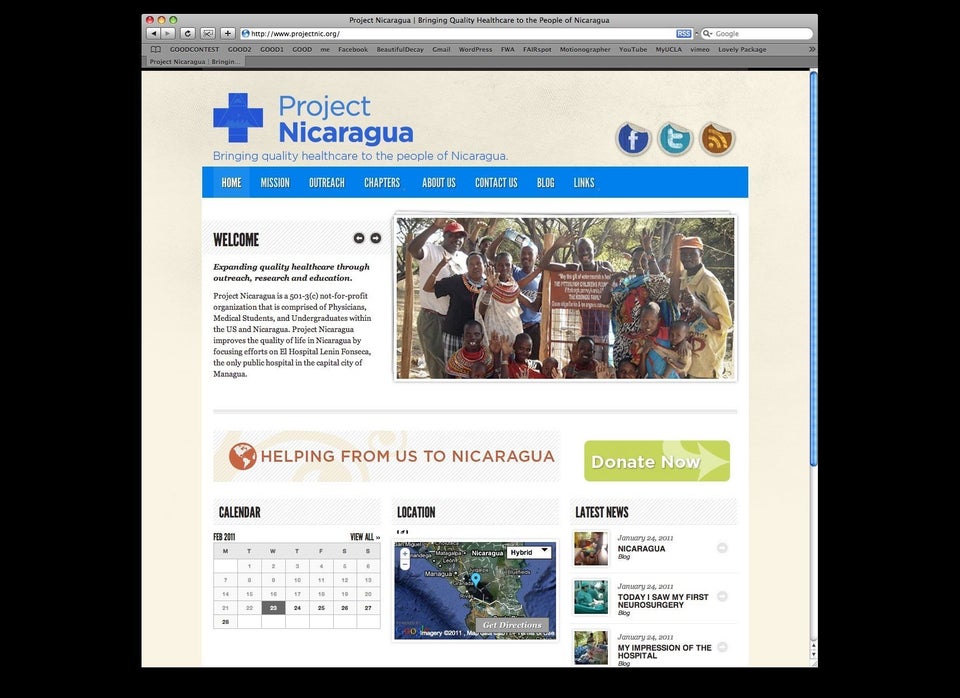 Pro-Bono Design for Nonprofits: Selected Work from a very nice design studio
AXM: Tell me a bit about these volunteers/contractors -- I understand they come from different parts of the world and different professional backgrounds.
MM: In the very beginning, I recruited a few like minded people -- Chris Fung, Dru Bramlett, Erik Kristensen, and Steven Kukla. Once we got going, we attracted new volunteers who had been looking for an outlet to provide service to non-profits. When a volunteer joins, I typically ask them to tell me if they are particularly passionate about any cause, this way if a client working in that field pops up I go to them first. I love to think that we all have a lot of fun doing what we do.
AXM: I do see a lot of smiling faces in your staff photos! It makes sense: develop a portfolio of work while working on a cause you believe in. I noted some brand name clients like Amnesty International and MTV Networks. It seems like these folks would either have in-house design teams or established relationships with studios.
MM: You are very right! Most of these big organizations actually do have in-house designers to take care of small, daily tasks, more marketing related. I think there are two things about AVNDS that attract our clients: quality and "goodness."
When a client has a choice between two design firms, and one is helping out a lot of non-profits, they will be attracted to the idea that their website will make another website possible. Above all this, though, we know our work has to be the best it can be -- there is a constant pursuit of perfection in our work.
AXM: Tell me a little about how you've worked to create in-house design firms as well.
MM: Marketing and design are crucial assets to any businesses, but especially non-profits due to the necessity of engaging an audience in order to spread awareness around a cause, or build trust in order to raise donations or recruit volunteers. Now a very problematic aspect of working with a non-profit client on a pro-bono basis is a lack of sustainability -- just launching a brand or website really is not enough, and can lack the consistency in brand awareness and marketing tactics that are necessary in sustaining a successful social enterprise or non-profit organization.
We have worked with numerous non-profit organizations such as The $100 Solution and Youth Leadership America to contribute to not only the design of their promotional materials and branding, but to the design of their business model by incorporating marketing divisions and building teams / filling the seats for those positions for these organizations.
These two organizations as well as other small non-profits we have done this for are now able to sustain themselves with the help of these designed divisions within their existing infrastructures.
AXM: It's easy to see how an organization focused on social action might want to pour more resources toward fundraising, or programmatic operations. Can a design team also play a role in the bigger picture of a nonprofit?
MM: Yes. The role of a designer is changing -- the overall process of a design project (conceptualization, prototyping, execution, iteration, feedback) is synonymous to that of an entrepreneur. Designers have a natural ability to understand systems, and to (most importantly) find the gaps or voids within those systems. Designers understand the importance of "user" feedback and are in a constant working cycle of iteration.
All of these qualities make a designer an ideal leader, if they want to. Now this is not a new idea, *design-thinking*, but I think there have been a lot of missed opportunities to guide entrepreneurs and designers in both the conceptual phase (anomalous object), and in the implementation phase (solid object).
AXM: Thanks, Matt, for sitting down to chat.
Volunteers interested in joining a very nice design studio should contact Matt directly at matt@averynicedesignstudio.org.
Originally from Los Angeles and Manila, designer and artist An Xiao Mina is currently based in Asia. She blogs regularly on art, design, technology and culture at http://www.anxiaostudio.com.

Related
Popular in the Community