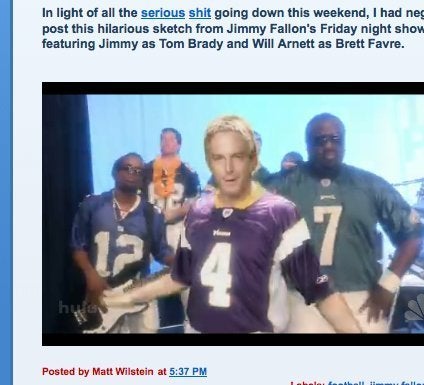 While most people are getting psyched for the Super Bowl, "Late Night With Jimmy Fallon" is focusing on a slightly less important game. On Friday night, Fallon, Will Arnett and Horatio Sanz did a musical tribute to the Pro Bowl -- the "Pro Bowl Shuffle -- as Tom Brady, Brett Favre and Troy Polamalu, respectively.
Aside from parodying the Pro Bowl, the song makes mention of Favre's sexting scandal, Brady's Justin Bieber-esque hair and Polamalu's crazy 'do, which he whips a la Willow Smith, naturally.
WATCH
:
BRETT FAVRE (Will Arnett)
Well they call me Brett and I like to dance
Then I text you a picture of what's in my pants
11 Pro Bowls cuz I love to win
Been with more pro teams than a Kardashian
If you hear me say, that I'm retired
that just means I'm currently for hire
I shop at sears and I'm on a roll
Shufflin' on down to another Pro Bowl
TOM BRADY (Jimmy Fallon)
I'm the funky QB they call Tom Brady
if you saw me from the back, you'd think I was a lady
cuz my hair's so long that it might deceive ya
Get it cut the same place as Justin Bieber
All-American with looks to boot
Every night I see Gisele in her birthday suit
Like Homer Simpson got a face full of stubble
So I look good doing the Pro Bowl shuffle
MICHAEL VICK (Bashir)
A-bow-wow-wow-yippee yo yippee yay
It's your boy Mike Vick here to save the day
Had to go to jail cuz my homeboy snitched
Then learned a new meaning for the word *WHISTLE*
I could run it or throw it, to score a goal
I just wish they'd let me play in the Puppy Bowl
Stop barking bad about me or you'll get the muzzle
Cuz I just wanna do the Pro Bowl shuffle
CHORUS
Uh huh...uh huh...uh huh, uh huh, uh huh.
TROY POLAMALU (Horatio Sanz)
(super high voice)
Well they call me Troy
Pa-lo-ma-lu
and spelling my name is hard to do
If you really want, to be, just like me
Well use more shampoo than a sorority
I'll hit you so hard, I'll rock your world
My hair looks like a big-assed jerry curl
I do the Pro-Bowl shuffle with a flip
Then I whip my hair like Willow Smith
ELI MANNING (A.D. Miles)
Eli Manning in the house
the same place I'll be watching the Super Bowl this year
You know my brother Peyton, I'm sure you do
I've been livin' in his shadow since I was two
Playing for Giants is pretty neat
I love 'em even more than Rex Ryan loves feet
I won the Super Bowl a few years ago
Now the Pro Bowl shuffle is all I know
Calling all HuffPost superfans!
Sign up for membership to become a founding member and help shape HuffPost's next chapter