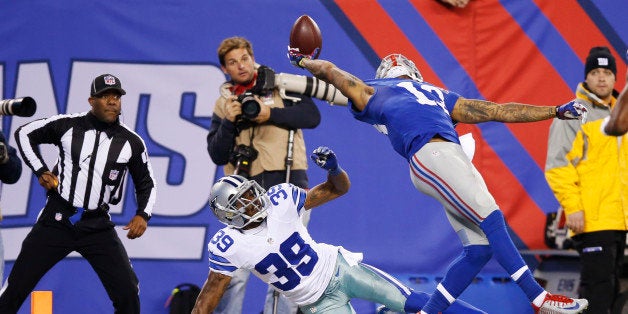 QB-Russell Wilson, Seattle Seahawks
RB-Justin Forsett, Baltimore Ravens
FB-Anthony Sherman, Kansas City Chiefs
WR-Odell Beckham, New York Giants
WR-Golden Tate, Detroit Lions
TE-Antonio Gates, San Diego Chargers
T-Andrew Whitworth, Cincinnati Bengals
T-Sebastian Vollmer, New England Patriots
G-Joel Bitonio, Cleveland Browns
G-Evan Mathis, Philadelphia Eagles
C-Rodney Hudson, Kansas City Chiefs
The unconferenced format really hurt Wilson, as only two NFC quarterbacks were selected. The league's top dual-threat quarterback is 15th in the NFL in rushing with 842 yards and has a 95.7 passer rating (ninth in the NFL). Forsett leads NFL running backs with 5.3 yards per carry and his 14 runs of over 20 yards tie him with DeMarco Murray for the most in the NFL. The NFL's sixth-leading rusher (1,147 yards) has also been named AFC Offensive Player of the Week twice this season.
Beckham is among the NFL's most productive wide receivers since recovering from a hamstring injury that kept him out of the Giants' first four games. During the second half of the season, Beckham leads the NFL with 858 receiving yards and is second in receptions (61) and receiving touchdowns (8). Tate has set career highs with 96 catches and 1,286 receiving yards. The Lions aren't in the playoffs because they don't go 3-0 without Calvin Johnson if Tate doesn't catch 24 passes for 349 yards with two touchdowns in those games Megatron missed. Whitworth anchors the offensive line and hasn't given up a sack this season.
DE-Michael Bennett, Seattle Seahawks
DE-Everson Griffen, Minnesota Vikings
DT-Muhammad Wilkerson, New York Jets
DT-Sheldon Richardson, New York Jets
OLB-Khalil Mack, Oakland Raiders
OLB-DeAndre Levy, Detroit Lions
ILB-Dont'a Hightower, New England Patriots
CB-Sean Smith, Kansas City Chiefs
CB-Corey Graham, Buffalo Bills
FS-Devin McCourty, New England Patriots
SS-Antoine Bethea, San Francisco 49ers
Stuffing the run was undervalued in this year's selections. Bennett is Pro Football Focus' (PFF) top rated 4-3 defensive end against the run and is also second among all defensive ends with 68 quarterback pressures (combined sacks, hurries and hits). 3-4 defensive ends Richardson and Wilkerson were listed on the Pro Bowl ballot at defensive tackle. Wilkerson was PFF's No. 2 rated 3-4 defensive end this season before being sidelined for three games (Weeks 13-15) with a toe injury, which opened the door for Richardson to move into the slot. Mack quickly established himself as a dominant force against the run. The lack of sacks (only four) contributed to him being overlooked, but the rookie matches Connor Barwin with 54 quarterback pressures and has more than Clay Matthews (48) and Tamba Hali (42).
Levy has been a tackling machine (third in NFL with 140 tackles) for the NFL's second-ranked defense in total yards and points allowed. Patrick Peterson was a reputation pick, as he's given up eight touchdowns this season. As the NFL's highest-paid cornerback, Peterson should be limiting quarterbacks to a 48.4 completion percentage for a 56.5 passing rating when targeted like Graham.
K-Matt Bryant, Atlanta Falcons
P-Johnny Hekker, St. Louis Rams
PR-Adam Jones, Cincinnati Bengals
ST-Kelcie McCray, Kansas City Chiefs
Bryant has the most field goals from 50 yards and beyond in the NFL this season, with seven. Overall, he has converted 90.3 percent of his field goal attempts (28 of 31), which is fourth in the league. Jones may have gotten a berth if kickoffs were still a part of the Pro Bowl. He's leading the NFL with a 33.2-yard kickoff return average and is third in punt returns (11.9 yard average).
Related
Popular in the Community