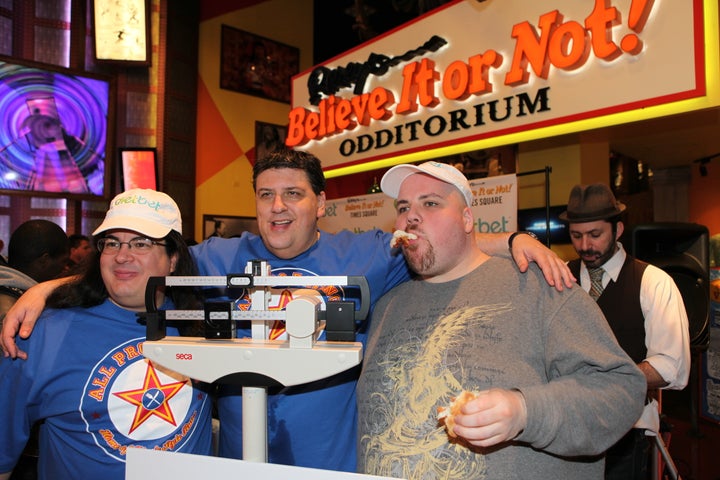 It's the ultimate challenge for competitive eaters everywhere: don't eat.
Six "All Pro Eaters" vowed to go on a one-month diet on Friday, in an unusual competition that pits once-weighty gorgers against their own fat for a chance at $1,000. Whoever loses four percent of their weight over that month splits the pot.
It's all part of a promotional stunt for DietBet, a site that lets users compete against friends to lose weight for money.
On Friday, three of the six pros -- Will "The Champ" Millender, Joel "The Cannon" Podelsky and Mike "Sisco-Kid" Sisco -- met at Ripley's Believe it or Not! in New York City for their last supper before their weigh-ins. And this meal, like a lot of others for these guys, came in the form of an eating contest.
Each was challenged with finishing a 32-inch pizza in under 3 minutes. Millender won by a cheesy landslide.
It's hard to believe that "The Champ" -- weighing in at 446 pounds and known for eating 14 ounces of stinky cheese in just two minutes -- will be spending the next month trying to lose almost 20 pounds.
"There wasn't much convincing involved, I mean, I've always needed to lose some weight," Millender told The Huffington Post. "My strategy is to eat like a normal human being, which I don't do. Payday comes around and I go down to the buffet and order two pounds for lunch, no problem."
Podelsky and Sisco, weighing in at 271 and 268 pounds, may have an easier time losing their four percent, but Millender said he's got the heart to stomach the diet.
"These eaters are the most competitive people out there -- you give them a competition, even if it's dieting, they'll do it," DietBet founder Jamie Rosen told The Huffington Post. "Our business is about having fun while losing weight. These guys were totally up for it."
Founded in 2004, All Pro Eating Promotions -- from which the six contest participants earned their titles -- has sanctioned more than 170 competitive eating championships throughout the world, including a latke eating contest, a pumpkin pie-off and the world bacon-eating championship.
Related
Popular in the Community