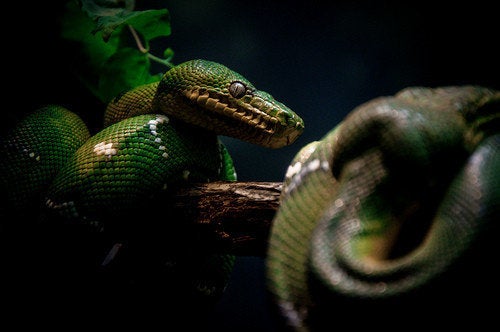 An exotic reptile business in Littleton has lost about 3,000 snakes in a fire reported around 5:30 a.m. this morning. The store, known as Pro Exotics, is co-owned by Chad Brown, a former University of Colorado and NFL football player for 15 years, and Robyn Markland.
Only one survivor, a large boa constrictor and the store pet, is known to have slinked away from the site. A few eggs were also found to have survived, once the fire was put out by Littleton firefighters around 8 a.m. No humans have been reported as injured.
The Denver Post reports that although the vast majority of snakes died in the fire that swept through Littleton's Pro Exotics reptile business, a "small number of snakes" have been found alive along with some snake eggs found in incubation containers which may survive.
More details are emerging from the fire fighting efforts inside the shop, as well. 7News reports that the at one point, the firefighters were forced to pull out of the building and take a defensive position due to the heavy smoke, unusual layout of the space and the presence of snakes on the floor that were attempting escape.
Investigators are still looking into the cause, but do not suspect arson.
"These are very special animals. There's a number of unique animals that were the only ones of their type on the planet," Brown told KDVR.
The reptile store had been in business for 20 years and bred ackie monitors, leopard geckos, a list of boa constrictors, pythons, gilas and others.
Brown told 7News that his and Markland lost thousands of dollars and years of breeding work in the blaze.
News cameras, interviews, Facebook posts. Those things keep me distracted. When I stop to look, my heart starts to tremble. 20 years.
Support HuffPost
The Stakes Have Never Been Higher
Related
Popular in the Community