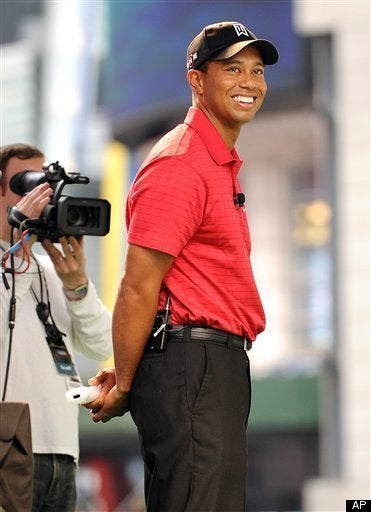 The 2009 pro golf season (mercifully) officially ended this past weekend, with the Tour Championship in Georgia. On the course where Bobby Jones learned to play golf, East Lake, Tiger Woods won the controversial FedEx Cup, and Phil Mickelson won the tournament. Tiger took home $10 million and salvaged a season in which he didn't win a major championship. Mickelson ended an annus horribilis, in which both his wife and mother battled breast cancer, on a very upbeat and inspirational note. He made a few million less than Woods.
The PGA Tour was practically orgasmic over the outcome. Tiger, Phil, together, hoisting trophies, together! The photogenic, telegenic finish concluded the third year of the FedEx Cup, a yearlong points competition that concludes with a playoff series after the PGA Championships. It's one of the stupidest ideas ever inflicted on professional sports and the sport-loving public, an incomprehensible mash of points-earning and points resetting and players weary from an already overlong golf season. It has to face off against the beginning of the NFL season and the end of the MLB season. But, at least this year, the Tiger-Phil finish made the final event worth watching.
Of course, it also highlighted a serious problem with the men's pro tour. Namely, the absence of younger players from contention. Riddle me this: Who's won a major lately besides Phil or Tiger? Well, a lot of guys. There was Stewart Cink at the 2009 British Open, and of course Padraig Harrington's two British Opens and a PGA, and an Asian player no one has ever heard of, Y.E. Yang, nipped Tiger at the 2009 PGA, becoming a hero in the Pacific Rim in the process. Let's see, who else... No, Sergio Garcia hasn't won anything big. Anthony Kim hasn't won anything big. Camilo Villegas? No. Adam Scott? Um, no. Lucus Glover, winner of the 2009 US Open? Not really so young anymore.
I could go on, but most of the big tournaments over the past decade or so have been won by Woods, Mickelson, and either Ernie Els, Retief Gosen, or Harrington. All players who are now in their thirties, some even pushing forty. The younger generation just can't seem to make a dent, can't seem to break through on the grand stage. Garcia came close a few years back when he missed a winning par putt at the British Open, but since then he's been pretty cold.
The result of all this is that the PGA Tour is utterly reliant on Woods and Mickelson, the only two heavyweights who seem to be able to make stuff happen in big events on the weekend. Angel Cabrera, an ebullient Argentine, captured the Masters this year, dashing the hopes of an old gun, the nearing-fifty Kenny Perry. But action everyone wanted to watch came from the Woods-Mickelson pairing, and in particular from Mickelson, who shot a 30 on Augusta National's front nine on Sunday. Mickelson later threatened at the US Open.
Commentators keep asking when a young player is going to step up to challenge Woods, who has dominated the game since the late 1990s. Given the dismal performance of the young guns so far, that isn't going to happen. Something has gone very wrong in the competitive apprenticeship that is big time golf. We have the Big Two, Tiger and Phil, and then a constantly rotating cast of wannabes and one-off winners. And Harrington, an indomitable Irishman. Oh, and guys who are effectively retired, like Greg Norman, and on the senior tour, like Tom Watson, vying for the British Open the past two years.
What's gone wrong is money. In the Palmer-Nicklaus-Watson-Player-Trevino-Miller eras, you had to finish well and win big tournaments in order to become a successful professional athlete. Now, a journeyman PGA Tour pro can never win, never post top tens, and still make a few million a year. Woods of course makes more money than anybody, but he seems to not care--he's entirely focused on winning majors. Mickelson started out as the greatest moneymaking machine ever--he could almost decide that he was just going to out-birdie a field and win an event--but that held him back from winning majors, so he changed.
Luckily, the financial crisis has arrived just in time to clobber golf's oligarchical sponsors and threaten to roll the clock back to a time when purses were smaller. Equipment makers have also taken a hit, so it's tougher for players to make a go of it on endorsements and off-the-course money. Eventually, somebody will come along who's in it to beat Tiger, to beat Phil, and not but a new Ferrari ever other month. Then we'll see some young guns who aren't shooting blanks.
REAL LIFE. REAL NEWS. REAL VOICES.
Help us tell more of the stories that matter from voices that too often remain unheard.