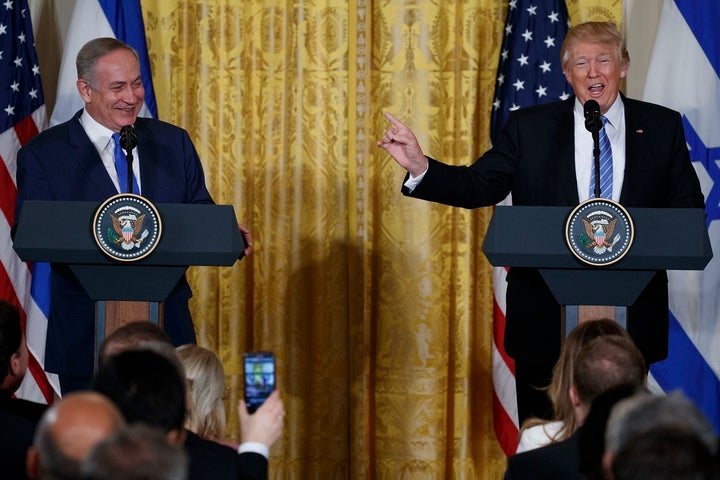 President Donald Trump and Israeli Prime Minister Benjamin Netanyahu began establishing their face-to-face diplomatic relationship with a meeting today. But the broader ties between the U.S. and Israel date back decades, and have been bolstered by pro–Israel interests that are active political donors and haven't hesitated to press their views on issues affecting the mostly Jewish nation.
Since the 1990 election cycle — the earliest one recorded by the Center for Responsive Politics — contributions by pro-Israel interests have favored Democrats. In 2016, their federal donations set a new record at more than $17 million.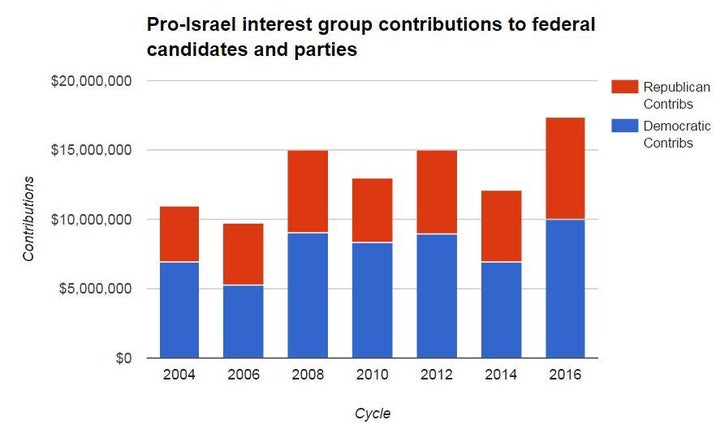 One of the powerhouses in pro-Israel giving has been J Street, an organization that advocates for "a diplomacy-first approach to advancing US interests in the Middle East" with a commitment to a two-state solution. In the 2016 cycle, J Street's PAC (JStreetPAC) made almost $3.4 million in contributions, most of which were earmarked contributions from individuals channeled through the PAC. That multimillion dollar total constitutes more than 19 percent of the pro-Israel lobby's 2016 contributions, and every bit of it went to Democrats. Notable recipients include former Sen. Russ Feingold (D-Wis.) and freshmen Sens. Maggie Hassan (D-N.H.), Catherine Cortez Masto (D-Nev.) and Tammy Duckworth (D-Ill.), all of whom received more than $200,000 from contributions earmarked through JStreetPAC over the course of the cycle.
JStreetPAC's partisan giving has, for the most part, been a fixture of the organization's political spending. Since 2007, the group has contributed only $30,500 to Republicans — compared to nearly $8 million to Democrats.
Of course, the pro-Israel lobby includes groups with ideological differences, among them disagreements about the two-state solution and the use of diplomacy versus force. "In recent cycles, our issue, as well as others, has been made more of a partisan football," said Ben Shnider, J Street's national political director. "It's become tougher to find Republicans who currently serve or are running for Congress who share our views publicly."
On the other side of the political spectrum is the aptly named Republican Jewish Coalition, a conservative organization that, through its 501(c)(4) dark money arm as well as its super PAC, spent more than $6 million trying to prevent President Barack Obama from being re-elected in 2012. The RJC's board of directors includes major donors for whom Israel is a paramount issue, such as The Home Depot co-founder Bernie Marcus and casino mogul Sheldon Adelson.
In the 2016 cycle, the RJC network was much less active; the (c)(4) nonprofit spent nearly $500,000 on ads attacking Pennsylvania Senate candidate Katie McGinty, a Democrat, but did not get involved in the presidential election at all. The group also has a regular PAC that gave about $270,000 to Republican House and Senate candidates in the cycle.
Most groups focusing on pro-Israel advocacy, however, gave to members of both parties. SunPAC, for instance, nearly split its $77,500 in contributions 50-50 between Republicans and Democrats.
(We're only counting contributions of more than $200, because donors don't have to be identified for smaller gifts and we therefore can't categorize them by interest group.)
In addition to contributing to campaigns, pro-Israel groups frequently lobby Congress and the executive branch. Overall, the groups have bumped up their lobbying since 2004.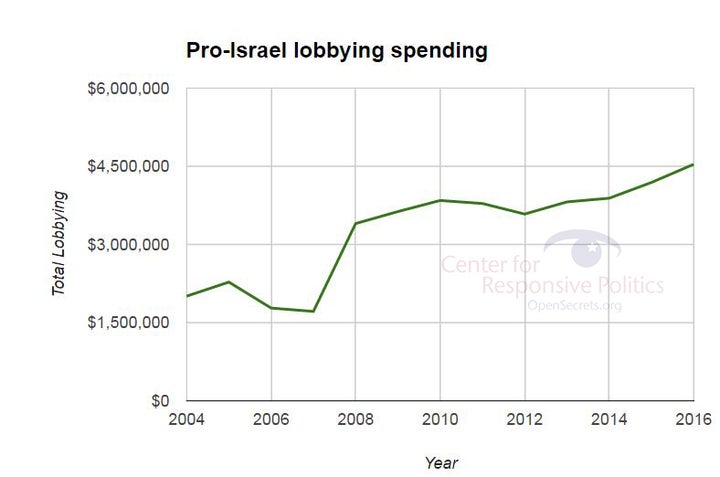 The number of lobbyists employed by pro-Israel groups has fluctuated over the years, spiking up and down since 2004. The average number of lobbyists for any given year from 1998-2016 was 27.
The Republican Jewish Coalition spent $80,000 lobbying in 2016, and J Street spent $400,000. But topping them both was the longtime giant in the arena, the American Israel Public Affairs Committee, which poured more than $3.6 million into lobbying efforts for the year. One bill the committee supported: The Combating BDS Act of 2016, which sought to allow local and state governments to divest from, or prohibit their investment in, entities engaging in boycotts, divestment or sanctions targeting Israel.
Both J Street and the Republican Jewish Coalition also lobbied in support of the bill.
Conversely, because we're talking not just about peace in the Middle East but also about American partisanship, it should come as no surprise that the pro-Israel lobby didn't agree on everything. House Resolution 318 would have condemned higher education institutions or scholarly groups that called for or participated in boycotts against Israeli academic institutions. Its sponsor was Rep. Carlos Curbelo (R-Fla.), and 25 of its 39 cosponsors were Republicans. The Republican Jewish Coalition, along with the American Jewish Committee, backed the resolution. J Street did not.
Lawmakers didn't act on either the Combating BDS Act or H.Res.318.
Calling all HuffPost superfans!
Sign up for membership to become a founding member and help shape HuffPost's next chapter