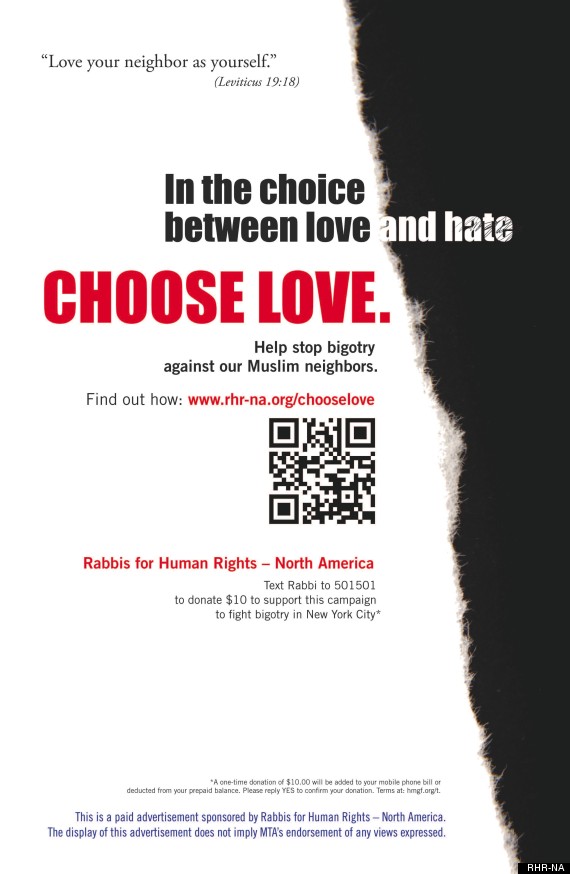 Two religious groups have produced pro-Muslim advertising campaigns to be unveiled in New York City's subway system. The ads are meant as a response to the controversial anti-Jihad posters recently introduced to the subway.
The New York Times reports the two groups, the Rabbis for Human Rights North America and the Sojourners led by Christian author Jim Wallis, and the MTA have confirmed the new ads will hang in close proximity to the American Freedom Defense Initiative's posters, which have been widely condemned as Islamophobic.
The rabbis' ads read, "In the choice between love and hate, CHOOSE LOVE. Help stop bigotry against our Muslim neighbors" while the Christian ads say "Love your Muslim neighbors."
The language directly challenges the provocative messaging of the anti-Jihad's posters which say, "In any war between the civilized man and the savage, support the civilized man. Support Israel. Defeat Jihad."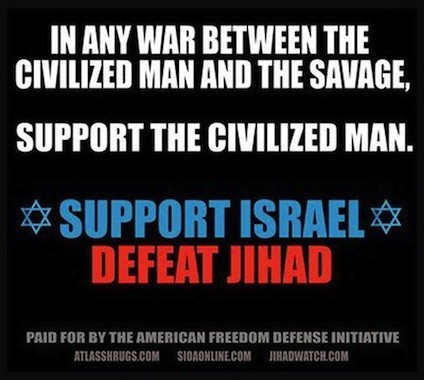 The new ads will go up on Monday. According to the Associated Press, "On Wednesday, another group, United Methodist Women, placed pro-Muslim ads in the subway. They say: 'Hate speech is not civilized.'"
The MTA originally sought to block the anti-Jihad ads from appearing in subways because of its "demeaning" message, but were ultimately forced to put the ads up when a federal judge said the American Freedom Defense Initiative's advertising was protected under the first amendement.
In response to the controversy however, the agency recently announced any future non-commercial advertising that could "imminently incite or provoke violence" will coincide with prominently placed disclaimers.
The disclaimers hope to distance any controversial messaging with the stances of the MTA. "This is a paid advertisement sponsored by [Sponsor], " the disclaimer will read. "The display of this advertisement does not imply MTA's endorsement of any views expressed."
Calling all HuffPost superfans!
Sign up for membership to become a founding member and help shape HuffPost's next chapter
BEFORE YOU GO