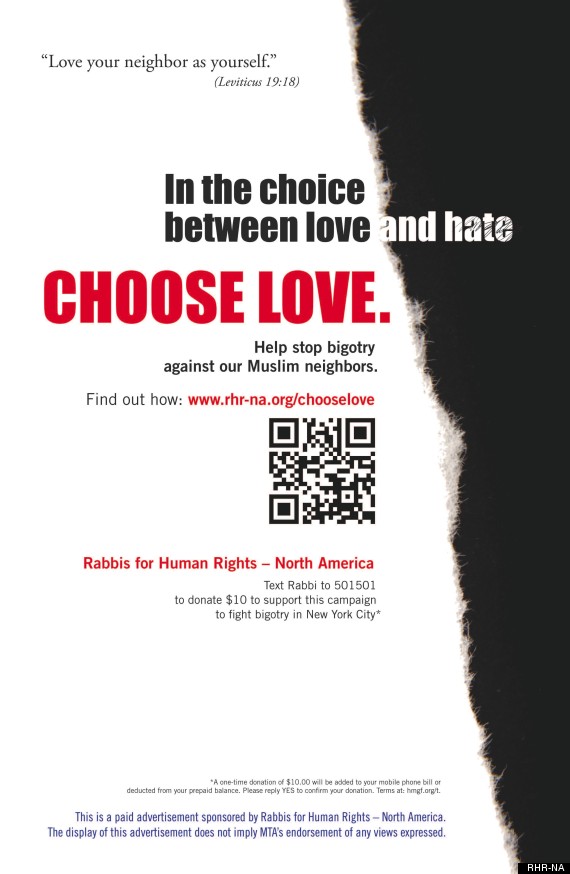 The ads were produced by two religious groups: the Rabbis for Human Rights North America, and the Sojourners, led by a prominent Christian author. The former's ads read, "In the choice between love and hate, CHOOSE LOVE. Help stop bigotry against our Muslim neighbors." The Christian ads read, "Love your Muslim neighbors."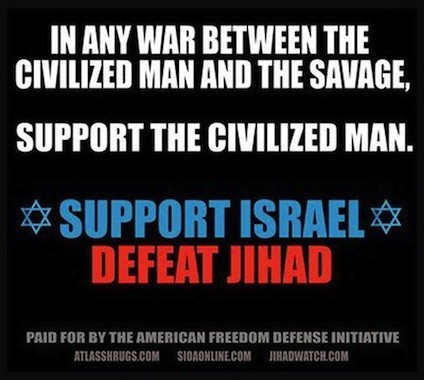 HP: Personally, how were you affected by the anti-Jihad subway ads? What was your initial response when you heard about this?
Rabbi Jacobs: I was very concerned that people might think that these ads speak for the Jewish community, as Geller couches her anti-Muslim message in the language of supporting Israel. The suggestion that she is speaking only about terrorists, and not about Muslims in general, falls apart as soon as you read her writings, which are fear mongering about Muslims in the U.S. and in the world, and about Islam as a religion.
HP: What do you hope to achieve with your pro-Muslim ads?
Rabbi Jacobs: I want to spread the message that 1800 rabbis-- along with the majority of the American Jewish community--believes in partnership with our Muslim neighbors. We, of course, oppose all acts of terrorism. We will not, however, allow the actions of a small minority to be an excuse for dehumanizing an entire people.
HP: Do you expect any negative response?
Rabbi Jacobs: The reaction has been overwhelmingly positive. We have received so many thank you messages from members of the Muslim and the Jewish community--both in the U.S. and overseas. Of course, there are people who agree with Geller's sentiments--you can find their comments online.
HP: How do you feel about Mona Eltahawy's recent arrest?
Rabbi Jacobs:I can't comment on this. We chose a different response to demonstrate our opposition to the ads.
HP: Anything else you'd like to add?
Rabbi Jacobs: I am struck by the juxtaposition of these ad campaigns with the Jewish holiday season. Geller's ads went up just before Yom Kippur--a cruel irony, as this is the holiday of reconciliation. Our ads will be going up just before Simchat Torah, when the Jewish community finishes the annual cycle of reading the Torah, and immediately starts again from the beginning. The very first chapter of Genesis, which we will read in synagogue this week, says that all human beings are created in the image of God. This verse is the basis of the Jewish commitment (and of Rabbis for Human Rights-North America's commitment) to work for the dignity of every single human being.
Related
Popular in the Community