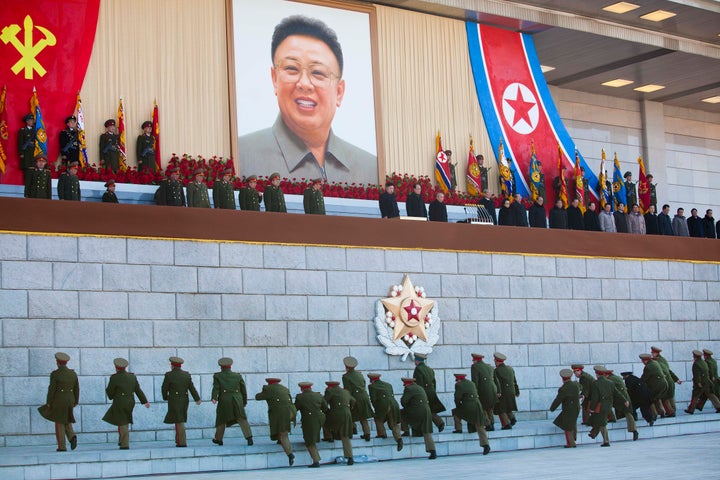 SEOUL -- Most of the time, South Koreans are assumed to be either hostile or indifferent to North Korea.
The two countries are, after all, officially still at war. And recent aggressive acts - the shelling of Yeonpyeong Island and the sinking of the Cheonan come to mind - haven't exactly painted a picture of friendship.
So it wasn't surprising that many South Koreans appeared unfazed by the passing of Kim Jong Il in December 2011. Instead of mourning the eccentric leader, most were preoccupied with what might happen next, now that their nuclear-armed neighbor was suddenly leaderless.
What's more surprising, however, is that amid the uncertainty there were actually some South Koreans who were genuinely sad to see the Dear Leader go.
Kim Dae Hee, 45, who has longish hair - rare for a middle-aged South Korean man - and a steely gaze, attempted to hold a mourning ceremony in central Seoul with a group of activists on the day Kim Jong Il's death was announced. Kim was arrested that day, and is currently on probation.
Kim is a part of a small group of South Koreans who openly praise the North, many of whom hold the goal of reuniting the Korean peninsula. They do so despite the fact that expressing pro-North views is illegal in South Korea under the country's National Security Law, and despite the fact that in recent years the number of those arrested under the law has risen.
Some pro-North Korea activists in the South are motivated by the ideology of the North, while others dream of one Korea. And then there are those for whom the issue is freedom of expression itself. For them, it's less about North Korea and more about the fact that they should be able to speak their minds, no matter what they have to say.
Dreaming of a united Korea
Kim says his warm feelings toward North Korea stem from his dream that Korea would once again stand united.
The Korean peninsula was occupied by the Japanese from 1910 until the end of World War II, when Soviet troops occupied north of the 38th parallel and US troops took over south of it.
"The main problem is that our country was divided by an outside force. We need American forces to withdraw from this country to gain true autonomy. That is the most important thing, not freedom or democracy. Those are secondary," said Kim, who speaks effusively and uses many old-fashioned Korean honorifics.
On his lapel, he wears a pin of the Korean peninsula shaded entirely in blue, a color associated with integrity.
Kim draws inspiration from the philosophy of North Korea's founding father, Kim Il Sung, who preached the notion of self-reliance and said that Koreans were the masters of their country's development. Much of the North's propaganda is based on the idea that the country must resist the corrupting influence of the outside world and boldly forge an independent path.
To activists like Kim, this is paramount. "North Korea has its own final say. It doesn't have to follow the direction of outsiders. I don't believe freedom exists in this colonized nation," he said, referring to South Korea.
Getting behind North Korea's ideology
For Hwang Seung Ho, who manages a pro-North activist group, Victims of the Korean National Security Law (VKNSL), it's all about ideology.
"I admire and cherish the ideology of North Korea. That is the most important thing in this globalized world," said Hwang, who once trained to be a Catholic priest but didn't complete his studies.
"I find the Christian ideals of universal love and compassion in North Korea," he said, explaining that he finds North Korea to be the world's only true democracy. In other countries, he says, when leaders are elected they only have part of the population's support.
In North Korea "all of the population supports one leadership, one goal," Hwang said.
Police raided Hwang's home early February and all his materials on North Korea were confiscated. He was fired from his previous job as a tutor for his political activities. Hwang appeared stoic, and seemed to accept the raid as the price to be paid for his beliefs.
"That's what happens," he said.
Many raids on people suspected of pro-North activities are carried out in connection with the National Security Law, which was put in place in 1948 to stifle pro-communist activities.
Although South Korea was technically a democracy once the US moved in after World War II, political turmoil and periods of military rule kept it from being a full democracy until the 1980s. Military dictators used the National Security law to hinder pro-democracy activists until 1987, when the law fell out of use during the administration of the more liberal Roh Tae Woo.
But in the last few years, convictions have surged under the conservative leadership of President Lee Myung Bak, which many critics see as a return to heavy-handed rule.
Pro-North activists unwelcome in the South
According to government statistics, 151 South Koreans were interrogated on suspicion of violating the security law in 2010, compared to 39 in 2007. In 2008, five people were prosecuted for distributing pro-North material online; that number jumped to 82 in 2010. No figures for 2011 are yet available.
On the morning of Feb. 8, two members of Hwang's organization VKNSL, which provides legal assistance to people charged under the security law, were themselves arrested for online expression of pro-North views. They are currently in custody awaiting a hearing.
On Feb. 14, a court in the southern city of Busan sentenced two pro-North Korea activists to eight months imprisonment for possession of pro-North materials.
South Korean authorities arrested freedom-of-speech activist Park Jeongguen on Jan. 31 for retweeting the message "long live Kim Jong Il" from North Korea's official Twitter account. Park is accused of helping "the enemy." He maintains his retweet was a joke meant to mock North Korea.
"Imprisoning anyone for peaceful expression of their opinions violates international law but in this case, the charges against Park Jeonggeun are simply ludicrous and should be dropped immediately," said Sam Zafiri, Amnesty International's Asia-Pacific Director in a statement.
Freedom of expression is also what motivates 22-year-old student activist Park Sun Ah. She led an earnest push for an altar to Kim Jong Il at Seoul National University (SNU), the country's most prestigious school.
Some of her fellow students threatened to destroy the altar if it was built, and the school administration ultimately banned the altar.
"I feel that freedom of expression, the most fundamental prerequisite to the university functioning as a hall of learning, is not guaranteed," Park told GlobalPost.
"Kim Jong Il is someone who joined hands with us to seek peace on the Korean Peninsula," she continued. "But after his death there was...baseless condemnation from the media, and there wasn't any memorial to honor him in the whole country."
Hwang also blames the media for perpetuating unfair bias against North Korea.
"They do everything they can to paint North Korea in a negative light. We have to get rid of the many negative images of North Korea in the media and convey the truth of North Korea to our people in South Korea and muster our power to build one big, powerful country," he said.
By and large, pro-North activists consider themselves victims of draconian National Security Law, which they say is abused by the government and used to stifle free speech.
But some supporters think it's a necessary piece of legislation to control the expression of pro-North Korean views and to root out traitors in South Korea.
What the critics have to say
"We need this National Security Law to protect our country from North Korean spies," said Jeong Ji Un, spokesperson for National Cyber Security Observers, a civic group that monitors pro-North Korean activity on the South Korean internet.
Jeong expressed concern over possible collusion between the North's regime and South Koreans. "Many people say they are just activists but really they are working for the North," she said.
Jeong's mother was born in North Korea, and she says she grew hearing stories about how horrific life was there.
Indeed, the reality in North Korea is far from the idyllic picture many pro-North Korean activists in the South have in their minds, according to Brian Myers, a North Korea specialist at Dongseo University in Busan, South Korea.
"[The North's ideology] is a sort of catchall for everything the North Korean regime does," Myers said by phone during a recent interview.
"In reality it's a red herring that distracts from the real ideology, which is something much more scary - a paranoid, race-based nationalism," he said.
All rights reserved ©GlobalPost
Popular in the Community