The signs, on platforms at MetroNorth stops, read, "4.7 million Palestinians are Classified by the U.N. as Refugees," with maps showing dwindling Palestine land from 1946 to the present.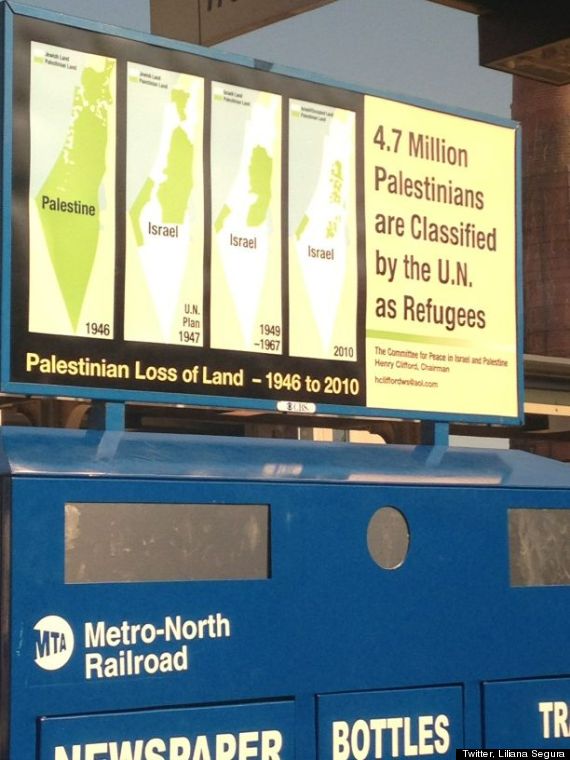 Critics, however, contend the signs are biased against Israel.
"To show a map saying that Palestinian land goes from this situation in 1948 to that situation in 1967 without mentioning the fact that Israel faced existential extinction is such a gross distortion that we wouldn't even stoop to that level to discuss it," Scott Richman, director of the American Jewish Committee Westchester, told The Journal News, referring to the 1967 Arab-Israeli War.
The Anti-Defamation League-- who called the signs "deliberately misleading and biased," and says Clifford once made the "inflammatory" claim that "Israeli leaders have 'always planned to take over all or most Palestine and to expel as many Arabs as would be necessary"-- wrote in a blog post:
The billboards attempt to showcase that all of Israel was owned by Palestinians pre-1948 when, in reality, much of the land was owned by non-Palestinian absentee landlords who lived in Cairo, Baghdad, Damascus and Beirut. They also try to convey that Israel is rapidly taking control of land that would comprise an eventual Palestinian state.

Aaron Donovan, an MTA spokesman, told The Journal News, "We do not decide to accept or reject a proposed ad based on the viewpoint that it expresses or because the ad might be controversial. The MTA does not endorse the viewpoint expressed in this ad, or any of the ads that it accepts for display."
In September, the MTA rejected an ad (see below) from New York City's most vocal Islamophobe, Pamela Geller. Geller had previously placed ads on buses decrying the so-called "Ground Zero Mosque."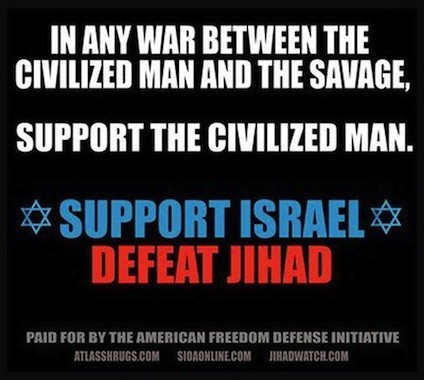 Popular in the Community