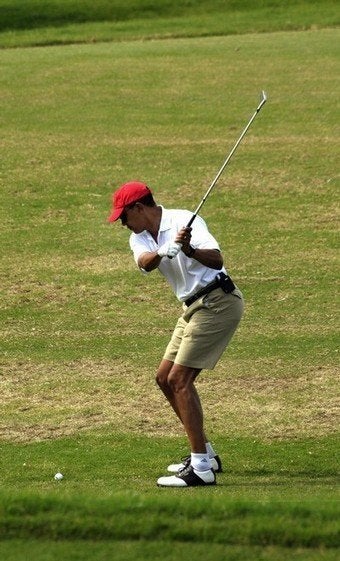 An interesting political moment occurred Monday as Barack Obama was set to play golf with a group of friends.
A couple approached the President-elect's security detail and begged them to deliver a set of "informational" DVDs on the Israeli-Palestinian conflict. The group delivering the package expressed sympathy for the Palestinian people and concern that Obama's approach to the conflict would mirror that of George W. Bush.
Unfortunately for them, the Secret Service refused to deliver the box. And Obama went on to play his round of golf -- after hitting some poor range balls and instructing the press to stop watching him swing.
Here is the pool report, with the information on the DVDs moved to the top and the golf anecdotes on the bottom.
Prior to leaving for the course at about 11 a.m., a group of five people approached the security checkpoint setup by the U.S. Secret Service and Honolulu police carrying a box wrapped with a gold ribbon. The group, led by Fred and Pat Shepherd from Greenbrae, California and Robert Steiver, 65 of Honolulu, asked the Secret Service if they could deliver the box and a letter to Obama. The Secret Service declined. Speaking to a reporter, Fred Shepherd said they wanted to deliver the box, which once held "Super Gorilla" golf balls but now contained informational DVD's about the Israeli/Palestinian conflict. "I don't think he's taking a vacation, he's preparing to be the next President," said Steiver. "I'm deathly afraid he'll continue the failed policies of the Bush administration. I've been suffering with the Palestinians for years."

The letter was typed on a piece of paper with Fred and Pat Shepherd's address printed at the top. It was dated December 29, and addressed to Mr. And Mrs. Obama. The body of the letter read "This gift of films is offered in hope that you will take the time to view them and that you will gain an insight as to why the Palestinians have been fighting for their land, pride and children for over 100 years. Today, one of Israel's major newspapers, Ha'aretz, has condemned Israel's slaughter of Palestinian men, women and children and in no uncertain terms: Israel is and has been committing war crimes. We look forward to your presidency...more than any other in our lifetime. Best wishes to you and your daughters. Thank you. Warm regards." The letter is signed by Fred and Pat Shepherd.

[moved]

Obama is golfing with Chicago friends Eric Whitaker, Martin Nesbitt, aide Eugene Kang, and Punahou classmates Bobby Titcomb, and Greg Orme After loading his clubs onto a cart, Obama, wearing sunglasses, a white shirt, khaki shorts, white and brown golf shoes, and a red baseball cap emblazoned with the City and County of Honolulu's Ocean Safety logo, drove down to the driving range. At 12:21 p.m. he bent over a grey plastic trashcan and filled a bucket half-full with range balls. Standing next to Whitaker, Obama, with a white glove on his right hand, spread the range balls out on the grass before putting an iron behind his back and stretching. Obama took three practice swings. His first shot was a ground ball straight ahead. His next shot went airborne but created a divet that Obama walked out to pick up and replace. After several more shots and one more replaced divet, Obama looked up to the pool and pointed at the photographers and reporters with his iron. The pool was then moved into the course's clubhouse.
Calling all HuffPost superfans!
Sign up for membership to become a founding member and help shape HuffPost's next chapter