Protesters interrupted U.S. Secretary of State Antony Blinken's testimony before a Senate committee on Tuesday, calling for a cease-fire as he outlined the Biden administration's requests for more U.S. aid to support Israel's attacks on Gaza.
The group of protesters, sitting in the back of the chamber with red-painted hands, yelled at Blinken: "You have blood on your hands! Murderer!" as well as "Cease-fire now!" and "From Palestine to Mexico, all the walls have got to go!"
Blinken paused his testimony without looking back at the demonstration, and security ultimately removed at least one protester from the room.
Protesters also interrupted testimony from Secretary of Defense Lloyd J. Austin on Tuesday.
The activist group CODEPINK claimed responsibility for the protest, according to CBS News.
Blinken's testimony before the Senate Appropriations Committee centered around the Biden administration's national security supplemental funding request, which includes $14 billion directed to Israel ― a longtime ally of the U.S. despite humanitarian groups' concerns about Palestinians in Gaza who are under Israeli bombardment.
Outrage over U.S. support for Israel has soared since the outbreak of war in the region. Hamas, a militant terrorist organization in Gaza, launched a multi-pronged attack against Israel on Oct. 7, killing around 1,400 Israelis and taking another 240 people hostage, according to Israeli government figures. Israel responded with its own attacks, killing at least 8,000 Palestinians, according to the Gaza Health Ministry.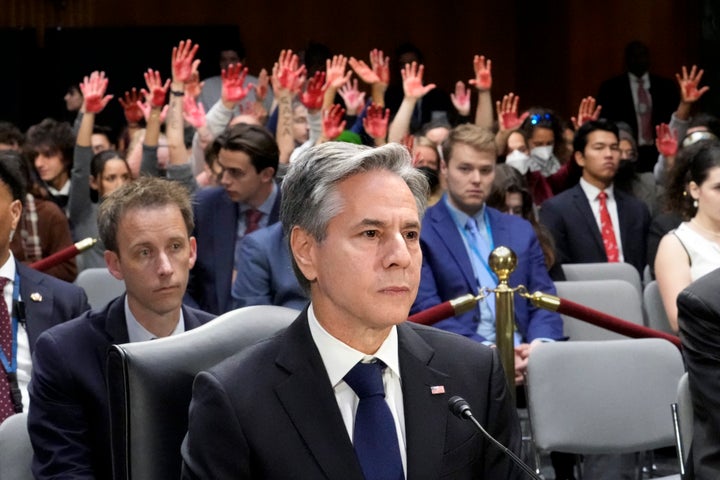 Blinked addressed some of those concerns during his testimony on Tuesday.
"As President Biden has made clear from the outset, while Israel has the right — and indeed, the obligation — to defend itself, the way it does so matters," he said. "In our discussions with the Israeli government, the president and I have both stressed the need for Israel to operate by the law of war and in accordance with international humanitarian law, and to take all possible measures to avoid civilian casualties."
Support HuffPost
The Stakes Have Never Been Higher
Popular in the Community