Conservative commentator Ann Coulter ― who last month described President Donald Trump as "emperor god" during an appearance on Fox News ― expressed alarm on Friday about the president's decision to respond to a chemical attack in Syria by launching a missile strike against the country.
What appears to frustrate Coulter, and other pro-Trump commentators, is that the decision to launch missiles into Syria is a departure from the president's stated "America First" pledge. Some have criticized the move as being in line with the views of hawkish Republicans who have long sought intervention and didn't support Trump's candidacy.
Trump falsely claimed throughout the 2016 election that he was a vocal opponent of the Iraq War. This position set him apart from both pro-war Republicans running against him in the primary and from Democratic nominee Hillary Clinton, who voted for the intervention as a U.S. senator. White House chief strategist Steve Bannon, who railed against the "globalist" agenda and neoconservative-supported military intervention while leading Breitbart News, reinforced Trump's "America First" strategy in the waning months of the campaign.
"I'm not, and I don't want to be, the president of the world," Trump said Tuesday. "I'm the president of the United States. And from now on, it's going to be America first."
Conservative radio host Laura Ingraham, a Trump supporter and early candidate for White House press secretary, warned that the president should start worrying when neocons and establishment media start praising him.
Several far-right figures similarly voiced frustration.
In a marathon livestream that included other pro-Trump figures, blogger Mike Cernovich spoke out against the air strikes.
White House counselor Kellyanne Conway has praised Cernovich, and Donald Trump Jr. said on Tuesday that he deserved a Pulitzer Prize for his report on former national security adviser Susan Rice "unmasking" Trump associates picked up in U.S. surveillance procedures.
So Cernovich's criticism was striking ― as was that of Paul Joseph Watson, a writer for the pro-Trump conspiracy site InfoWars.
Bill Kristol, the neoconservative Weekly Standard editor who was one of the biggest boosters of the Iraq War, tweeted in support of the strikes. His stance inspired Milo Yiannopoulos, the controversial former Breitbart News editor who affectionately has called Trump "daddy," to respond on Facebook.
"All these neocons want is war and money, money and war," he wrote.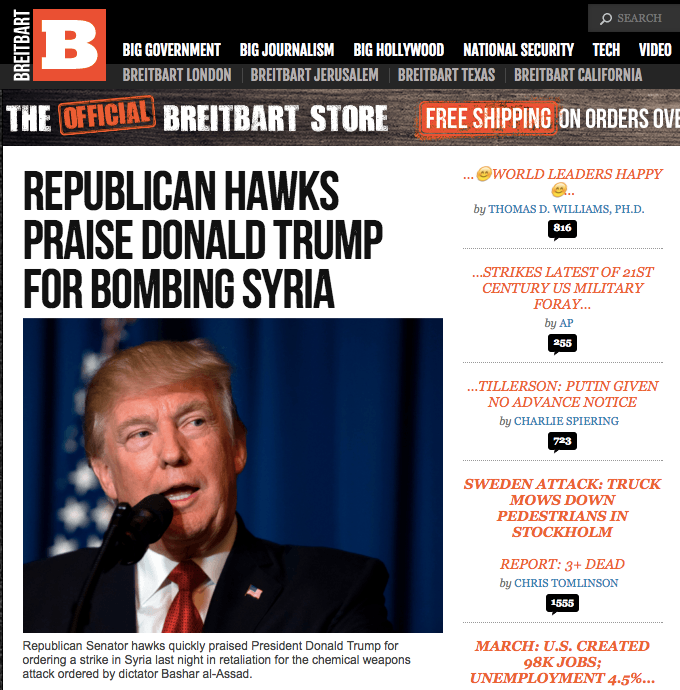 Breitbart News, which carries great influence in the White House, recently came out forcefully against the failed Republican health care bill that Trump supported. However, the site largely laid the blame on House Speaker Paul Ryan, a longtime establishment target of the nationalist site.
As of Friday morning, Breitbart hadn't come out strongly against the strikes.But its lead story highlighted a development that has frustrated pro-Trump voices: The decision to strike Syria is winning praise from frequently pro-interventionist senators like John McCain (R-Ariz.) and Lindsey Graham (R-S.C.).