On Monday morning, "Fox & Friends" displayed New York Times and Washington Post headlines stating that President Donald Trump had provided "no evidence" to support his accusation that his predecessor had tapped his phones. Also shown was a third headline from CNN calling that bombshell claim "baseless."
"Fox & Friends," a reliably pro-Trump morning show and a favorite of the president, wasn't highlighting these stories to throw cold water on the theory that an Obama-orchestrated wiretapping operation targeted Trump Tower. The segment instead described the news media as "hysterical," in the words of co-host Steve Doocy, and accused it of ignoring its own past coverage. "When you look at some of their reportage," he said, "they've talked about these wiretaps."
Contrary to what Doocy suggested, no news organization has reported that President Barack Obama had Trump's "wires tapped," as Trump claimed in a Saturday morning tweet to have "just found out." Communicating with his 26 million followers, Trump stated as a categorical fact that Obama ordered the tapping of phones at Trump Tower before the 2016 election. He provided no evidence to support his incendiary claim.
Yet the White House and pro-Trump news sources, including Breitbart News, have since responded as Doocy did: ignoring the lack of actual evidence by suggesting that previous news "reports" back up Trump's wild claim.
White House Press Secretary Sean Spicer noted in a Sunday morning statement that "reports concerning potentially politically motivated investigations immediately ahead of the 2016 election are very troubling." He didn't specify any such reports.
Later on ABC News' "This Week," Deputy Press Secretary Sarah Huckabee Sanders posited that Trump's assertion had already been brought out by the press. "Everybody acts like President Trump is the one that came up with this idea and just threw it out there," she said. "There are multiple news outlets that have reported this."
It wasn't clear at the time which outlets she was referencing. A White House spokesman did provide five stories to fact-checkers as evidence bolstering Trump's theory.
But Glenn Kessler, who writes The Washington Post's "Fact Checker" column, found that the stories provided by the White House were either irrelevant or failed specifically to "back up Trump's claims that Obama ordered the tapping of his phone calls" or that investigations into his campaign's alleged Russian ties were "politically motivated." Politifact, after analyzing the five stories, concluded that Sanders' comment on "This Week" was false.
It is a familiar pattern for a White House communications operation that often seems to be playing catch-up with their boss's latest venture into the world of political conspiracy theories. Faced with a lack of evidence to substantiate his claims, they look to make a retroactive case. Often, they lean on sympathetic media to help with that task.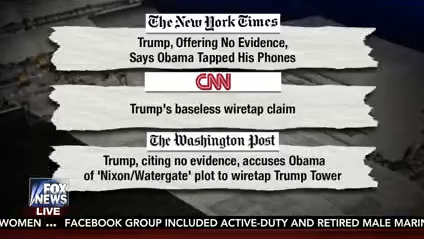 Trump's wiretapping claim appeared to be prompted by a Friday story on Breitbart, the nationalist, pro-Trump site previously run by Trump chief strategist Steve Bannon. That story didn't feature original reporting on intelligence investigations, but was itself based on conservative radio host Mark Levin's theory that the Obama administration is waging a "silent coup" against Trump.
On his show last Thursday, Levin wove together several news stories on the FBI investigating Trump associates' alleged Russia ties and argued that those reported efforts, along with recent leaks, indicate the Obama administration sought "to destroy the Republican campaign and now to destroy the Republican presidency."
"This isn't a conspiracy," Levin said. "I got this from The New York Times and earlier The Washington Post."
In addition to those two news organizations, he also referenced a Nov. 7 post on Heat Street, a right-leaning opinion site owned by Rupert Murdoch's News Corporation. In that piece, Louise Mensch, a former Tory member of the British Parliament and current News Corp. executive, reported that the FBI had been granted a warrant in October from the secretive Foreign Intelligence Surveillance Court, often referred to as the FISA court, to "examine the activities of 'U.S. persons' in Donald Trump's campaign with ties to Russia." Mensch wrote that the FISA warrant focused on suspicious activity between a Trump computer server and two Russian banks.
But Mensch, a conservative Trump critic whose four-month-old report is now getting big play from pro-Trump media outlets, pointed out to The Huffington Post that the word "wiretap" never appears in her piece. "They're trying to put words in my report that are just not there," she said.
Mensch said that later reports from two British-based news organizations, the BBC and The Guardian, confirmed the thrust of her reporting but similarly did not use the word "wiretap."
Yet Levin still mentioned the Heat Street story when given significant time on "Fox & Friends Weekend" to walk through his theory. He also cited articles from The Guardian, McClatchy and The New York Times, all of which he joked were "right-wing," to presumably buttress his case that these details were not coming from pro-Trump sources.
"I need to make the case because the media seems to be confused about their own reporting," Levin said on the show.
"They're trying to put words in my report that are just not there."
Breitbart took a similar tack Sunday, writing that The New York Times had "inadvertently attacked the credibility of its own reporting" on investigations into Trump associates' alleged Russia ties with its story that day challenging Trump's claim. The reference was to a Jan. 19 Times story that intelligence reports from investigations into those alleged Russia ties were based on "some of the wiretapped communications" that had been provided to the White House.
But while the Times mentioned "wiretapped communications," it did not specifically report that those Trump associates had their phones tapped or that surveillance took place at Trump Tower ― or even in the United States. Contrary what Trump tweeted, the paper also did not report that the investigations were politically motivated or ordered by the former president.
And still, on Monday's "Fox & Friends," Doocy argued that the "left-wing media" was ignoring its own reports and that "according to The New York Times and others, there was wiretapping, and the information was then provided to the White House."
Hours later, during an off-camera press briefing, Spicer responded to questions about the veracity of Trump's tweets by insisting that reports "have been out there" and that there has been "substantial reporting from individuals and sources." But Spicer didn't point to any specific story that would validate Trump's claim.
"There's no question that something happened," Spicer said. "The question is, is it surveillance, wiretapping or whatever? But there's been enough reporting that strongly suggests that something occurred."
Support HuffPost
The Stakes Have Never Been Higher
Related
Popular in the Community