It didn't take long after apparent mail bombs were sent to two former U.S. presidents and a building full of journalists for the MAGA-worshipping sect of the internet to scream "false flag."
On Wednesday, authorities intercepted what appeared to be pipe bombs destined for the homes of former presidents Barack Obama and Bill Clinton, along with packages sent to the offices of other prominent Democrats, including Reps. Debbie Wasserman Schultz (Fla.) and Maxine Waters (Calif.). Meanwhile, people were forced to evacuate the Time Warner building in New York City as a bomb squad arrived to remove a package sent to CNN's office that contained an unknown white powder.
Fox News, the propaganda mouthpiece for President Donald Trump, had few qualms about suggesting this may have been a Democratic operation. Former FBI Assistant Director Chris Swecker told Fox News that the mailed makeshift bombs could have been the work of someone "trying to get the Democratic vote out," Mediaite reported.
"And as you correctly pointed out earlier, this doesn't necessarily mean someone is espousing some sort of conservative ideology and targeting Democrats," Swecker told Fox News co-host Melissa Francis. "It could be someone who is trying to get the Democratic vote out and incur sympathy."
"That's an interesting point," Francis responded.
Online, right-wing conspiracy theorists frothed at the mouth at the idea that the mail bombs could be a "false flag" staged for political purposes.
Conservative radio host Rush Limbaugh suggested that it must have been a Democrat who sent the bombs because, he baselessly argued, "Republicans just don't do this sort of thing."
He added: "Even though every event, like mass shootings, remember, every mass shooting there is, the Democrats in the media try to make everybody think right off the bat that some tea partier did it, or some talk radio fan did it, or some Fox News viewer did it. Turns out, it's never, ever the case."
Michael Flynn Jr., the son of former Trump national security adviser Michael Flynn, tweeted that the mailings were "a total false flag operation." He later deleted the tweets and admitted he didn't actually know if that was the case, but not before The Daily Beast picked them up.
Conservative columnist Kurt Schlichter called the timing of the attempted bombings "super convenient" for the left.
Conservative pundit Ann Coulter called bombs a "liberal tactic."
John Cardillo, host of conservative media outlet Newsmax, said authorities should look at "far left groups" who "know they're losing" while investigating the explosive devices, Mother Jones reported. Cardillo's tweet was later deleted.
And Infowars, the conspiracy outlet that has suggested the Sandy Hook shooting never happened, said the bombs could have been hoaxes planted by anti-fascists and that Republicans are "aware of false flag." That echoes what they said Tuesday, when an explosive device was found at liberal billionaire George Soros' home.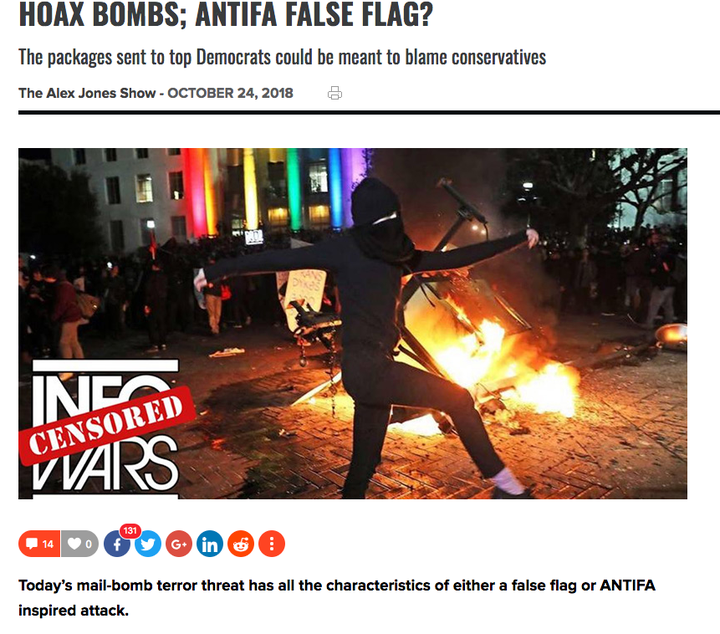 Right-wing figure Jacob Wohl also chimed in with a baseless tweet, along with the popular alt-right website Gab. Many of the pundits spreading conspiracy theories about the explosives are verified on Twitter.
As an investigation continues, one thing is certain: Those crying "false flag" have absolutely zero evidence to back it up.
This story has been updated with comments from Rush Limbaugh and Lou Dobbs.
Popular in the Community