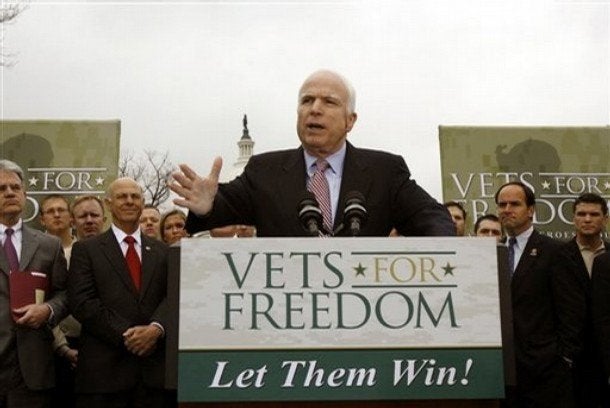 In hopes of organizing a robust demonstration for the vice presidential debate this Thursday in St. Louis, the pro-Iraq War (and ostensibly pro-McCain) organization, Vets for Freedom, is resorting to offering local college fraternities hundreds of dollars if their members come and hold signs.
In an email obtained by the Huffington Post, Vets for Freedom field staffer Laura Meyer offered a fraternity at St. Louis University a "sizable donation" - plus free lunch - if it could use their pledges to demonstrate outside the VP debate.
"I was emailing you today," wrote Meyer, "because I am trying to find people who would be willing to hold up signs for a few hours in the afternoon this Thursday outside the VP debate site. It's only for a few hours and you can gain a lot from it.... first off, lunch for any guys who agree to volunteer will be on me. Secondly, they will get lots of media attention! My organization did a similar thing in Mississippi last week and a ton of them were on TV. Meaning, the guys could wear their [REDACTED] gear while holding up our signs and get attention for their frat. Also, they will get to hang out with a bunch of really cool Iraq and Afghanistan war veterans.
"Lastly, and here's the kicker.... if you guys can get us at least 20 volunteers for those few hours, my organization will make a sizable donation to your fraternity. If you use pledges you could look at it as 'free money and free publicity'. If this sounds like something you may be willing to help us out with, please let me know ASAP!"
Reached by phone, Meyer said the total amount of cash the frat could earn was between $200 and $250 for organizing 20-plus members. She also noted that the program was a success in generating publicity during last Friday's presidential debate.
Judy Mayka, a spokesperson for the national chapter, said that the practice of paying for demonstrators had been going on without their knowledge and would subsequently end.
"Obviously this was not a direction from national and we have contacted the Missouri staffers and volunteers and told them it is not appropriate in our policy," she said. "And those who choose to attend the vice presidential debate should not be compensated."
As for the payments made for volunteers during the Mississippi presidential debate, Mayka added: "We will be looking into that."
The practice of paying volunteers is perfectly legal, and having scores of rowdy pro-war supporters cheering on the backdrop of TV sets can be an effective way for Vets for Freedom to disseminate its message.
But keep in mind, some of the people demonstrating outside the VP debate had a choice to make: take the money from Vets for Freedom or subject themselves to a night of hazing and binge drinking. On Thursday, we will see how many chose the former.
Popular in the Community