A group that worked to legalize marijuana in Washington, D.C., handed out thousands of joints in the city on Inauguration Day to support the reform of federal cannabis law.
Members of the group DCMJ began their giveaway, called #Trump420, early Friday at Dupont Circle, a historic downtown neighborhood filled with restaurants and shops just a mile from President Donald Trump's new digs at the White House.
Amanda Frizz, a 26-year-old DCMJ activist, told The Huffington Post that by 11:30 a.m., the group had given away their entire stash of more than 8,000 joints ― almost double their giveaway goal of 4,200.
"We want to make America kind again," Frizz said. "We want people to be open-hearted and not judgmental. That happened today."
Frizz said volunteers began rolling the joints at least three weeks ago, and used 10 pounds of weed donated by local growers.
Late in the morning, some of the activists broke away from the marijuana giveaway to march toward the inauguration ceremony, where they lit up their joints 4 minutes and 20 seconds into Trump's inauguration speech. Frizz said the group smoke session resulted in zero arrests.
The free distribution of weed is perfectly legal under D.C. law, which allows people to possess up to two ounces of the drug, but bars smoking it in public places or selling it.
"We're trying to show that cannabis is an issue that is an American issue," DCMJ co-founder Nikolas Schiller told The Huffington Post. "It's non-partisan, and we believe that we can make millions of jobs happen, increase tax revenue for states and help fix the broken criminal justice system."
Marijuana remains banned under federal law, and activists said they feared the Trump administration would revive enforcement in states and localities that have legalized it. Sen. Jeff Sessions (R-Ala.), Trump's pick for attorney general, has been an outspoken opponent of marijuana legalization.
"Good people don't smoke marijuana," Sessions said in a Senate hearing in April. "We need grown-ups in charge in Washington saying marijuana is not the kind of thing that ought to be legalized, it ought to be minimized, that it is in fact a very real danger."
Schiller said he hopes the new president will use his business background to reap tax revenue and promote jobs that would flow from legalized marijuana.
"He has the opportunity to make America great again by allowing Americans to grow what George Washington once grew, which is cannabis," Schiller said.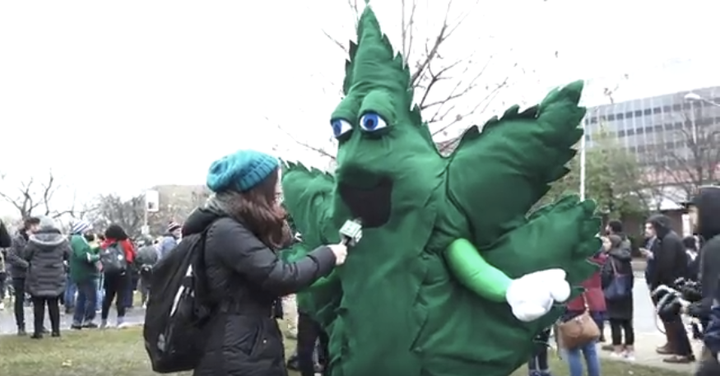 Giant pot leaf mascot Hempy, a member of the pro-weed group Delaware NORML, said he hoped the weed giveaway would boost attention for nationwide marijuana legalization.
"It's a plant," Hempy told HuffPost. "And I feel that if you can grow tomatoes, why can't you grown cannabis, you know?"
Trump told Fox News host Bill O'Reilly in February that he favors medical marijuana "100 percent," but called Colorado's legalized marijuana industry "a real problem."
Popular in the Community