Gail Kim has a confession to make. Though happily married, the Impact Wrestling Hall-of-Famer has a major celebrity crush. Fortunately for her husband -- world-renowned British chef, author and television star Robert Irvine -- the professional wrestling superstar admits, "My biggest crushes are always gay!"
"My husband always jokes, 'You're going to leave me for Anderson Cooper,'" Kim shared with a laugh on the first-anniversary episode of Party Foul Radio with Pollo & Pearl. "I'm like, 'Maybe. He is a silver fox!' I just love him."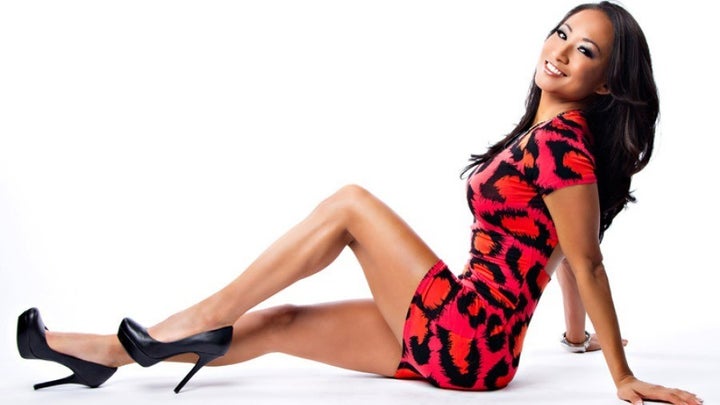 A record-tying six-time Impact Wrestling Knockouts champion, Kim became the first woman inducted into the company's "Hall of Fame" last year. She made a global splash in sports entertainment upon debuting with World Wrestling Entertainment in 2002. Five years after winning the WWE Women's championship in her first match with the company, she became the inaugural TNA Knockouts champion.
Though Kim and her famous husband – who in Fall 2016 launched The CW Network daytime gabfest The Robert Irvine Show – live something of a Hollywood life, the grappling diva has never met her celebrity crush. The closest she has come to Cooper, she acknowledged, was second-hand through an Impact Wrestling colleague.
According to Kim, last year when Cooper was covering the Pulse Nightclub shootings in Orlando – epicenter for Impact TV tapings – the friend was his makeup artist. When the woman offered to put the out newscaster on the phone, Kim froze.
"I normally don't get star struck, but I wouldn't even know what to say to him," she said with a laugh. "Then I said, 'But if you are going to call, can you Facetime me?' -- but she never did."
WATCH: Gail Kim vs. Maria Kinellis for the Impact Wrestling Knockouts Title
During the podcast interview, Kim talked about recent sports entertainment advances for women – frequently referred to as the "Women's Revolution" – her loyalty to Impact Wrestling and her relationship with Irvine. The two met amid Kim's second run with WWE, when he served a collection of company VIPs during a filming of the Food Network series Dinner: Impossible.
Her then full-time schedule with WWE required "more time with coworkers than family and friends," Kim said, so options for a "real life" were rather limited. Since she had long since decided she did not want to mix business with pleasure and date another wrestler, meeting someone also in the entertainment industry was "so perfect."
"Mind you, it's different worlds still – food and wrestling," said Kim, "But it's very similar lives."
The couple were married in 2012, after Kim returned to Impact Wrestling and a far less rigorous travel and in-ring schedule. With Impact's weekly Thursday night broadcasts on cable's PopTV taping only every few months, and having an otherwise limited touring schedule of her own, Kim is able to spend most of her time on the road with Irvine. Their life together often feels "like an exciting adventure," she said.
"I'm doing what I love, I'm with my husband most of the time and I get to see the world and have great opportunities," Kim stated.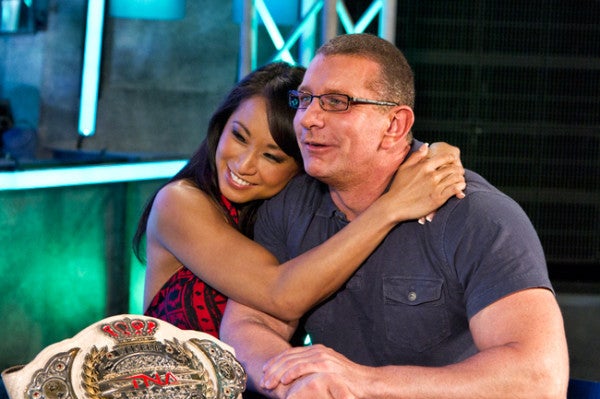 The Canadian star has now worked in the testosterone-infused world of sports entertainment for nearly two decades. However, she credits her connection to the LGBT community to life in Toronto.
"My sister's friends were all gay guys," she told Podomatic's No. 1 LGBT podcast. "I just felt comfortable, always, with the whole situation. I never looked at it as a strange thing – especially nowadays.
"Do you feel you get discriminated against?" Kim asked during the conversation. "It seems to be an accepted thing in our society, I think, but I don't experience anything directly."
A personal account wherein a late-night visit to a rural gas station led to feeling compromised safety -- then relating the subject to societal views on race and how some might respond to Kim's Korean heritage – gave the grappler greater understanding. She related her own experience feeling racism for the first time.
"I never experienced racism growing up at all," noted Kim.
That changed when she moved from her "very multicultural" Canadian hometown to Louisville, KY, to begin training for WWE. There she said she encountered various forms of racism not just in the new geographic region, but within the professional environment as well.
"Not mean racism but ignorant racism," she pointed out. "People weren't thinking about the things they said before they said it. The first time, it took me aback. I was like, 'Whoa, I'm experiencing racism now, as an adult?'"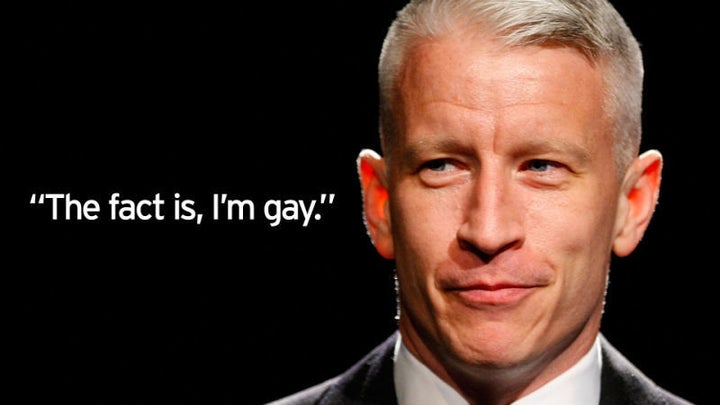 Kim insists there was one significant difference between her experiences in Kentucky and the podcast's description of the queer experience in many parts of the U.S. and around the world. Said the star, "I never felt danger."
"If you're in a world where you feel danger for who you are, I'm not all for that," she stated. "That's why all these Trump things make me so emotional. All the racism, all the sexism, all the things like that – I'm not cool with all that."
Recognizing she is somewhat insulated, Kim says she "doesn't feel the brunt" of the most egregious offenses making headlines in today's political climate. It makes her "emotional" feeling like an "outsider looking in."
"I can't even imagine the people who are targeted," Kim admitted.
"Whether it's the [travel] bans or it's just statements and the way people perceive you -- just hate," she concluded. "It sounds very cliché, but humans are humans."
Impact Wrestling including Gail Kim and the Knockouts Division airs Thurs. night on cable's PopTV. Check local listings for broadcast times and availability.
LISTEN: 'Party Foul Radio's Anniversary Episode includes an interview with Impact Wrestling Star Gail Kim.
Calling all HuffPost superfans!
Sign up for membership to become a founding member and help shape HuffPost's next chapter