Don't look for high-profile roster additions when Total Nonstop Action's IMPACT Wrestling debuts live on PopTV Jan. 5, 2016. Instead, says former World Heavyweight champion Ethan Carter, III, expect current TNA superstars -- and a desire for innovation -- to lead the company's flagship broadcast on its new cable home.

"When TNA has gone through changes in the past, we brought in big names to hopefully spike business," admitted Carter during a recent telephone interview, "But that didn't really work out."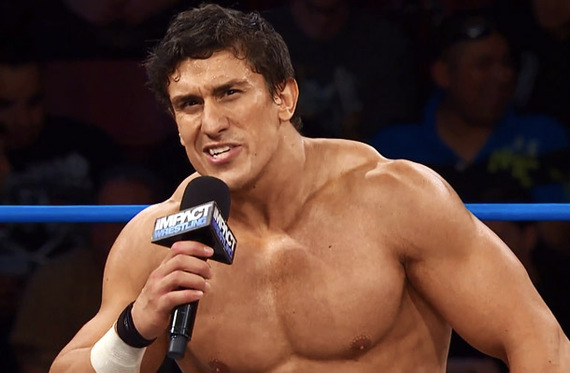 The Still Undefeated Former TNA World Champion Ethan Carter, III
Indeed, when moving to national TV over a decade ago, TNA recruited legends like Hulk Hogan and "The Nature Boy" Ric Flair. Though certainly buzz-worthy, high-dollar contracts overshadowed long-term benefits for the growing pro wrestling organization. By the time IMPACT Wrestling jumped to Destination America earlier this year, says Carter, TNA had learned from those missteps.
"Since I arrived in 2013, they have taken a step back and tried to build a product around home-grown talent," shared Carter, unquestionably leader of that pack.
Indeed, TNA has. Since its much-publicized move to Destination America last January, IMPACT Wrestling centers around young, hungry performers many have not seen on other national telecasts. Competitors like former two-time World champ and reigning "King of the Mountain" champ Bobby Roode, World tag team title-holders Eddie Edwards and Davey Richards (The Wolves), X-Division titlist Tigre Uno, rising Indian star Mahabali Shera and more are broadcast staples.
Even those who have appeared on rival shows -- top talents like former World Wrestling Entertainment employees Drew Galloway (a WWE Intercontinental and World tag team champ under the last name "McIntyre"), Tyrus (once known as Brodus Clay), MMA standout Bobby Lashley and even Carter -- have more than come into their own on IMPACT Wrestling. PopTV, promises EC3, will continue the growth for all involved.
"The move is going to be a great forum to show the world these talents we've developed," he noted, "Plus we offer core fan favorites and the legacy of Kurt Angle, Jeff and Matt Hardy, who are there to build the name recognition of the product. I think we're in a great position to make a big impact -- pun intended -- on PopTV."
Truly, TNA moves from its current Wednesday night location to an advantageous Tuesday time slot on a channel available in significantly more homes at a crucial time in the company's history. PopTV picks up IMPACT broadcasts just in time, it seems, to crown a new TNA World Heavyweight champ.

EC3 Faces TNA/MMA Star Bobby Lashley in the World Title Series.

Earlier this year, Matt Hardy won EC3's TNA title by pinning Galloway in a controversial end to a triple-threat match -- leaving Carter as a seemingly unheard of still unbeaten former World champion. When the wrestling legend was forced to vacate the belt just 24 hours later, TNA instituted its "World Title Series," a unique 32-competitor round-robin style competition leading to a more standard 16-person tournament.
"Elsewhere you might have three or four guys striving to be on top, and those are the only three who are 'legitimate contenders,'" said Carter, "Here you have 32 people -- men and women -- all on equal footing."
TNA opened the World Title Series to nearly every grappler on its roster, including its "Knockouts" women's division. It's "a really great concept," EC3 continued, which proved "great in practice" and "turned heads."
The World Title Series has been an exciting, innovative way to showcase the depth of TNA's talent pool. Along the way, it's led to surprise eliminations (Galloway and Roode in the first round of actual tournament play, for example!) and match pairings -- including two rather outstanding inter-gender matches on the Dec. 2 episode of IMPACT.
Now the Series is down to the final eight. Quarter-finalists will be determined on the Weds., Dec. 9 broadcast (still on Destination America). EC3 faces former Ring of Honor World champ Davey Richards. Lashley goes head-to-head with Shera. Maniacal Eric Young squares off with high-flying Tigre Uno. Finally, former champ Matt Hardy steps into the ring with "The Modern Day Adonis" Jessie Godderz.
Of the eight remaining contenders, four are former TNA World Heavyweight champions. As we move toward a champ presumably being crowned live on PopTV, Carter remains a tournament front-runner.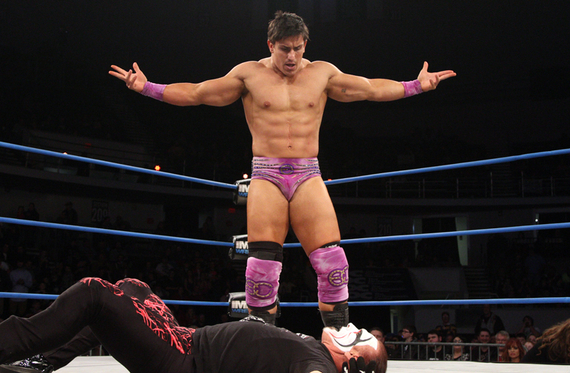 Total Nonstop Action superstar EC3 stands over a fallen Sting.

The 32-year-old is not only a cornerstone in the title hunt, he's TNA's top "heel" (antagonist). Attribute all this to arguably the most finely-crafted character development in company history. According to Carter, he hesitated to predict such success when first approached by TNA officials.
"From what I've dealt with in the past, I don't want to say I was 'skeptical,'" he acknowledged, "But I've been desensitized to any promises. There have been a lot of starts and stops throughout my career."
After beginning his professional wrestling career in 2002, he went under-utilized during largely forgettable stints in Ohio Valley Wrestling, WWE's Florida Championship Wrestling (nee, NXT) and on the indie circuit. The Ohioan hit his stride, though, when reborn as "Ethan Carter, III" -- TV nephew of TNA President Dixie Carter.
"It was luck of the draw that this was presented to me," he conceded, "It was a great match. They had a young, hungry talent ready to do the work, an opportunity available, and they let me run with the ball."
For over two years now, EC3 has remained 'unpinned, un-submitted' in TNA. During that time -- via "tomfoolery, interference and nefarious means" (his own words!) -- the superstar amassed victories over top industry names like Angle and current WWE stars Sting and Bubba Ray Dudley in some of the company's most visible feuds. Nobody on the roster gets a greater audience response either.
"I was in the right place at the right time," he says of how incredibly well-received his TNA push has been. "It was a great opportunity for me to be what I've trained to be my whole life, and that's a top-tier wrestler in the industry."
Popular in the Community