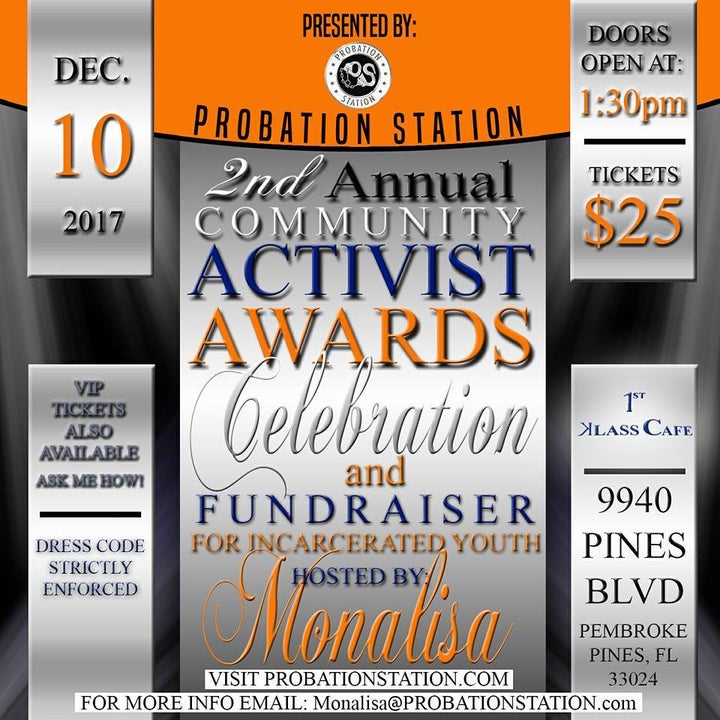 Location: 1st Klass Cafe 9940 Pines Blvd, Pembroke Pines, FL 33024
Probation Station is celebrating it's 3rd year of existence. They have also dedicated the night to presenting Awards to the most impactful members of the Activist Community. This community event is eccentric because each piece of it was intentional. Probation Station created this event to unite those who run the streets with those that run the corporate realm. The intention is to unite beings from diverse fields yet they all share a common thread. All of these beings hold the same vision; to help our youth reach their fullest potential. It is a family event made to gather all generations from the youth, to the parents, and grandparents. Probation Station knows that each generation adds value to our community as it creates a bridge where there was once a dis-connect.
Probation Station is an organization founded by Monalisa Weber, which educates the community on how the criminal justice systems work. Monalisa is a former probation officer, she utilizes her knowledge of the probation and criminal justice systems to assist individuals and their family to prepare and organize for court, and to help them understand some of the process.
Every week she dedicates her time to teaching a class on the criminal justice system to incarcerated youth. In addition to her class on the criminal justice system, Weber also teaches about the history of the criminal justice system. And she brings in speakers who were formerly incarcerated and are now contributing to society. She tries to find men and women that her students can relate to.
Related
Popular in the Community