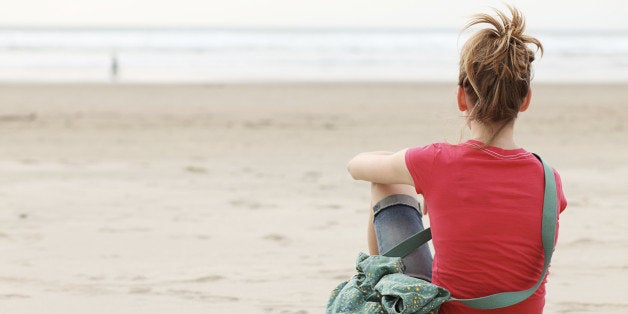 Your teen suffers from abandonment issues.
If you are a nurturing parent, you are probably balking at this statement. Most of us associate abandonment with physical conditions, such as inadequate nourishment, inadequate clothing, physical abuse or literally leaving our child without care. If you provide for the well-being of your kids, how could they possibly feel "abandoned"?
While we're busy providing children with the necessities, it's sometimes easy to overlook cultivating the emotional environment necessary for their development. Again, you may be thinking, "Hey, I love my kids. I make sure they're provided for emotionally and I work hard to make sure they're happy."
Here's the thing: As children get older, they often don't feel happy -- especially in the teen years. And a teen's unhappiness can make parents uncomfortable; it creates stress and anxiety for everyone in the family.
So what do we do instead of letting them suffer negative emotions? We become fixers. Unfortunately, constant fixing can spawn emotional abandonment. Let me explain.
Imagine your teen comes home from school. You ask how the day was and they say, "My day stunk. I sat alone at lunch, and my math teacher is so unfair... I think I might fail math this semester. I feel really miserable." This breaks your heart. You feel your child's pain as if it's your own, so your knee-jerk response is to launch a problem-solving campaign.
"You have nothing to worry about," you assert. "You'll find someone to sit with. Hey, what about Tommy from down the street? Or Ruby from soccer -- you're friends, right? As for math, I'll tutor you myself. Math was one of my best subjects. It'll be fun. OK? See, there's no reason to be upset."
Everything you do as a fixer is well intended. But here is what your teen learns on a deeper level: "My parents are uncomfortable when I feel bad; they don't want to hear it. I'm not sure they really get what I'm going through."
Over time, when you ask them how school is, you start hearing a disinterested "fine" in response. Over time, your teen starts to disconnect you from their world and authentic experiences. As a consequence, you may start to lose sight of who they really are during this period in their life.
So how can we connect with our teens and provide the emotional security they need to be open and authentic with us? Don't problem solve, don't offer words of wisdom, and don't dismiss. Instead, use these three magic words: "I get it." Because guess what? You do get it. You've been there before and that's what your teen needs to understand to connect with you.
Next time your teen comes to you with an issue, try this step-by-step process:
1. Pause: Pause for at least 10 seconds before responding to what your teen is saying. Allow the emotions to surface and settle in. (Note: This can be challenging! With practice, however, the pause can build the bridge that leads to a deep connection with your child).
2. Validate: Let your teen know it's OK to feel the way they do.
3. Label: Help them label their emotions. When kids experience emotions such as jealousy, rage and humiliation for the first time, they often call those emotions "sadness" or "anger." Really drilling down into the particular emotion(s) they feel can help demystify the experience and make it more manageable.
4. Empathize: Think of a time when you have gone through something similar. For example, if your teen comes to you feeling embarrassed, think of the first time you were embarrassed and relay that story. When you're empathizing, try starting with those three simple yet powerful words: "I get it."
Your children want to connect with you. They want to show you who they really are. They want to know that you understand what they're going through. Start your dialog with empathy so you can truly help them navigate emotional challenges.
Support HuffPost
A No-B.S. Guide To Life
Related
Popular in the Community