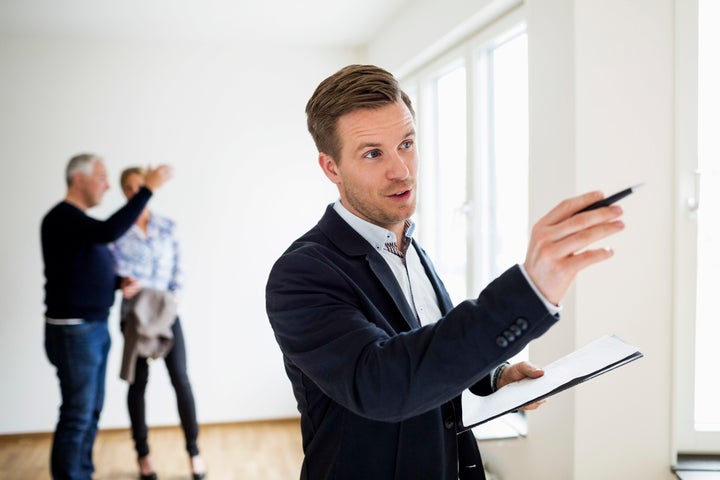 If you survived months of house hunting, made it through the mortgage application process and are finally at the home inspection stage, you're probably ready to breathe a sigh of relief.
Well, I hate to break it to you, but you're not at the finish line quite yet. A home inspection can uncover costly problems before you agree to buy a property, but it might not catch everything.
What do home inspectors look for?
In general, spending the time and money for a home inspection is a good idea. It will alert you to any major problems or repairs the home needs, which you can leverage to negotiate a better price with the seller. In some cases, you might find that the property's flaws are beyond what you can realistically handle.
Either way, an inspection is meant to save you money in the long run, thanks to an extensive inspection list. Claude McGavic, then the executive director of the National Association of Home Inspectors, told Realtor.com in 2016 that there are 1,600 items inspectors have on their lists to check.
Heating system

Central air conditioning system

Interior plumbing and electrical systems

Roof, attic and visible insulation

Walls, ceilings, floors, windows and doors

Foundation, basement and structural components.
But despite the extensive list, inspectors don't check everything. As a prospective home buyer, there are several costly issues that an inspection might not reveal.
1. The previous owner was a smoker.
The last things you want in your new home are lingering carcinogens and a smoky stench that seeps out of the walls, carpets and vents. But in staged homes, the scent of cleaning solutions and air fresheners can cover up offensive, lingering smells ― like cigarette smoke ― just long enough to keep them unnoticed. Your home inspector won't actively check for these types of smelly problems, so it's up to you to sniff them out.
2. The ground beneath your home is unstable.
Though home inspectors will examine the property's foundation for cracks and other damage, they won't check the ground beneath it. That might not be a big deal unless you live on a hillside or in an area where sinkholes or flooding are common ― in which case it's a good idea to hire a geological inspector.
According to HSH.com, a geologist can inspect hazards such as potential drainage problems or landslide risks. But be prepared to shell out a sizable chunk of change for the service; a typical inspection in Los Angeles, for example, could cost about $1,300 to $1,600.
3. The roof is in rough shape.
Although many inspectors will climb up on your roof to give it a once-over for signs of leakage or other damage, they're not required to do so. If the roof is several stories high, unstable, wet or otherwise potentially unsafe, it's likely the inspector will examine it from the ground or eaves, as mandated by the International Association of Certified Home Inspectors.
However, it could be tougher to spot potential problems from that vantage point. Plus, according to the association, inspectors won't examine attachments on the roof, including antennae, satellite dishes or de-icing equipment.
4. The swimming pool needs repair.
According to ASHI's industry publication the Reporter, some home inspectors will charge an additional fee to do a pool inspection. However, many find that it's not worth the added liability, and the ASHI Standards of Practice allow inspectors to disclaim pools. Your home inspector might flip the switch on a pool's pump or heater to see if it's working, but usually won't spend time evaluating the pool itself for cracks, leaks and other potential problems.
If you're concerned about the condition of a home's pool or spa, it's best to hire a professional pool inspector for around $75-$125. In addition to the actual pool, they'll also ensure the motors, pumps and timing system are working, wires are properly grounded and that there's no condensation in the lighting fixtures.
5. There's an issue with the septic system.
Home inspectors will check a property's pipes and general plumbing system, but the septic system is another area they won't investigate. If the home you're eyeing relies on a septic tank rather than the city's sewage system, it's worth hiring a specialist to check it out. If the system fails later on, it can be extremely expensive to repair. But more importantly, there really is nothing worse than your backyard flooded in poo.
6. The chimney is a safety hazard.
Home inspectors will perform a visual check of the chimney in case there are any large obstructions. They'll also test the dampers to ensure they work properly. But when it comes to checking for structural damage or buildup of dangerous soot and creosote, you'll need to hire a fireplace inspector.
There are three levels of chimney inspection, with Level 2 being required when the property is sold or transferred or when there's been an external event that could have caused damage, such as a fire or earthquake.
7. The walls are full of toxins.
An old house can be a haven for poisonous materials such as lead and asbestos ― not to mention plenty of disease-carrying pests that can make their homes in the tight spaces. Even though inspectors will check the attic, basement and crawl spaces for signs of problems such as wood damage or moisture, they can only go off what is visible. They're not going to knock down walls in search of black mold or mice.
These costs can add up, so it might be tempting to forgo additional inspections on top of a traditional home inspection. But a home is probably the most expensive purchase you'll make in your lifetime, so consider putting up a few hundred dollars now to save you thousands once you've moved in.
Clarification: Language in this story has been amended to clarify that Claude McGavic is not the current executive director of the National Association of Home Inspectors.