Problem: The oven is full. The turkey's in there, maybe a pan of stuffing, too. But wait, you've got a second oven! Only you still have to bake the pie -- and the lasagna you always offer along with the turkey. So, um, where will the vegetables go?
Here are three solutions, no matter how many ovens you have. I've used them all over the years, much to my relief.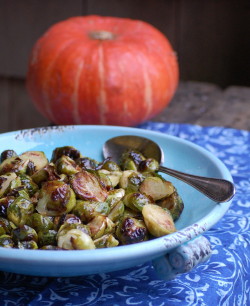 First: Quick-roast the veggies when the turkey comes out of the oven. (The turkey needs time to rest before carving, any way.) Crank up the heat to 450° or 475°, toss the cut veggies in olive oil and salt, and roast on sheet pans until tender and brown -- only about 20 minutes for most veggies. Make a quick dressing or pan sauce on the stovetop and dress the warm veg with it. Easy. You can do this with all kinds of veggies, including green beans, broccoli, cauliflower, and sweet potatoes. But I especially love these three recipes for Roasted Brussels Sprouts with Orange Butter Sauce, Vanilla and Cardamom Glazed Acorn Squash Rings, and Roasted Turnips and Pears with Rosemary-Honey Drizzle. (While I originally developed these for my cookbook Fast, Fresh & Green, I'm linking you to the versions on The Martha Stewart Show site because I doubled them here to serve more people for the holiday. Plus, as it happens, the segment I did last year demonstrating these dishes will re-air on Thanksgiving day if you are so inclined to flip the TV channel from the parade!)
Second: Take advantage of the stovetop. You can make a good amount of glazed carrots in a 12-inch nonstick skillet. Green beans are lovely if you boil them just until they lose their toothiness (about 4 or 5 minutes) and dress with warm brown butter and nuts or a warm vinaigrette. (Check out my Pomegranate-Balsamic Glazed Carrots and Green Beans with Crispy Pancetta, Mushrooms, and Shallots on finecooking.com) Tender cooking greens like spinach and Swiss chard (as well as baby kale leaves and finely slivered tougher kale and collards) need only a swipe through a hot pan rimmed with garlic-infused oil to be an ultra-quick last minute side. Give them a splash of vinegar and a quick grating of a good hard cheese to finish. Or dress them up a bit, like in my Tuscan Kale with Blood Oranges (you'd need to double that recipe for the holiday). But perhaps my favorite stovetop time saver is this tip: Make mashed potatoes (like these Mashed Yukon Gold Potatoes with Roasted Garlic on sixburnersue.com) an hour or two ahead of dinner and hold them, covered, over a simmering pot of water; they'll stay warm and creamy.
Third: Reheat. Heresy, I know. But sometimes you have to be heretical to survive on Thanksgiving. (Come to think of it, you'd be downright crazy if you didn't try to make at least some things ahead.) Some of my favorite Thanksgiving dishes are gratins and casseroles like this Gratin of Butternut Squash, Corn & Leeks and this Bourbon Sweet Potato and Apple Casserole with a Pecan Crust. While gratins and casseroles may suffer a bit in texture when reheated, they will actually taste even better; just be gentle and use a 350° oven for no more than about 20 to 25 minutes so they don't dry out. (Again, an open window of time while the turkey rests.) If the topping doesn't need to be crisp, reheat loosely covered, or drizzle on a little extra broth for moistening before reheating. Even better, pick a dish that's tailor-made for reheating, like this delicious sounding Mashed Potato and Rutabaga Gratin I spotted in the latest issue of Fine Cooking magazine from cookbook author Molly Stevens. Nothing heretical about that!
Susie Middleton is the author of Fast, Fresh & Green (Chronicle Books 2010) and The Fresh & Green Table (Chronicle Books, 2012). She blogs about cooking and growing vegetables on her website www.sixburnersue.com. She is the former editor and current editor-at-large for Fine Cooking magazine.
REAL LIFE. REAL NEWS. REAL VOICES.
Help us tell more of the stories that matter from voices that too often remain unheard.