Ice cold water welcomed me to the street.
"You look like you need a bottle of water." Tohlia McCullough stopped me and hundreds of other people with those words arriving on the strip of Calhoun Street that is home to Mother Emanuel AME Church. She obviously saw sweat pouring down my face and pulled a bottle from her silver chest. Vanilla cupcakes sat on a table on the end of the street along with bottles of water. Children and some adults eagerly accepted the sugar-infested gifts as well. You could not enter or leave the strip of Calhoun Street without Charleston's hospitality, which was everywhere last week in this Bush-Obama county.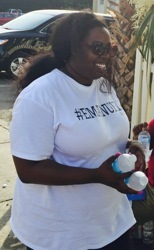 McCollough works at Verizon and also runs her own event planning business on the side. Last week, she devoted her time to serving water for the hundreds who made the pilgrimage to Mother Emanuel AME church.
Like many of the people distributing water and cupcakes, McCollough doesn't go to this church. "I knew people coming here were going to be hot. I just came up and told my parents, my family one day, "Lets give out water. After I went on Facebook, different people start donating, others donated money even though we were not charging for water. But they donated money and we went out and bought water. Today when we came here we had over 400 bottles of water."

Some came to pray. Others signed the cards and homemade monuments to honor the victims. Some merely laid a flower. Many shed tears. "We are known as the holy city, in the past week or so, there is unity, all of the people that prayed for us we have come together to pray for each other to be there for each other," McCullough later told me. "Everybody does not have hate and racism in their heart, its just the fact of connecting, connecting with others so we can release that... generational curse."
In Columbia, lawmakers debated the Confederate flag while many politicians awaited the opportunities of the spotlight that would accompany the visit of the president and other dignitaries to Reverend Clementa Carlos Pinckney's funeral. Yet the ideal of American citizenship lived larger through the Charleston residents standing on this street with South Carolina's summer humidity and those who comforted them with water. They came to honor nine strangers. In doing so, they demonstrated the president's words before he even spoke them at Reverend Pinckney's funeral: "The alleged killer could not imagine how the city of Charleston... how the state of South Carolina... would respond -- not merely with revulsion at his evil act, but with big-hearted generosity, and more importantly, with a thoughtful introspection and self-examination that we so rarely see in public life."
I surveyed the introspection of the people who came to this street. There were Democrats, Republicans and one man who told me he refuses to vote. There was a Republican mother from Vermont who adopted black children. There were Christians, blacks, whites, Asians, Jews and Latinos.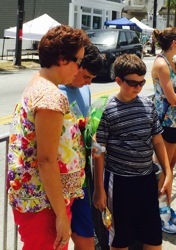 Some were transplants like Donna Ennis, a psychology professor at Trident Technical Community College and mother of two sons. She leans Republican and would love a woman in the White House, but not Hillary Clinton. The Indiana native moved to Charleston County with her husband, a defense contractor, 11 years ago. "You know, I haven't personally felt race as much as maybe those of color. Maybe they can speak more to it. It seemed as if there's some hesitancy for some folks to reach out. I remember the first time we were at an ER. One of my kids had an earache or an ear infection and we had just moved here so we didn't have an established pediatrician. It was probably 11 years ago and there was another family of color across the way but they seemed very hesitant to engage us so it was us who engaged them first and offered to play with our toys and that sort of thing. And when that happened they seemed a bit more at ease."
"We don't walk in the same shoes of people of color to know exactly what that's like. Racism you know is underneath the surface. It is the old adage, the Civil War was lost to the Confederates but it never was lost to South Carolina... the Civil War started here but let's let it stop here for once and for all. I don't know that it has ever been laid to rest."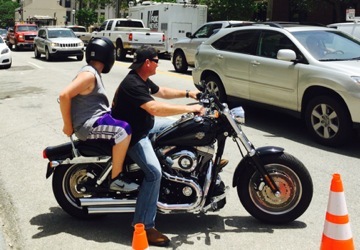 Tommy Wills, 40, arrived on his motorcycle with his son, Garrett, 13. Tommy grew up in a North Charleston neighborhood that he remembers as half black. Today his son, Garrett, is growing up in a much less diverse neighborhood-thanks to gentrification and the county's declining black population. Tommy says his son lacks the level of exposure to other races that was a part of the father's childhood. "I want him to see and understand this," Tommy says. "I wanted Garrett to pay his respects and see things. We now sit and talk about it so I wanted to bring him down here just to be a part of this... to pay our respect to understand there is still a problem... Race was never an issue with me cause I had some of my best friends who were were black. But then I had some enemies that were black. It was people. I thought times had changed you know. And then this happens."
There were other powerful calls for racial reconciliation flooding the street in comments of those who came to honor the nine. A collection of brutally cynical thoughts intruded upon my encounters with this piece of Charleston's beauty. The deaths of nine people served as prerequisites to the moving displays of humanity that I witnessed. Yes, tragedy often produces unequivocal generosity of spirit. Yet why did we need the nine deaths to stir our thoughtful introspection on race? Moreover, what happens now?
President Obama set a strong example in answering that question in what was arguably the best speech of his presidency on Friday. His entrance into the auditorium at the College of Charleston as he clapped and sang along with the crowd was an indicator that he wasn't going to deliver a limp message on race similar to his comments in the wake of the Ferguson verdict. He unleashed a challenge that was free of the restraint that so often contained his words on race. "Once the eulogies have been delivered, once the TV cameras move on, to go back to business as usual. That's what we so often do. To avoid uncomfortable truths about the prejudice that still infects our society. To settle for symbolic gestures without following up with the work of more lasting change. That's how we lose our way again. It would be a refutation of the forgiveness expressed by those families if we merely slipped into old habits..."
On Friday morning, the street was no longer a refuge for the ordinary people who wanted a space to mourn a tragedy. There were even more TV satellite trucks and elected officials fresh from conversations and debates over the flag. Mark Sanford, the former governor who represents Charleston in the U.S. House of Representatives, joined Governor Nikki Haley at the news conferences calling for the flag to come down. Yet he stressed it was important to keep the focus on the victims. "I think in a perfect world, what you would do would be to bury the dead first, grieve their loss, then get to issues like the flag, and what do you do next on a whole host of different things important in our society, both in South Carolina and in the South in general. But that's not the way things have gone. There's been, I think, a degree of sort of spontaneous combustion in a political sense that came in the wake of the nine family members there at the bond hearing saying 'I forgive you.' It was a sort of heavenly grace, unimaginable in human terms. But that's what they did. And in the wake of that, it left everyone else saying 'Oh my goodness! If they can do that, then what am I gonna do?' And that created, boom, it literally parted the sea with regard to the long-debated issue of the flag. And so we see where it is as a consequence. I just think that in the wake of that level of grace, people were left saying, 'If they're offering that grace, then what am I gonna do in response?' And I think the flag coming down is just one response to that."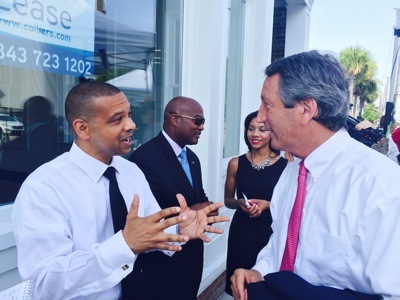 South Carolina Democratic State Senator Marlon Kimpson promises that South Carolina is marching towards a new era with the opportunity to serve as a model for racial reconciliation for the nation. Kimpson, who has championed legislation requiring body cams on police officers, says the battle over the removal of the flag is just a small piece of the change to come. "It was probably the most immediate issue that we could deal with at the time because this murderer so prominently displayed the flag," says Kimpson. "For now, in the the general assembly, we still need two-thirds to pass legislation to remove the flag. Beyond that, we still have a long way to go on issues relating to police practices, economic development. We're building alliances to help move us forward. There's a lot of work ahead of us."
Calling all HuffPost superfans!
Sign up for membership to become a founding member and help shape HuffPost's next chapter