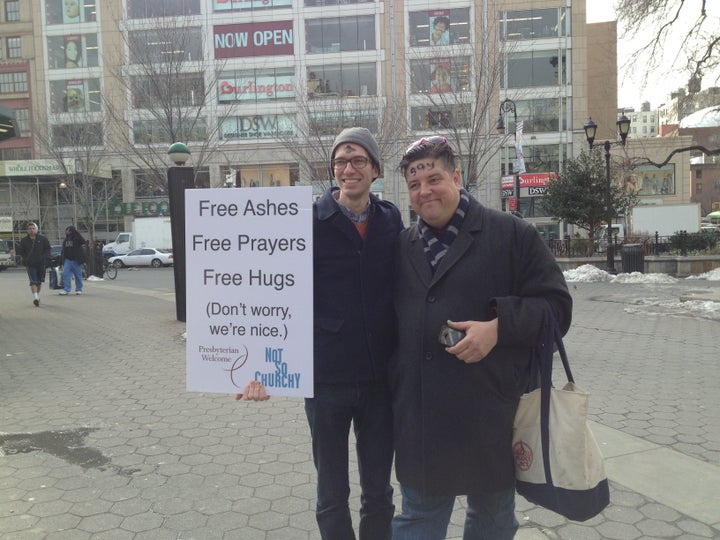 Lent note: HuffPost Religion invites you to share your Lent reflections, experiences, stories and photos with us. Send them to religion@huffingtonpost.com and check out our Lent liveblog.
I woke up Wednesday morning to go do something I wasn't convinced was the best of ideas. I took the subway from my warm Brooklyn apartment into the cold February air of Union Square in Manhattan to meet a few colleagues and friends. The Executive Director of the LGBTQ advocacy ministry I work for, Presbyterian Welcome, and another Presbyterian pastor developed an idea: we would offer to impose ashes in public space of notoriously secular and private New York City. And in Union Square, known more for its misfits than ministers. Who knew how it would turn out?
We arrived toting ashes, lavender oil for mixing them in, postcards for Not So Churchy (a monthly gathering of misfits in its own right), and a sign reading, "Free Ashes / Free Prayers / Free Hugs / (Don't worry, we're nice.)" We gave out all three to a group of people as diverse as only the City can provide. We also received; the blessings of thanks, stares, smirks and honest questions about who we were, why we were there and what it all meant.
When Joey Boots approached us, clutching a video camera with green-lacquered finger tips, it was clear he was expecting a less than warm reception. "So, you're giving out ashes?" "Yes, would you like some?" "Well, I'm gay!" he offered proudly and defiantly. We, being a group of queers and allies, laughed openly. "You've come to the right place. Most of us are too." Joey appeared a little caught off guard. "It's kind of what we do," I offered, directing his attention to the Presbyterian Welcome logo on our sign.
He stayed for a bit, offering that he is a "recovering Catholic" with a rough history with the institution and many ideas about why the Pope is really resigning, citing an apparently cryptic Twitter status as a mea culpa. Talking with him for only a few minutes, we did not learn many details about Joey's life beyond his public persona -- regularly guesting on the Howard Stern Show, making videos taken on the streets of New York City, and tweeting like any good public gay. I don't know what he thinks about God today, of us queers committed to reforming the church, or what his favorite show is on Bravo.
But before departing, Joey made a request, possibly trying to see just how far he could push this strange breed of Christians loitering outside of the subway station. He wanted ashes, not in the form of the cross, but spelling out "gay." We were about as surprised as when he announced his sexuality. Kimberly Knight reached up with her pinky finger and carefully etched "gay" into Joey's forehead with the ashes of Palm Sunday. Joey chalked up his request to an artistic statement, but I experienced it as a theological claim and reconciling act. I hope somewhere beneath the history of what the church has done to him, he did too.
Joining Joey in making his very artistic, political and theological statement, I watched Kimberley perform an act of radical hospitality. Plenty of Christians would have found it perfectly reasonable to deny Joey's request, saying that it was disrespectful to the cross to write something like "gay" in its place. But the cross is a reminder that God makes power perfect in weakness (2 Corinthians 2:9). Walking away from us with "gay" brazenly on his forehead Joey claims the power and strength God has given him as a gay man -- something plenty of people mistakenly believe is his brokenness and weakness.
Many queer people walk away from the only kind of church they ever know, the kind trapped in a homophobic reading of Scripture that is disconnected from the God who is Love, and they never look back. I can't blame them. As Joey walked around a city bursting with people scorned by the churches of their youth -- as well as those who still profess a theology that makes no room for queer people -- and as he tweeted pictures of his transgressive face, I hope he and others wondered whether being gay and Christian is so transgressive after all. It isn't, and Joey the Evangelist carried that good news to New York City on Ash Wednesday.
Joey, with his boldness to integrate the faith of his childhood and the sexuality with which God has blessed him, has forever reframed Lent for me. He is an evangelist, spreading the good news that this season of Lent is an invitation to remember all of who we are -- mortal children of God with sexualities and genders made in the image of the Infinitely Diverse. As we approach the first Sunday of the season of self-reflection, I hope to do so with an authenticity as brave as Joey Boots'.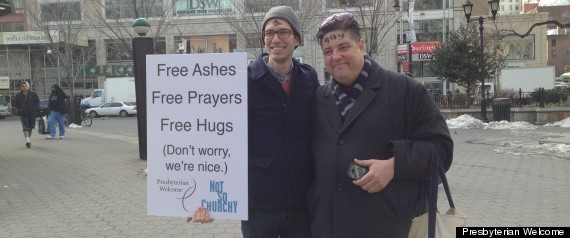 HuffPost Religion invites you to share your Lent reflections, experiences, stories and photos with us. Send them to religion@huffingtonpost.com and check out our Lent liveblog.
Related
Popular in the Community