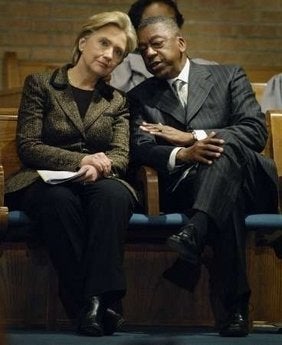 Robert L. Johnson, the billionaire founder of Black Entertainment Television, injected himself into the middle of a flaring campaign controversy on Sunday. During an appearance with Sen. Hillary Clinton, he seemingly raised the specter of Sen. Barack Obama's youthful drug use.
Speaking to a crowd in Columbia, South Carolina, the African-American business tycoon chastised Obama for a memo his campaign put together documenting instances in which Clinton or her surrogates made allegedly racially-insensitive statements.
"I am frankly insulted," Johnson declared, "that the Obama campaign would imply that we are so stupid that we would think Hillary and Bill Clinton, who have been deeply and emotionally involved in black issues since Barack Obama was doing something in the neighborhood - and I won't say what he was doing, but he said it in the book - when they have been involved."
The comment was greeted with ire by the Obama campaign. In the past, Clinton surrogates have raised the drug issue. Hours later, Johnson claimed he was simply referring to Obama's work as a community organizer.
The episode illustrated just how charged the Democratic primary has grown in the wake of Obama's victory in the Iowa caucuses and Clinton's win in the subsequent New Hampshire primary. It also threatens to bring wider scrutiny to Johnson's political activism, which is highly controversial in Democratic circles.
To be sure, Johnson is a major figure within the black community, a key voting bloc in the upcoming South Carolina primary. He also has been a big-time contributor to Democratic causes and candidates. According to the Center for Responsive Politics, he's offered up more than $1.5 million in donations since 1992; with $4,600 going to Clinton on March 6, 2007 and $2,100 to Obama on May 31, 2006.
But, over the past few years, Johnson has waged political battles that put him drastically at odds with Clinton, the candidate he now supports.
Johnson served on President George Bush's commission on privatizing social security. In January 2005, he convened a summit whose stated purpose was to raise and answer questions about the African American community's political affiliations, but whose true design, critics claim, was to peal black voters away from the Democratic Party.

He has repeatedly called for the repeal of the estate tax, saying that the policy is propagated by "a liberal, noblesse oblige attitude that they have probably had in their families for generations."
There are certainly issues that bind Johnson and Clinton. One of those is Johnson's service as a member of Bill Clinton's Global Initiative in 2006.
In addition, Johnson's Liberia Enterprise Development Fund has worked with CGI to promote business ventures and entrepreneurship in the West Africa country.
There are political and policy agreements as well. And in the wake of his controversial comments, Johnson was forced to reiterate those.
"My comments today were referring to Barack Obama's time spent as a community organizer, and nothing else. Any other suggestion is simply irresponsible and incorrect," said Johnson in an email statement. "When Hillary Clinton was in her twenties she worked to provide protections for abused and battered children and helped ensure that children with disabilities could attend public school. That results oriented leadership -- even as a young person -- is the reason I am supporting Hillary Clinton."
In a statement about Johnson, Obama spokesman Bill Burton said, "His tortured explanation doesn't hold up against his original statement. And it's troubling that neither the campaign nor Senator Clinton -- who was there as the remark was made - is willing to condemn it as they did when another prominent supporter recently said a similar thing."
Support HuffPost
The Stakes Have Never Been Higher
Popular in the Community