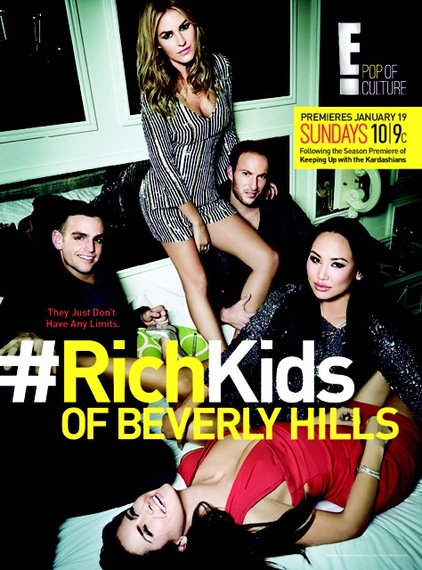 "When you buy a show concept from David you always know it is going to be highly produced, extremely entertaining and guided by the next generation's superstar EP." -- George Greenberg, Executive Vice President, Fox Sports
Known for his rugged sports-oriented programming, top television executive producer David Leepson is the surprising man behind E!'s hit new reality show: #RichKids of Beverly Hills. Leepson, a six-time Emmy winner, is an 18-year veteran of fast-paced productions set in the worlds of football, boxing, car chases and stunts.
I met with the producer, who resembles an Alfie era Michael Caine, at his home in Venice, California, where he watches non-stop television with his delightful wife, the Venezuelan-born actress Marieh Delfino, and (sometimes) their Pekingese, Maude.
#RichKids follows five lavish-living 20-somethings -- three women and two men -- as they Instagram their parties, purchases and pretty pouts, shooting selfies nonstop. At the start of the series, only the males are employed -- all are from moneyed backgrounds. And while some viewers may be appalled, and others completely entertained, by the Kids' insularity, ostentatiousness and label addictions, Leepson is clearly crazy for his cast. Made in conjunction with the powerhouse ITV Studios America, the first two episodes of #RichKids drew 5.5 million viewers over it's Sunday and Monday telecasts and 37,000 Twitter mentions.
Elizabeth Sobieski: Are people surprised to see Inside the NFL's producer, now producing #RichKids of Beverly Hills? Going from car chases to Louboutin hunts, from boxers to orange Hermes boxes? From creating Stunt Busters and Sport Science to documenting Rodeo Drive shopping stunts and nail salon science?
David Leepson: It may be a little unusual, but I am a story-teller and I love people and it doesn't matter if you are an athlete or you're a cast member of #RichKids of Beverly Hills. I love meeting interesting, loud, likeable, funny characters. So I feel like there's a translation there. At the heart of it, I try to look at these characters and situations and wrap them in a TV show. And that is so much fun to do. I never wanted to be typecast as a sports guy.
ES: How did you start in the television industry?
DL: I wanted to be a professional football player, but unfortunately I got a concussion playing high school football. So when I graduated college [Syracuse University], I wanted to work in sports television and I got a job at HBO Sports.
ES: I noticed that the female leads on #RichKids are all first generation Americans: Dorothy's parents are Chinese, Morgan's mother is from Sweden, and Roxy's parents are Iranian. Do you think the kids' overt materialism somehow derived from this, or do you think a Beverly Hills childhood has been more the impetus?
DL: Their parents had to work super hard for their money -- they are all self-made people. And these ladies all feel very lucky that their parents worked so hard and made it. Even though they live in Beverly Hills and they like nice things and look gorgeous -- and I love their style, love what they wear -- they all do have this drive inside of them, that 'we need to make it on our own too.'
ES: Even though they still don't have jobs in their mid-20's?
DL: Roxy has just started an interior design business. Morgan has a blog and she's an aspiring writer -- she's super talented -- and Dorothy has so many plans. She's gotten her real estate license, as you will see. They are all funny and their point of view is so witty. They live these fabulous lives, but they're also really driven.
ES: How did you pick the cast?
DL: The best reality show casting director/producer out there is a dear friend, Doron Ofir. Actually, I was on my honeymoon with Marieh and I promised I wouldn't be on my cellphone, but whenever I get an email from Doron, I kind of have to look at it. So when she was sleeping, I snuck outside, while we were in Hawaii, and I watched raw footage of these ladies who use social media like nobody else -- they are sort of Insta-famous stars online. I called Doron and said this is going to be an amazing show after we get in there and craft it together ... I think we may be one of the first TV shows to embrace social media in the fabric of the show.
ES: Do you see them as a younger version of The Real Housewives?
DL: They get compared to Housewives but I think they are so much more. I think they are uniquely unfiltered. This is a core of friends, not just a group of people we put in a house and said go at it ... This cast has real history, real friendship.
ES: In less than two years, you have created and sold five shows to series orders on various networks and have five other development deals in the mix. How did you find your way to reality programming?
DL: I started out working for networks before selling to networks. I got to live in the culture of a network ... When reality started to explode, nothing was off limits ... I got to see what was being pitched, how it was being pitched and now as a seller, I can relate to the network executives because I used to be sitting in that seat. And I understand the pressure the network execs are under. I understand when I bring a sizzle reel to them, which is my main tool of sell, it needs to hit certain hot buttons so they can convince their bosses that this needs to be on their networks. I like to become partners with all the networks I work with.
ES: Do you have a favorite reality show that isn't yours?
DL: It's hard to not appreciate what Duck Dynasty has done. It makes me really happy that a cable show can do such amazing numbers. And I have to say I do watch the Kardashians pretty religiously. I like creating TV that feels like you had cotton candy after watching it. That was a tasty delicious beautiful treat. And it was 22 minutes and I can watch another one right away
ES: Are any of your shows airing internationally?
DL: #RichKids is going to air internationally, I just learned. Car Chasers and Kentucky Bidders are also international.

ES: How will your new Cesar Millan show, Cesar911, be different than the old Dog Whisperer, which ran for eight years?
DL: Dog Whisperer was an amazing show and working with Cesar has been one of the best experiences ever. I think this new show starts where that show ended. You get to see more of Cesar's sense of humor and the pacing is faster.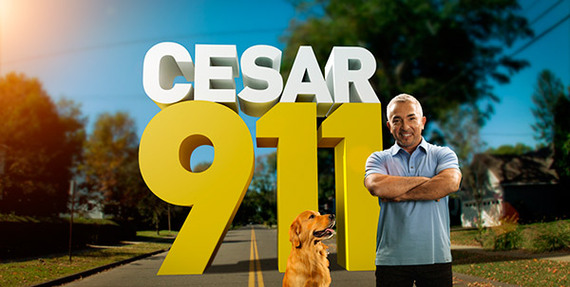 ES: Which of your many programs would you say is closest to your heart?
DL: There was one called Tracking the Monster (2006) for VHI where I got to spend a month in Africa and it was a documentary about AIDS, particularly how AIDS affects women. I spent a week with India.Arie in Nairobi and a week in Madagascar with Ashley Judd. We had a mission to educate and raise awareness ... we were visiting the brothels of Madagascar at two in the morning, convincing the commercial sex workers to get AIDS tests.
That documentary raised a lot of money and opened peoples' eyes to the situation there. Doing that show transformed me ... I thought I was going to work for UNICEF for the rest of my life when I got back from making that. But then I got sucked into the amazing world of reality TV!

Portrait of David Leepson by Jonathan Straight, Vandiveer Photography
REAL LIFE. REAL NEWS. REAL VOICES.
Help us tell more of the stories that matter from voices that too often remain unheard.