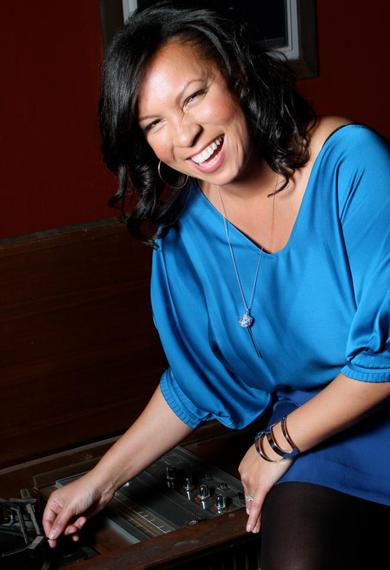 If you have a family, most likely you've seen some of the programs she's been involved with. And though she's been a writer behind-the-scenes for decades, from The Cosbys to The Proud Family to her current hit series, The Wannabes producer, Doreen Spicer
has just made her directorial debut with the short film, Playground Politix.
Her path hasn't been the easiest one either. As she discusses in her interview with me, Spicer finally reveals how she faced racism, and sexual harassment as well. Not one to let anyone get in her way, she has made it her mission to empower young people, especially girls that they can and will achieve their greatest dreams if they're willing to roll up their sleeves and earn their success with integrity, humor and the love of family.
For those who aren't familiar with your background, let's talk about some of the projects you've been a part of.
I've been fortunate enough to have been a part of several popular sitcoms in the late '90s, Fresh Prince of Bel Air, Martin, Hangin' With Mr. Cooper, The Cosby Show and then my favorite, The Proud Family.
Growing up I watched Fat Albert and the Jackson Five's animated series with my siblings every Saturday morning and it was always fun. So, when I got a call to possibly lend my literary voice to, Penny Proud, a character that practically looked like me, it was just insane! Needless to say, I was over the moon for the opportunity. I also created a show, The Wannabes, starring Savvy, which went international. That one too is very dear to my heart.
You've done many animation projects in the past, why did you choose Playground Politix as your first live action directorial debut?
While I love animation, it wasn't my first choice of entertainment to start a writing career. And since animation was traditionally written by animators and I can only draw stick figures, it wasn't something I aspired to. I had my sights set on live action from the very beginning. Developing and writing for The Proud Family was, I felt, a "supposed to happen" kind of gig. It spoke to me and I just couldn't get over the fact the Penny Proud and her family resembled me and my family except I was the youngest of three and my grandma is Puerto Rican, but with that Suga Mama attitude for sure.
Playground Politix believe it or not, was an idea I had for over 15 years. It wasn't until recent that I thought now is the time to put my 20 years of experience into a short film that encompassed my state mind at the moment. In my years in the game, I've haven't publicly spoken of the some hardships, sexism, sexual harassment, or how I always felt like an outsider even though I wasn't. And since these topics are all forms of bullying, I thought this was the perfect climate to make a film that will hopefully start a conversation.
What is your ultimate goal with this project?
My ultimate goal is twofold: As a woman behind the scenes in the entertainment industry, specifically in children's and tweens programming, I believe it is my duty to bring forth bold ideas that make kids think before they act. I feel it's especially important for young girls to know that whatever field they choose to pursue, there will be walls and glass ceilings they're going to have to break through before they reach their highest achievements and to not be afraid to do so. It's imperative that they do.
My other goal is to make Playground Politix a feature film that speaks to young girls and boys around the world so the impact can be felt everywhere. It's my way of tackling something I like to phrase as "adolescent social conflict" that has the potential to become an "adult social conflict."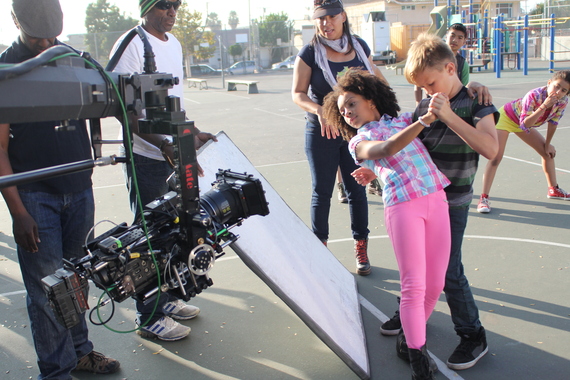 How did you get such dynamic and talented kids?
First, I did an open call so that kids who wouldn't normally get a chance to audition might come out. I, myself, literally went around to dance studios posting flyers for the audition. That's how much I wanted to find raw talent. I originally wanted 20 kids for the entire piece but only found five at the open audition.
Then an intern of mine told me about a dance mom who knew all the best kids around town. So, I got in touch with her and we held a second audition. I was blown away! I ended up with a total of 16 super-talented children -- eight girls and eight boys, which was perfect!
How long did it take you to shoot it?
We shot it in two days at the end of October, which had the coolest and the best weather for the children, the crew and the equipment. And ironically, it was Bully Prevention month.
Why the subject of bullying and diversity in your first film?
As mentioned earlier, I have experienced and seen so much as a woman, as a woman of color and just as a writer in the business so this was my outlet. And with Playground Politix, I give young girls and boys a glimpse into the behaviors that they might be in their future and to show courage. My approach was to use short dance competitions and not treat it like a typical "bullying" film. The point is to highlight how competition is good for everyone because it makes everyone stronger... no matter if challenges comes in the form of the opposite sex, another race or both.
The ending is symbolic as well. I won't give it away, but it means we all want to be invited to the party for the opportunity for great competition ... and fun. A leveled playing field, if you will. But, if the field isn't leveled then step up to it anyway. You know, I placed a quote in front of the film that says, "If you don't like something, change it. If you can't change it, change your attitude." It's a quote from the great late Maya Angelou. This was included in the film before she passed away. Now, it means even more for me to carry out those intentions.
Tell us about the choreography. How long did it take to train the kids?
The choreographers were awesome! Chuck Maldonado (Step Up Revolution, Stomp the Yard) headed up a team of four. Dacia James-Lewis was alongside Chuck as his co-choreographer with Cindy Minowa and Dianna Carreno. They read the script and after answering their questions, they went to work. I never stood over their backs and the children loved them. They worked four hours on Thursday, four hours on Friday and shot Saturday and Sunday. Incredible! I made a few minor adjustments but the results are beautiful.
You've been in the business for a while now and have reached heights many would only dream of but it also hasn't been a bowl of cherries for you either. What challenges have you faced?
I would never complain [about] one thing in my career because I actually am living my dream. You're right, it hasn't been a bowl of cherries but the fruit I've taken has truly made me the writer/producer/director I am today.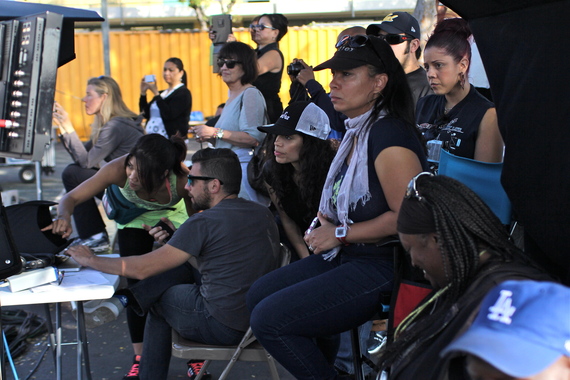 All the adversity, rejection, harassment, shark bites and the doors slammed in my face made me realize my purpose even more. Being from Brooklyn, New York, I've seen and been through worse, so I think I can handle Hollywood. The one time I did quit and ran home to my mom and dad was the same day I got a call that The Proud Family got picked up for 26 episodes. So, if for nothing else, I believe God wants me to be here. There are children out there who want and need responsible yet fresh and realistic entertainment and I am compelled to bring it to them. Ultimately, my hope is that this project will open more doors, bring new opportunities, and more work. Actors reinvent themselves all the time. Why not writers? That's the only reason why someone would go out and spend their last dollar to produce a short film, right? I guess you can call it self-investment and I'm glad to do it. Bet on yourself when no one else will ... with dedication you'll win all day.
What words of advice do you have for anyone who is breaking into the business now and considering doing their own independent project?
Anyone with plans on success in Hollywood might have better success at robbing a bank -- kidding. But why do you think it happens here more than probably any place it the world? Big money or writers out work? You've got to know if this is right for you. Everyone, no matter who you are, you will struggle at some point and it's not always a bad thing. It'll make you face your challenges at every turn and force you to decide if it's truly worth the time. Even if you reach success, you still have to maintain it. I think people look at this business like a sprint when it's a life long triathlon. But if you do decide to try luck and skill, keep your eyes on the prize, whatever that means to you and let no one or nothing stand in the way. Sounds cliche but it's the only way things will work out.
Come here knowing what you want, why you want it and are you mentally prepared to make it happen. There will be sacrifices to make and there may be times you think you should have listened to your grandma and followed up on a lead at the telephone company. However, on the flip side, with today's technology, you don't need validation from a major network, studio or production company, you just have to do a good thing and keep working that thing until it brings you the attention that you need to get that dream project going.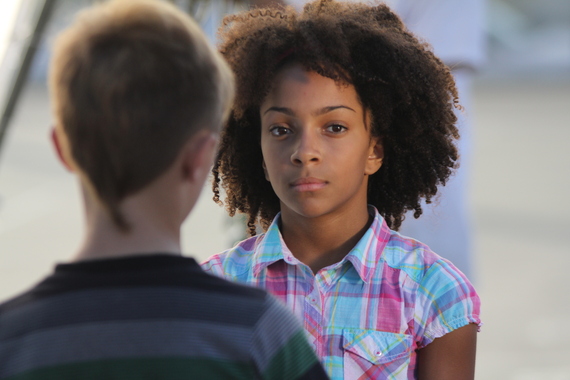 I'll never forget, when I was an intern at a major studio an executive gave me some sound, secretive-type of advice. He said, "Take your best ideas, scripts, essentially your babies and lock them up in a volt until you've earned the right to produce them yourself." Those words have stuck with me for 20 years.
This game may not be for everyone and everyone's purpose isn't to put smiles on kids' faces around the world, produce that classic film or win a golden statue. I believe it's mine and that's why I'm planning my great comeback instead of my great escape.
Full Disclosure: Along with being my cousin, Doreen Spicer and I have co-written a script together in the past.
REAL LIFE. REAL NEWS. REAL VOICES.
Help us tell more of the stories that matter from voices that too often remain unheard.