When Los Angeles-based TV producer Michael Levitt isn't creating hit shows, he's driving all over greater L.A. rescuing dogs from kill shelters and placing them in loving "forever" homes. Now taking his passion one giant leap further, Levitt has created a groundbreaking TV event, the Thanksgiving Day dog rescue spectacular, FOX's Cause For Paws (8p/7c). This show marks an historic first - never before has a television network dedicated prime time programming to the plight of rescuing dogs - a dog-a-thon so to speak. And it's little surprise that Cause for Paws means more to Levitt than any show he's ever produced. To bolster its appeal, Levitt has enlisted dozens of celebrities to lend their talents for the two hour special, which could be a game changer for the 8 million animals that enter shelters each year. Here's hoping it becomes an annual event.
I chatted with the Emmy nominated Levitt to find out more about this historic telecast...
Xaque Gruber: How did FOX's Cause For Paws come to be? Was this something you had been wanting to do for years?
Michael Levitt: In 2011, while my sister was dying of cancer, I rescued a "Trooper," a pit bull with twelve BB pellets lodged inside of him from a high kill shelter in Southern California. Trooper taught me the meaning of "who rescued who" during what was a very difficult time in my life. The following year while looking at my Facebook page, I was aghast when I saw "Nelson," a stray pit bull in The Bronx that was part of a "kill list" published each night by the New York City shelter. I contacted Social Tees, a NYC based rescue, and convinced them to save him with the idea that I would sponsor all of his costs until they could find him a great home. Unfortunately, because he has glaucoma in both eyes, nobody wanted him. After going to New York six months later, and meeting him in person that was all it took. Two days later, Nelson returned to L.A. with us and became part of our family. It was these two souls, Nelson and Trooper, that rocked my world and inspired me to create Cause for Pause.
Levitt's dogs Nelson (left) and Trooper (right) on the set of FOX's Cause for Paws (photo courtesy of Michael Levitt Prods)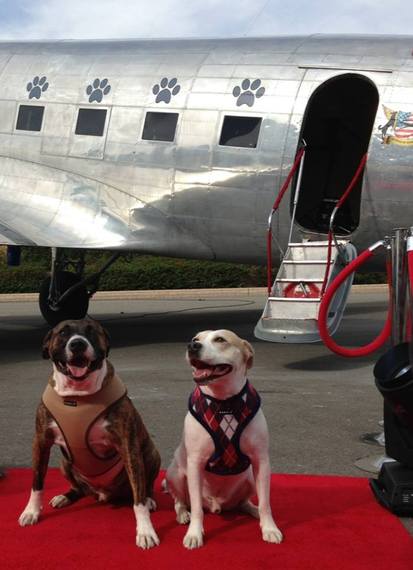 XG: How did Hilary Swank and Jane Lynch join the show as cohosts? Were you aware they were both big dog lovers?
ML: I knew to sell the show, that I needed to attach a big celebrity. I knew Hilary was a huge animal advocate so I sent her my pitch. We did not know each other. The next thing I know, we were having breakfast. She loved the project and we became producing partners, and developed it together. It was Hilary's passion and commitment to the project that helped us get it past the finish line. Jane, also a huge crusader for animals, came on board as our co host after the project was sold. She was our first choice to join Hilary. I couldn't be more thrilled to have these two ladies anchoring our special.
XG: Have you been pleasantly surprised by the celebrities that have come aboard to appear on this show? Who will be there?
ML: A first year show is always tough when it comes to recruiting celebrities, but I have to say the show of support by the entertainment community for Cause for Paws has truly warmed my heart. A true testament to how much we love our pets. In addition to Hilary and Jane, we have Channing Tatum, Miley Cyrus, Kaley Cuoco, Scarlett Johannson, Queen Latifah, Fergie, Josh Duhamel, Betty White, Sharon and Kelly Osbourne, Pink, Kristin Chenoweth, Paul Abdul, Ke$ha, Cesar Milan, Wendy Malick, Rebecca Romijn, Jerry O'Connell, Kathy Griffin, Emmy Rossum, Whitney Cummings, Amber Riley, Randy Jackson, Julianne Hough, Wayne Brady, Max Greenfield, David Arquette, Miranda Lambert. LeeAnn Rimes, and more.
Swank, Cyrus, and Levitt (Photo courtesy of FOX)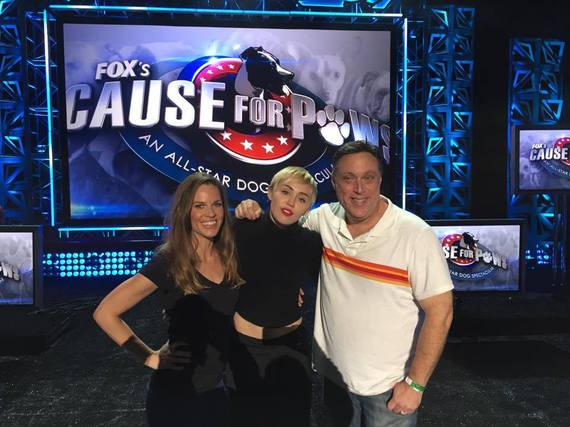 XG: Aside from ratings, what for you would mean this show was a success? What do you hope people learn?
ML: Beyond the seventy rescue dogs we're featuring on our show that will hopefully find their forever homes as a result, Cause For Paws is about creating awareness. This show is about letting people know that rescue dogs are not troubled - it's the people that dump them at the shelter that have the problems. In fact, rescue dogs are the most grateful and will let you know it with more love and affection than you could ever hope to have. Also to let people know that 25% of dogs in shelters are pure breeds. No need to go to a breeder or pet store with puppy mill dogs when you can rescue an amazing dog from your local shelter or rescue organization. When you adopt from a rescue organization, you save two dogs - the one you bring home to be a part of your family, and the spot that opens up for that rescue to save another dog.
XG: If this becomes an annual event, could cat adoption be integrated into the show?
ML: Yes, our hope is that in future years, we can definitely celebrate our feline friends and the joy they bring to our lives as well.
XG: What is the single biggest thing that we as a society can do to stop the huge homeless dog population?
ML: Spay and neuter is key. Did you know that the litter of two unfixed dogs leading to litter after litter - over five years can lead to the birth of 67,000 puppies - most of which will be homeless and ultimately euthanized in shelters? Certain cultures believe it is wrong to neuter them, but we have to change this way of thinking. Without controlling the pet population through spay and neuter, we will never get ahead of the problem. The other way for us to help the huge homeless dog population is for people to "choose rescue." We want people to be a part of the solution by choosing rescue instead of being part of the problem by going to breeders or pet stores that sell "puppy mill dogs." By far this is the most important show I will ever produce. It's my passion - my heart and it will be my legacy that I am most proud of.
REAL LIFE. REAL NEWS. REAL VOICES.
Help us tell more of the stories that matter from voices that too often remain unheard.