The Producers' Work is an experiment created for the sole purposes of this blog. We want to take a closer look at the producers working in different areas of the art and entertainment industry. Why? Mainly because we are curious! These powerful and yet mysterious personalities are strongly mythologized by the society. We would like to know more.
What responsibilities do they have?
We do know that the producers are a group of outstanding, creative and charismatic personalities. That is why we would like to introduce to you The Producer's Work!
Marcin J. Sobczak: How would you describe your role as a producer?
Denis Friedman: My job is pretty straight forward: I find a project that I like, I then decide what financing strategy should be applied to raise the money to produce the project... If I do my job correctly, I succeed in finding the proper financing. I then hire the best teams to manufacture the property and I make sure the project is delivered on time, within the budget, with the highest quality... sounds easy, isn't it?

Przemyslaw Dobrzynski: Do you consider yourself as part of the creative team?

D.F.: Yes and for me it is the most important part of my job. The financing part is very similar to what you would find in many other businesses (real estate, industry, consumer goods, etc...) and you can hire a good Line Producer to take care of the manufacturing part. But if I don't do my job correctly on the creative part of the IP... all that work will be useless. So you have to make sure to put all the efforts you can on the creative part, and this is what I enjoy the most! I am heavily involved in the scriptwriting process (sometime co-writing the script with the original authors) and I provide my creative input at every stages of the pre-production, production and post-production of the film. I would never produce a movie or a TV show that I would not enjoy watching myself.

M.J.S.: How did you become a producer?

D.F.: I started my career as a game programer working for Atari in the 80's and then became a game producer, to end up managing big companies... in the mid 90's I decided to set up my own studio as I wanted to extend my activity to the animation sector... and it turned out that KAENA, the first project I worked on, became the first big CGI feature film to be produced in Europe... Since then I have been producing animation.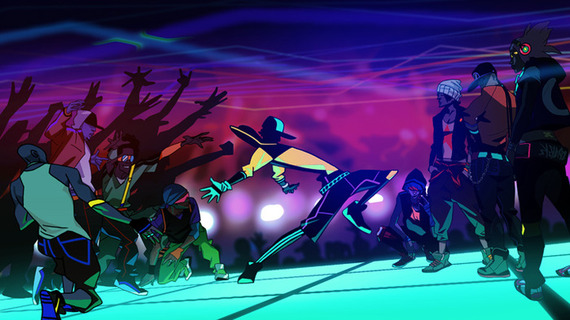 Urbance (a still from the Official Trailer)
© Steambot Studios
P.D.: In your opinion, what abilities should be characteristic of an efficient producer?

D.F.: It's a difficult question, I can only speak for myself. I think that every successful producer has his own strength. For me it is quite simple: I never give up... I am a very stubborn individual. When I believe in something, I always find a way to make it happen... It can take months... or years... but it will happen eventually.

M.J.S.: Can you describe the electronic entertainment industry as it was when you started your carrier?

D.F: These were amazing times... When I joined Atari in 1982, it was a Warner company, it was then purchased by Jack Tramiel, the founder of Commodore. If I remember correctly, he laid off more than 3000 people and I was one of the 50 employees he kept. I was working in France at that time and Jack asked me to move to California to handle all the third party softwares for the Atari ST... The Silicon Valley in the mid 80's was pretty wild. I then moved to Borderbund Software to become a game producer and to build up their European operations... In 1993, I was hired by Sony to be part of the team that launched the PlayStation as GM of Sony Psygnosis in France. I had the opportunity to see many changes in the industry and to work with wonderful people. Everyone that participated in the birth of the gaming industry would agree to say that it was exhilarating... everything was possible: a guy could work on a game in his garage and become a millionaire over the week-end... In my Broderbund era, I remember perfectly the day we received the first version of Tetris that was sneaked out of the Soviet Union by a Hungarian Game Producer... it was so addictive that the whole company stopped working to play the game... we knew the game would become a huge hit!

P.D.: Is producing a game any different from doing a movie or an animated TV series?

D.F: Yes, it is very different. Most of the games are financed by one company, that holds the rights of the IP and takes care of the marketing and the distribution... As an independent movie Producer, I have to set up pretty complex financing plans to make sure that my movies get done. And then I have to trust the distribution companies of many different countries to make sure that it gets properly marketed and actually finds its audience... the number of parameters to control to achieve success is a lot bigger.
M.J.S.: Your latest challenge is an animated TV series called Urbance. How did you come across this project?

D.F.: About 18 months ago, when Joel Dos Reis Viegas and Sebastien Larroudé sent me their project, I was stunned by the quality of the graphics, and I immediately felt that this IP had a huge potential, not only as a TV series, but as a global brand, developed through Transmedia, clothes, music, games, comics and toys. We have a very strong concept, but people are expecting a great story... so we have to deliver very high quality scripts. We don't see our competition as limited to other animated TV series, we are competing against the best live action series like Breaking Bad, Sons of Anarchy or House of Cards. This is why we have decided to assemble a talented writing team.
Our first challenge is to achieve our goal on the crowd-funding campaign... We have just started a campaign on Kickstarter to finance the pilot episode of the TV series. We are doing it as a proof of concept, to show our partners that there is an audience for this type of content, and that people are ready to put some money on the table to make sure that Urbance exists!

M.J.S.: What is making Urbance different from any of the other shows out there?

D.F.: Urbance is an animated TV series targeted at a 16+ audience. The story is set up in the near future, where a virus has infected the whole population that can't have sex because every intercourse has become deadly (scary, isn't it!). It is a story about love and rebellion against a totalitarian government forcing men and women to grow up separately, tearing each other apart in gangs battles. This genders war is taking place in a post modern urban environment, mixing hip hop and electro influences. We describe the show as a mashup between Jet Set Radio (the game) and The Warriors (the movie).
Urbance is probably the most difficult project I have ever worked on. Not because of the topic, but because we are working a very different business model to finance the IP: combining crowdfunding, derivative products, institutional funds, and traditional market financing. If we do our job right (and we will), Urbance will be a landmark in the way IPs could be produced in the future!
This interview was made and written by Marcin J. Sobczak, Przemyslaw Dobrzynski and Domenico La Porta.
Popular in the Community