I am invited by Jo Lauria, the exhibition curator of Golden State of Craft: California 1960-1985 to tag along on a formal tour of the show -- a 45min. talk about the genesis, development, and overall conceptualization of the exhibition, along with "chats" about specific objects on display. It is truly inspirational. Introducing her wonderful installation, Jo talks about craft as a bridge between design and industry. She says: "This period saw the rise of the designer-craftsman movement, which was characterized by a graceful fluidity between the now distinct disciplines of design, manufacture, and studio art. Designers and craft artists pushed the boundaries by utilizing new technologies, materials and processes in their work, which opened the floodgates for experimentation."
There are so many incredibly innovative ideas gathered and lovingly displayed! I'd like to mention a few. Let's see, as you walk in, there is an experimental free-hanging piece by Ruth Asawa from mid 1960's. Instead of fiber, she uses copper wire. She weaves metal like yarn, in an unprecedented attempt to showcase the nature of the material. It is geometric, yet organic, brittle and sharp, yet so malleable and delicate. Then there is weaving by Nada Al-Hilali comprised of plaited brown paper towels.
The show is very intimate. I am actually familiar with a few artists personally. There is a teapot by Peter Shire who got me started in product design when I took a class at his studio. There is a synthetic wicker chair by Miller Fong who is helping me with illustrations for a book I am writing. There is Flowers Rug designed by Gere Kavanaugh who consulted me on a grant application recently. It feels good to be a part of the community.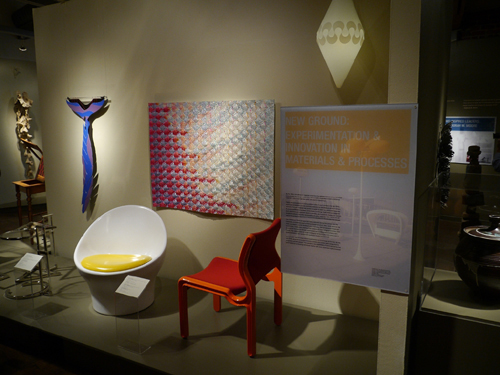 Golden State of Craft installation courtesy of Craft and Folk Art Museum (left to right): Adjustable Side Tables by Charles Hollis Jones, A Whale of a Necklace by Arline Fisch, Series 3000 Chair (with cushion) by Douglas Deeds, Fire Pocket Piece by Lia Cook, Side Chair/Dining Chair by Donald Chadwick, Zipper Light II by Elsie Crawford.
And then Jo leads us to a display of cutting edge furniture. She shows us Douglas Deeds' sculpturally rounded Series 3000 Chair made possible by the material and process of molded fiberglass. Jo points to the Zipper Light by Elsie Crawford. She says that it's conceived to be shipped flat. Each light fixture is made from a single sheet of paper cut, folded and/or bent to create a graceful, self-supporting luminescent sculpture. I've never heard of her. Something tells me that I should dig deeper.
Jo helps me with subsequent research. Coincidentally, Elsie Crawford has done a line of products for children as I have! She was born in New York in 1913. By the 1930's she had established herself as a top designer, moving from display work on the World's Fair to a partnership with architect, Victor Gruen. Crawford's work has appeared at the Whitney Museum of American Art in New York as well as Pratt Institute, Brooklyn and The California Design Shows at the Pasadena Museum of Art. Most recently, in 1998, her work was included in the LACMA's exhibit "L.A. Modern and Beyond" shown at the Pacific Design Center (curated by Jo Lauria as well).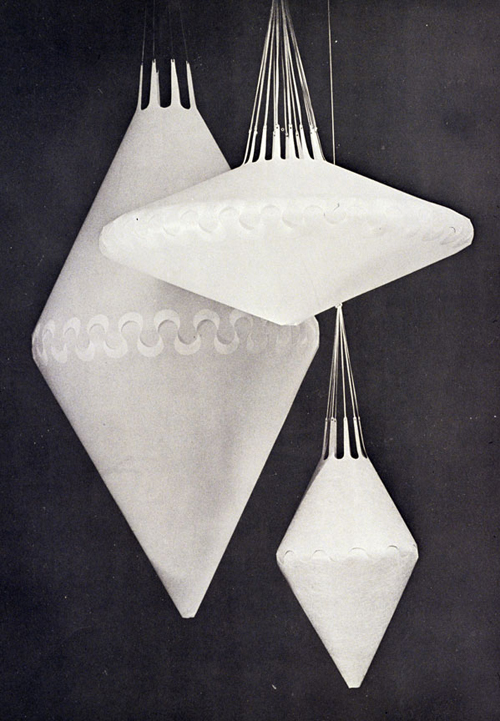 This image shows three Zipper Light designs Elsie Crawford created for California Design 9 in 1965 out of folded paper. The smaller vertical piece is the one on view in the CAFAM exhibition (26.5"h x 12"diameter). It was fabricated in 1997 in acrylic; it is on loan from LACMA's permanent collection.

Zipper Light, developed in 1965, garnered high praise and publicity, as did her 1968 outdoor furniture series for children called The Zoo Collection. In 1968 Crawford won an AID award for research and development with her "seat-pot" street furniture which was molded to be both seating and planters. Jo thinks that the Zipper trio has the best of features Elsie incorporated into her later designs. The lamps are "knock-down" in the sense that they are shipped flat and the buyer is instructed how to put them together; and they are very sculptural with complex cut-outs and contours that take full advantage of pliable material. The original prototypes are made from a medium-to-heavy weight paper. When Elsie remakes them in 1997, she improves upon the design by using acrylic (very thin & flexible sheets; much more durable and less fragile than paper). Crawford's lamps are manufactured exclusively by zumaluma, inc, a company started by Elsie's daughter, Peggy Gruen, to bring her mother's designs to the residential market.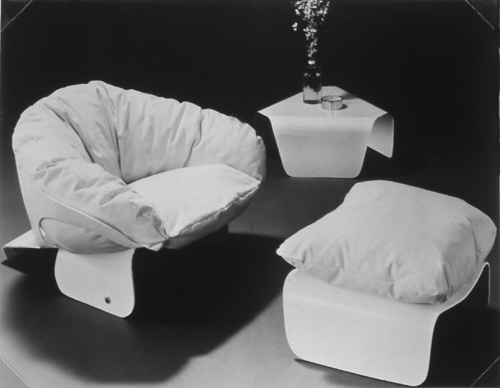 In the "California Design '76" exhibition there is a photo that shows Crawford's Lounge chair, ottoman, and table manufactured by Landes Inc. It was marketed under the name "Laguna Group" and fabricated from cut & molded plastic and had covered cushions made of "Acrilan."
For the catalog of the traveling exhibition "Goddess in the Details: Product Design by Women" published by The Association of Women Industrial Designers in 1994, Elsie Crawford writes: "I also get a big kick out of taking a big sheet of anything - paper, plastic, metal, etc. and cutting it in such a way that it becomes transformed into a three-dimensional object when it has been bent or folded into shape. I am presently working on a line of light sculptures that illustrate this technique. They will be shipped flat and set up using simple visual instructions."
Elsie Crawford confesses: "I think seeking out the most from the least has always been my biggest challenge and my most satisfying experience - as in the case of my multi-purpose toys and in my knock-down furniture which, from a few basic pieces can make a wide range of furniture." Unbelievable -- I could have said exactly the same thing about my own work. And to think that until now I was not familiar with Elsie Crawford.
There is a sense of continuity and validation. Fascinating! Thank you, Jo Lauria and Craft and Folk Art Museum!
The show, by the way, closes on January 8th, 2012. I highly recommend it.
Popular in the Community